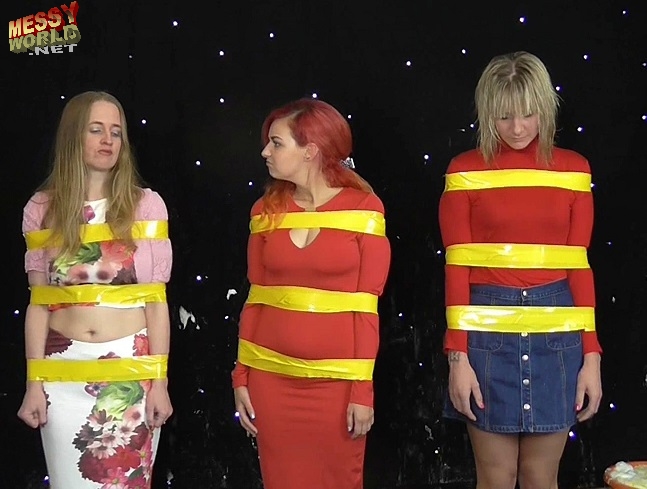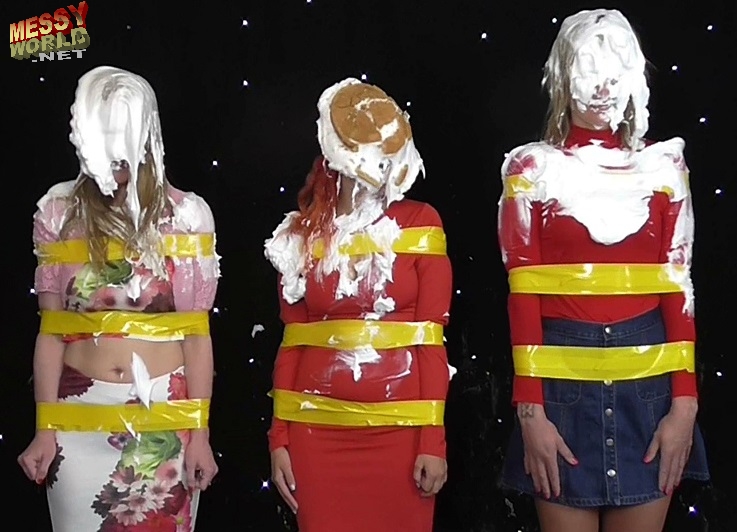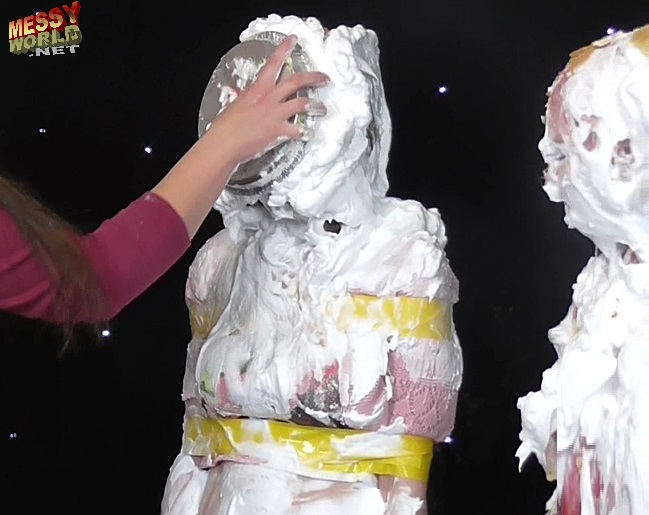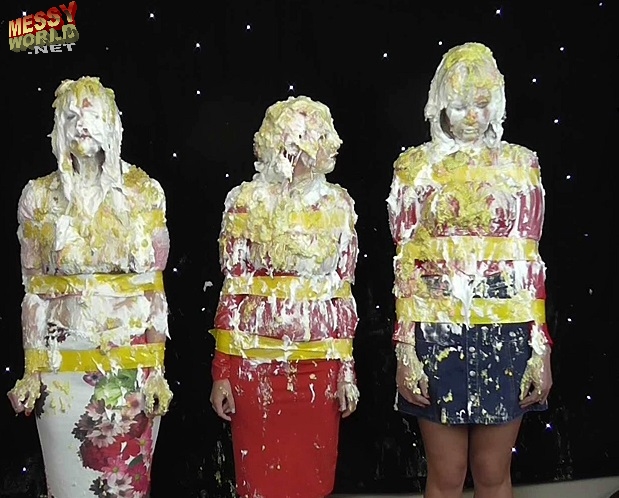 It's the end of Lisa's Cookery Corner. Boss Michaela has had enough and decides that she will simply tie them all up on set and lather them in pies, slime & mess.
120 HD Images Download Pictures - Download Video 16 Min HD Video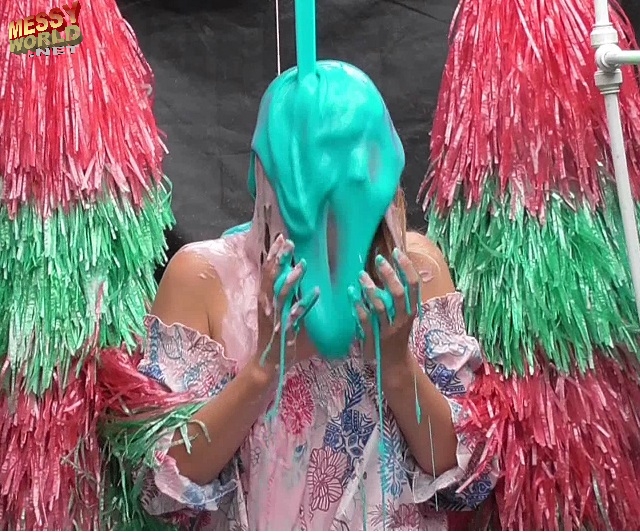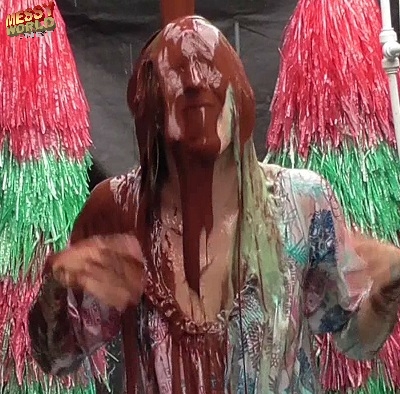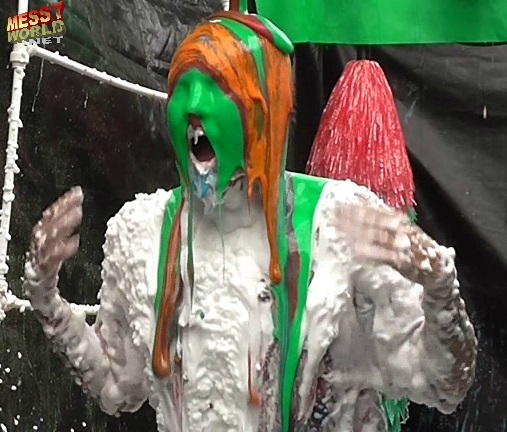 Meet Messyworld's new secretary, Jo! A secretary needs to know how the site works and how to answer questions about all the devices. So, here Michaela shows her the carwash and ensures she knows EXACTLY how it works...
117 HD Images Download Pictures - Download Video 16 Min HD Video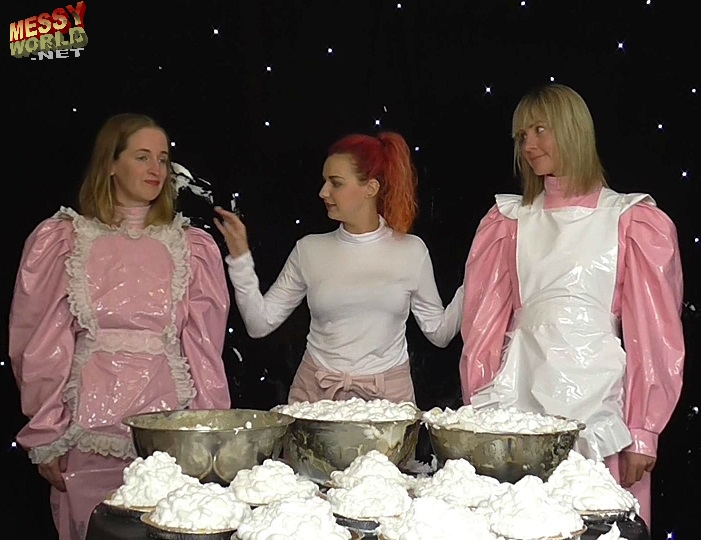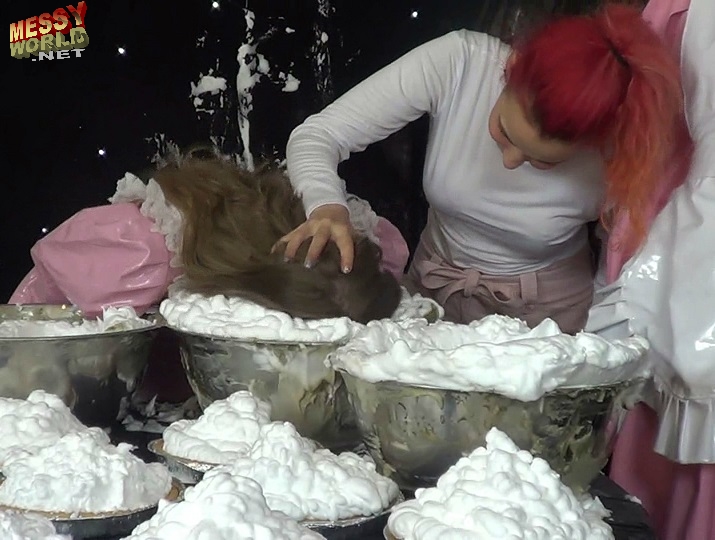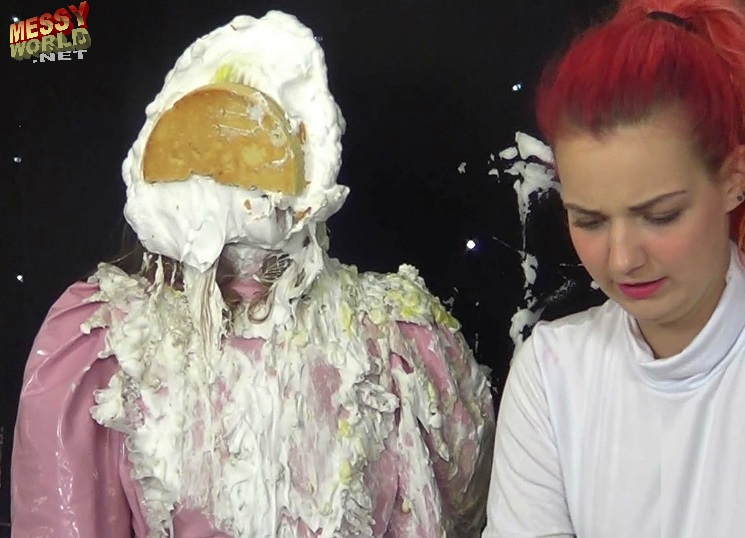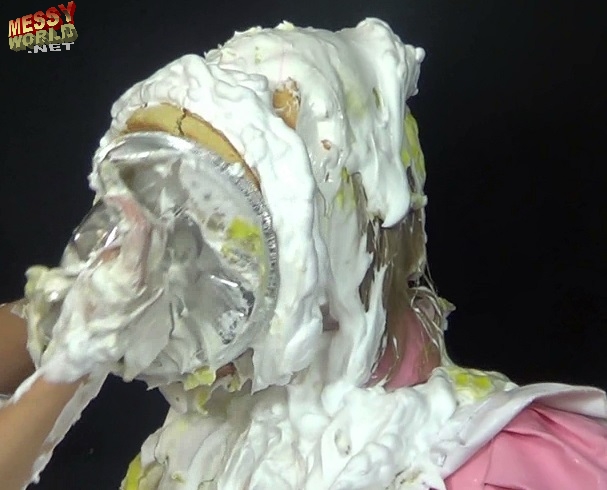 As part of her continuous mission to torment and humiliate her co-hosts, Lisa orders that they dress as her maid's ready to receive another plethora of pies.
90 HD Images Download Pictures - Download Video 13 Min HD Video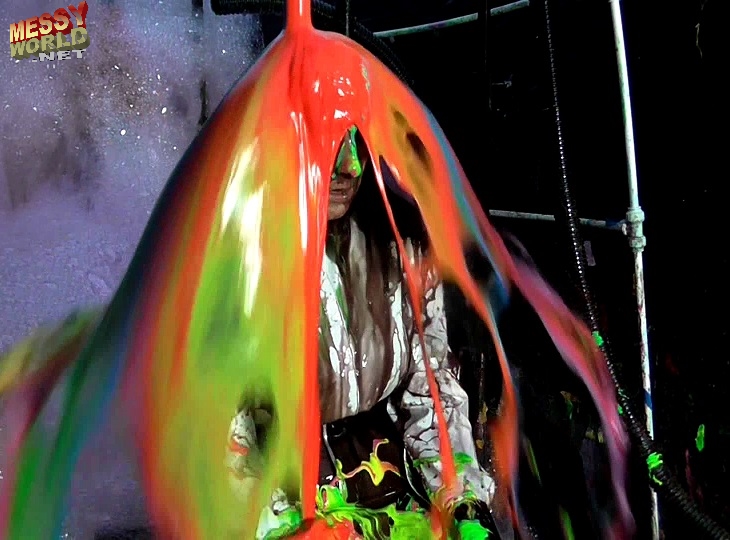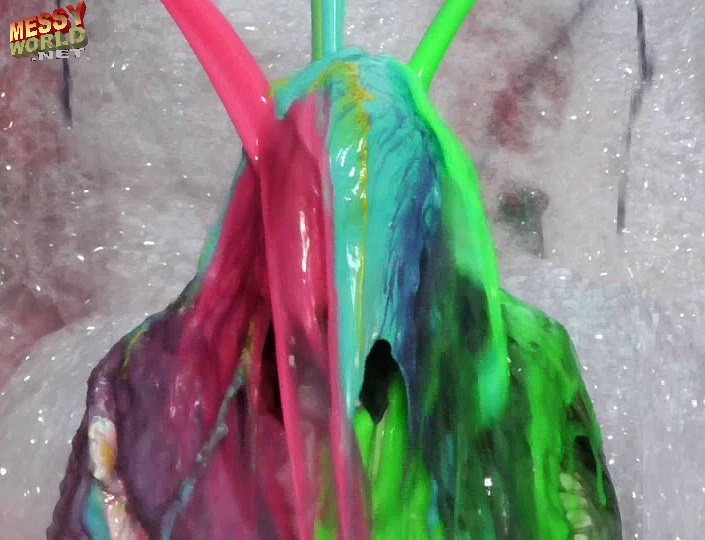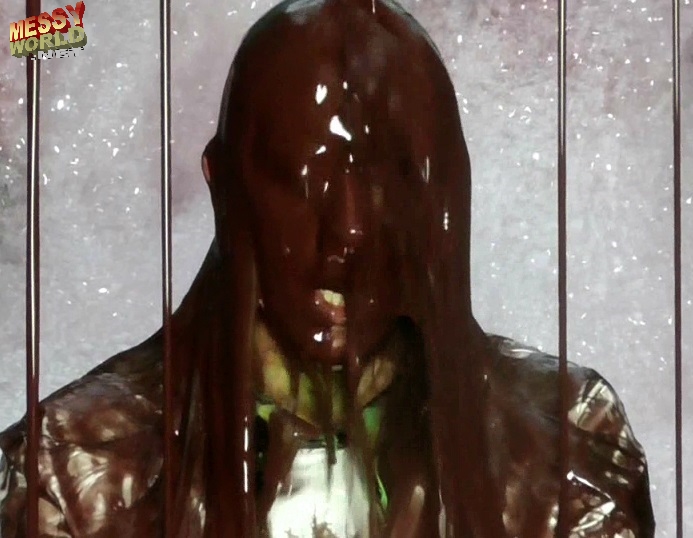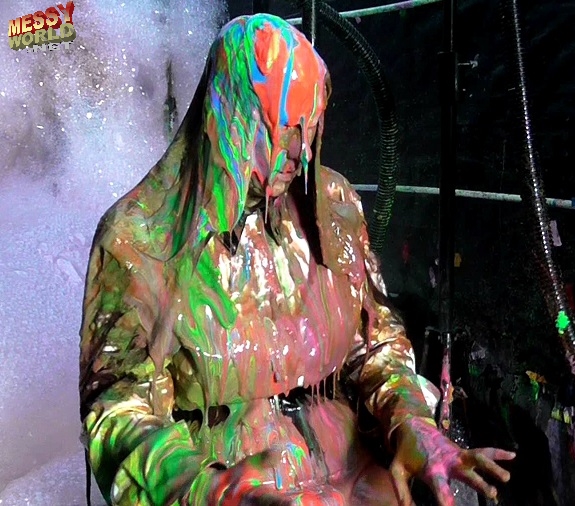 Messyworld's Miss Michaela, and a producer had a bet in which Michaela lost. So she had to record a plea video to viewers of Messyworld, asking them to share or retweet the video, which would result in her going through The Human Carwash in her own PVC outfit. After receiving more then 30 retweets, this is what happened...
81 HD Images Download Pictures - Download Video 13 Min HD Video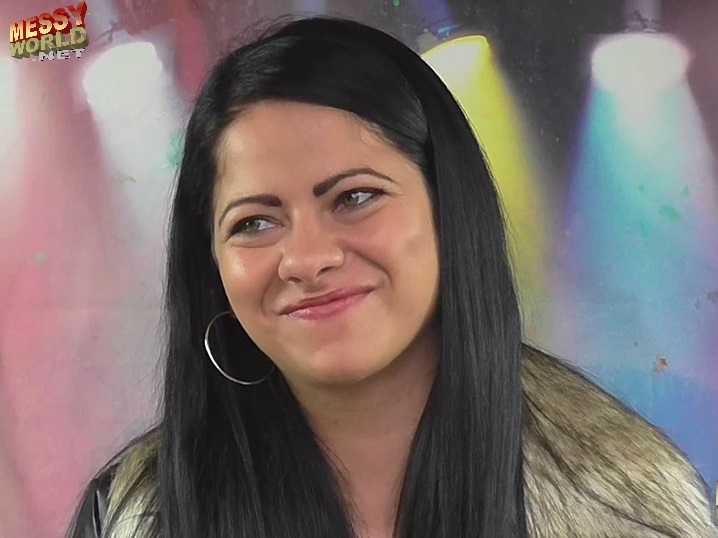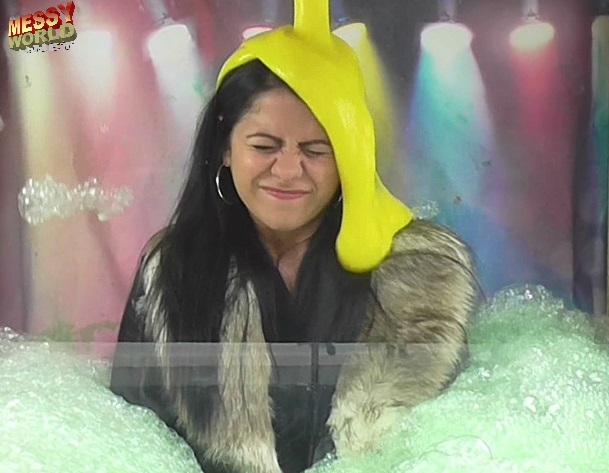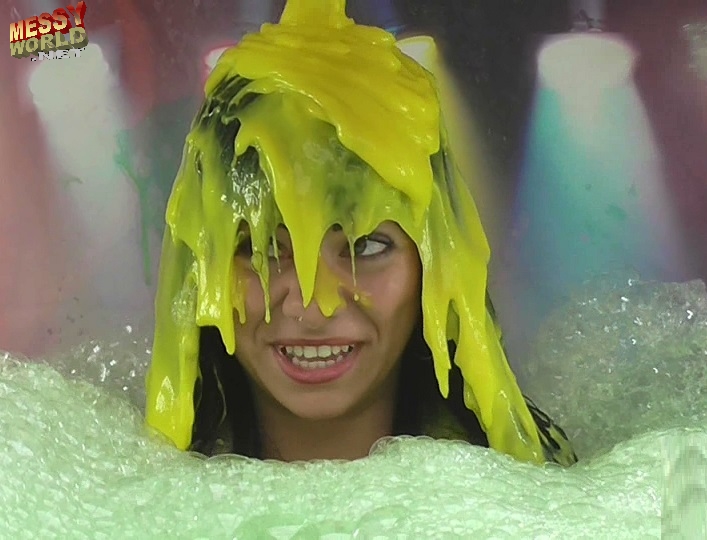 Join Tamsin as she hosts a general knowledge quiz with friend and fellow model, Jessica Sopel (The Christmas Vote of 2014). With the imposing 'SupaGunga' gunge tank standing between them bursting with slime, Jessica knows it is waiting patiently for her to fail and she is reminded throughout of what her fate may be if she doesn't succeed.
81 HD Images Download Pictures - Download Video 11 Min HD Video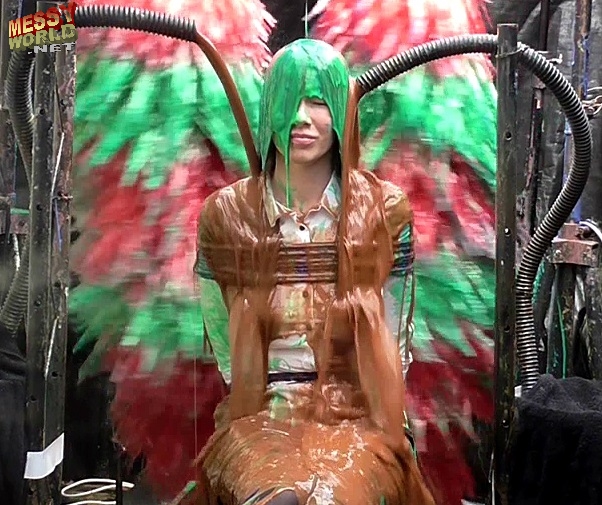 As part of her 4-day intensive submissive training to punish her for laughing at her Mistress Stacy, Tamara is tied up and sent through The Human Carwash by Stacy's good friend, Miss Michaela.
90 HD Images Download Pictures - Download Video 15 Min HD Video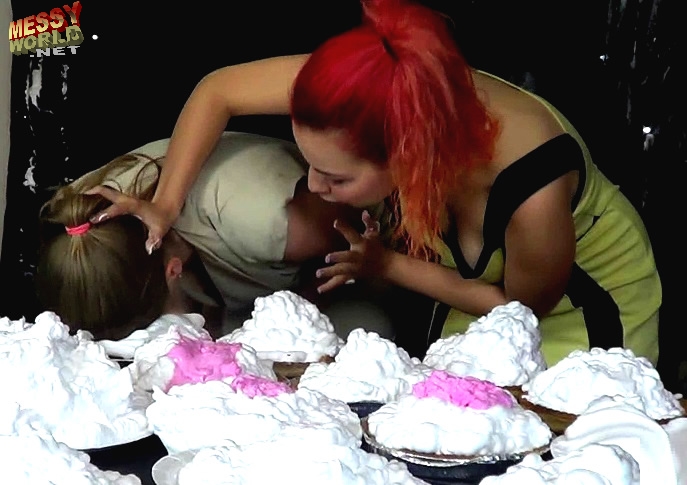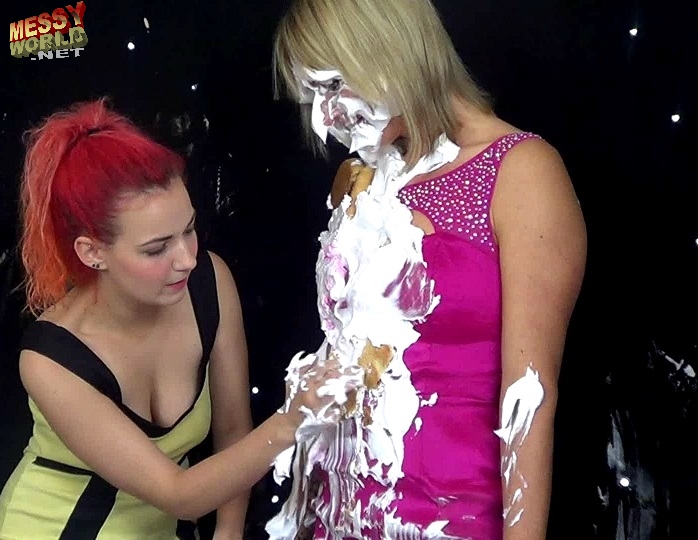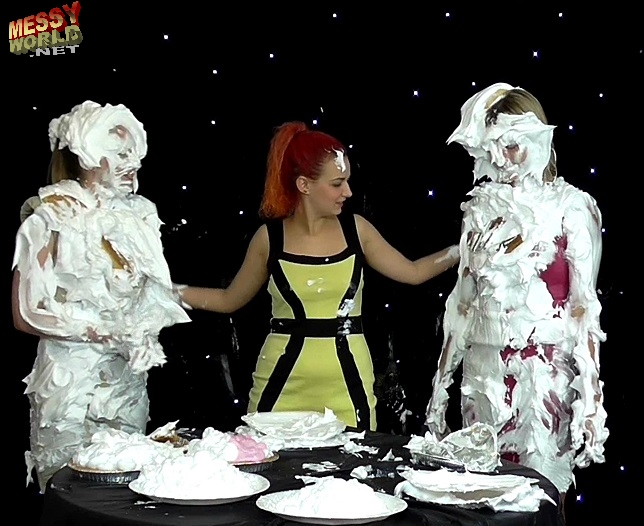 Lisa is now back fully in charge of the show, and she will continue to get revenge on her sadistic co-hosts. Lisa is ready and raring to ruin their outfits and give them pie after pie after pie, for all to see.
81 HD Images Download Pictures - Download Video 11 Min HD Video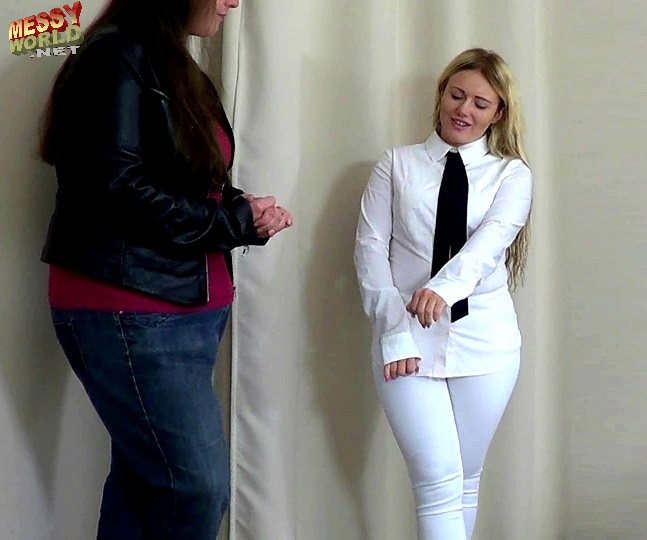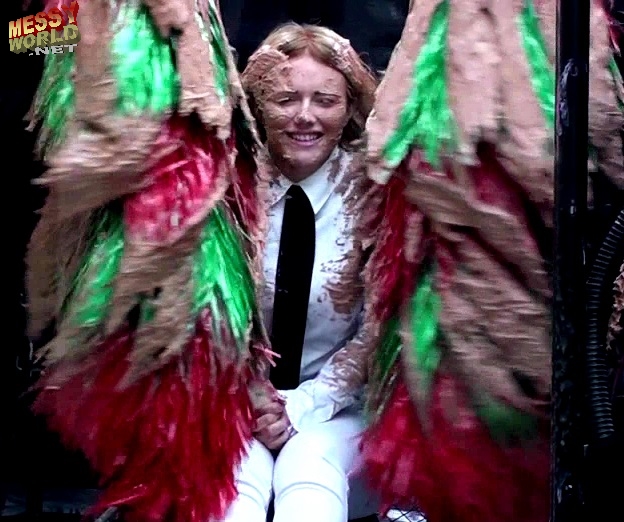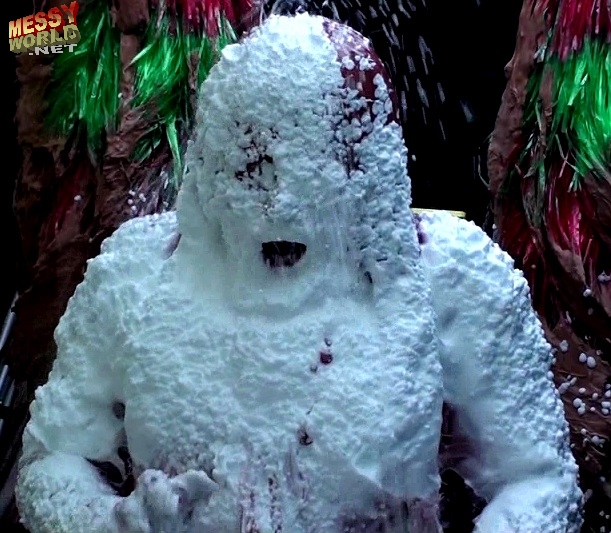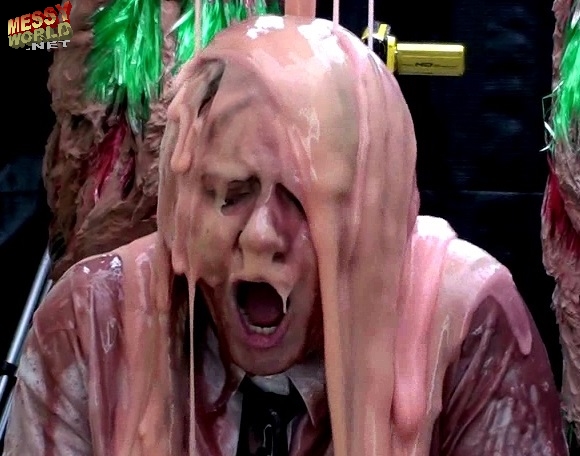 Lucy once spilt red wine over Michaela's white top, so this gives her the perfect opportunity for revenge. Lucy is told to wear a full crisp white outfit for a shoot. But, unbeknown to her, she is to be put through a very dirty Human Carwash, designed to stain, destroy and ruin her outfit, hair and makeup.
90 HD Images Download Pictures - Download Video 15 Min HD Video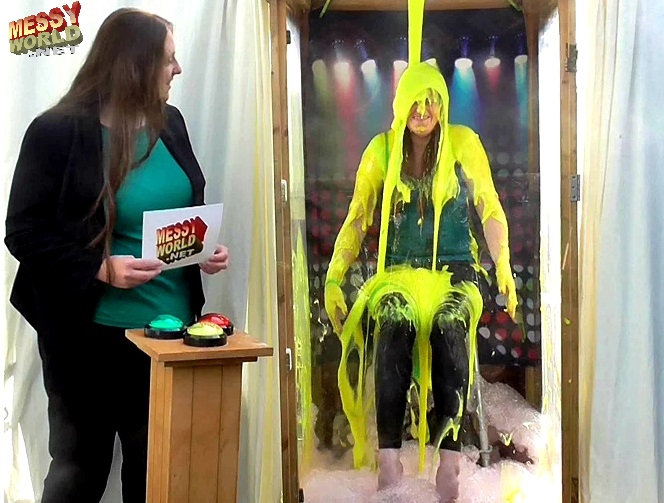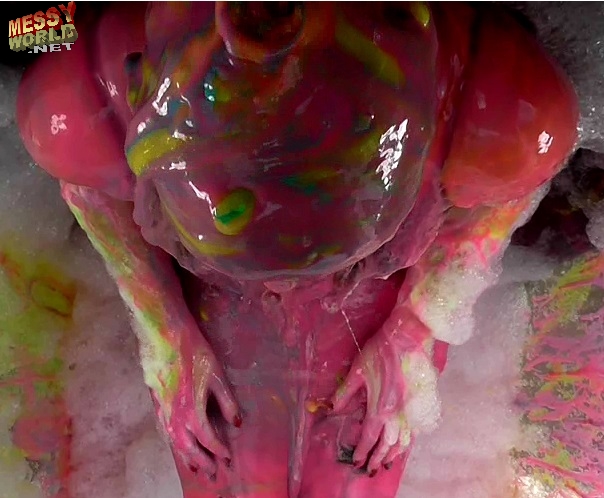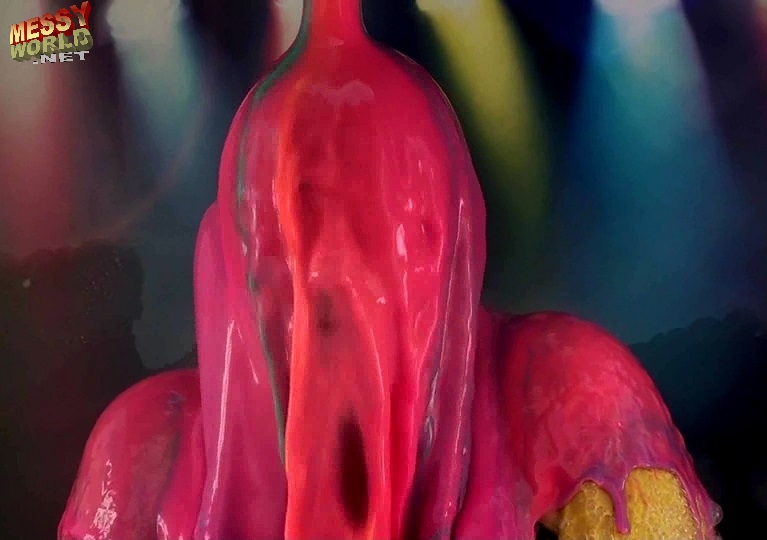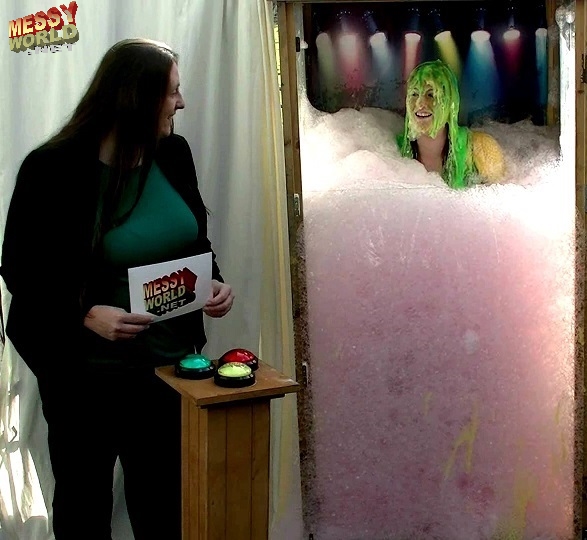 Freya takes part in a music based quiz, but there's a catch. Not only will she get gunged if she get's more than 5 questions incorrect, but she's also against the clock, and the timer is trickling gunge falling on her head. So, the longer she takes to answer each question, the more wet & messy she gets...
120 HD Images Download Pictures - Download Video 30 Min HD Video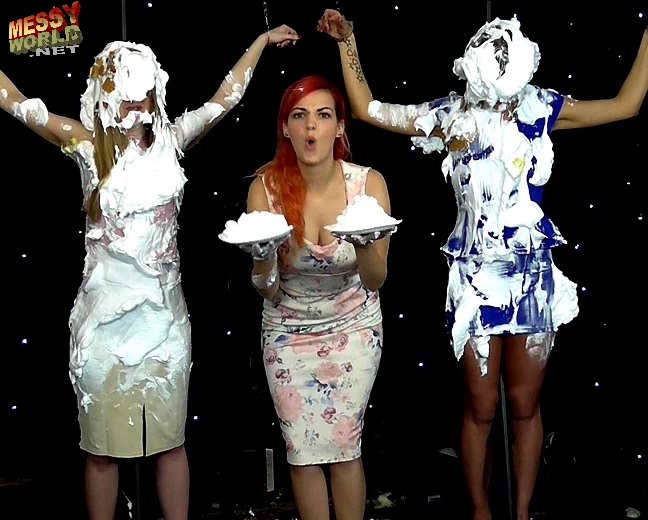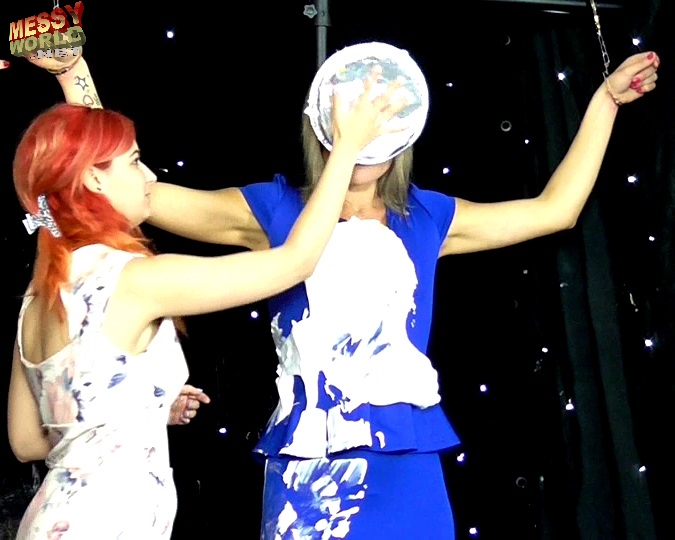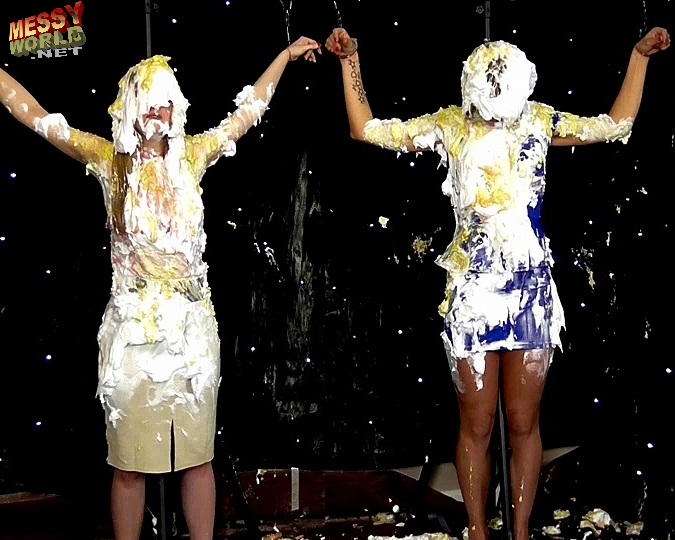 After threatening to quit the show following her constant on-screen messy ordeals, Lisa has now been giving full permission to get her own back on her jealous co-hosts. So, with the studio fitted out with the devices she needs, let the fun begin...
60 HD Images Download Pictures - Download Video 15 Min HD Video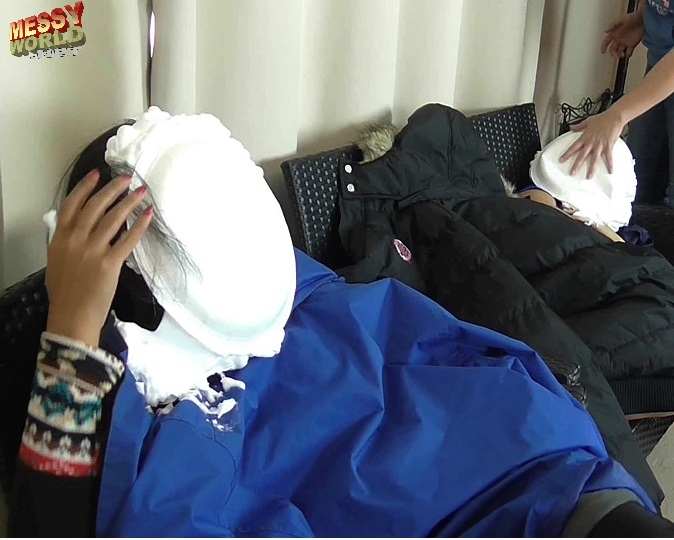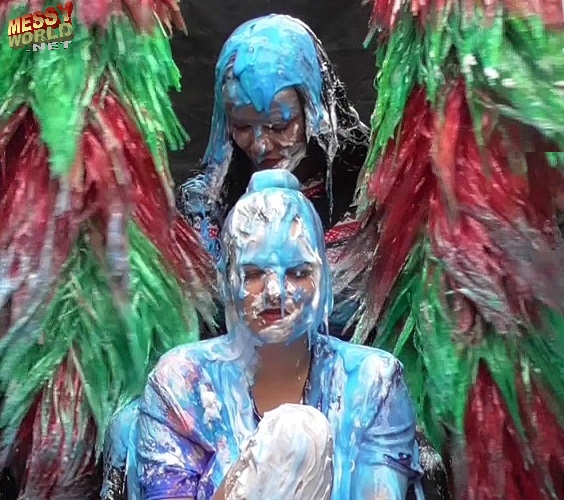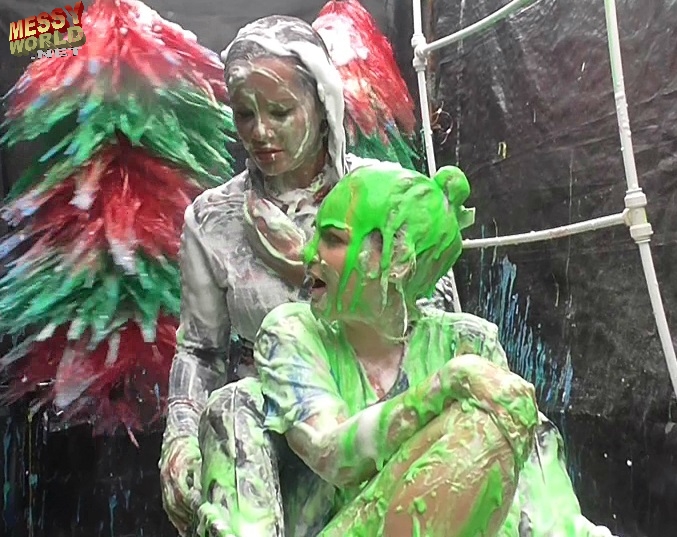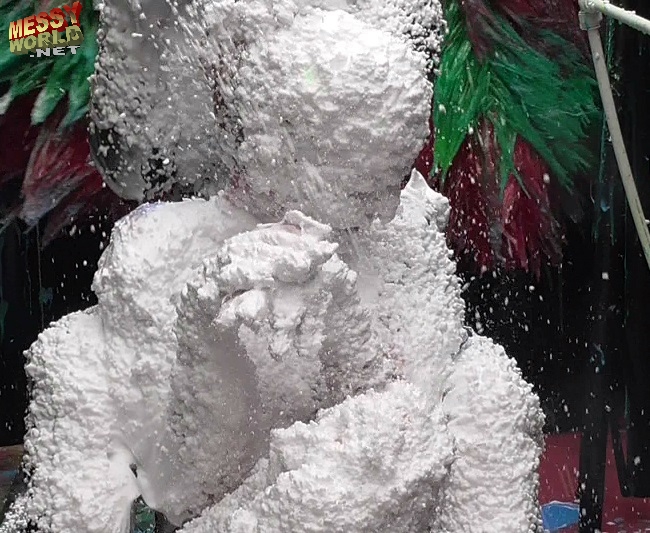 Following the Messyworld office party, Lisa & Louise wake up with a hangover and faded memories of a very drunken and messy night in the carwash. Tamara & Cassie are nowhere to be seen, but boss Michaela has seen what's happened. Lisa & Louise, now freshly dressed, are awoken with a pie each by boss Michaela and taken for... 'The Perfect Hangover Cure...' cue The Human Carwash...
90 HD Images Download Pictures - Download Video 15 Min HD Video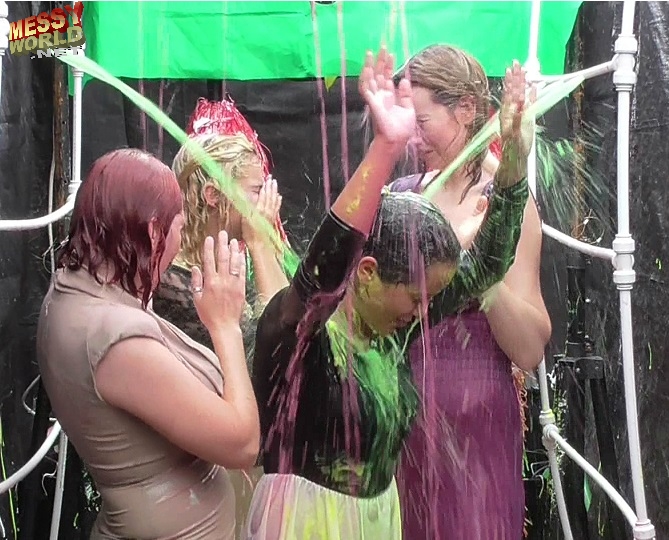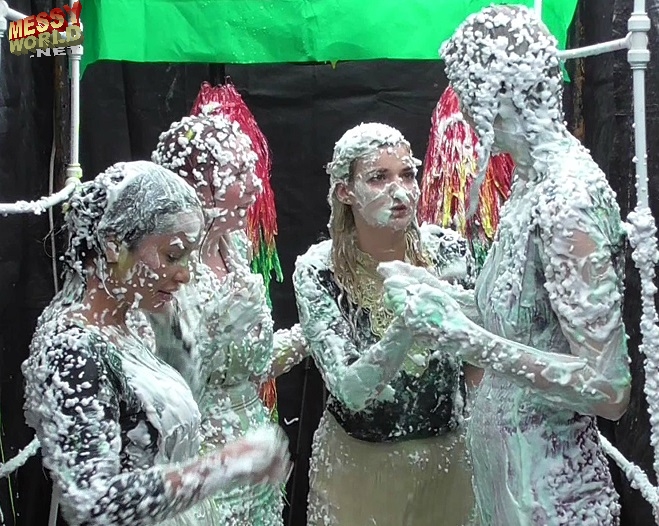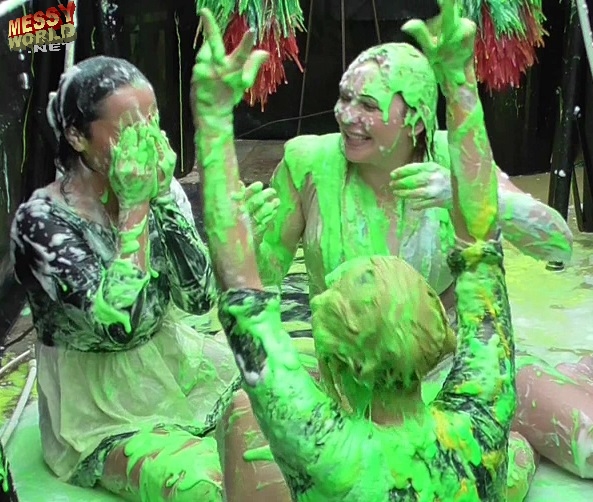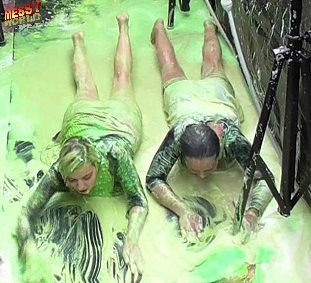 Messyworld have agreed to let the staff have an office christmas party. But it all gets a little bit messy when 4 of the girls sneak off to find the human carwash. 4 drunk girls and a carwash don't mix well. The girls dare each other to go in as mayhem commences.
90 HD Images Download Pictures - Download Video 38 Min HD Video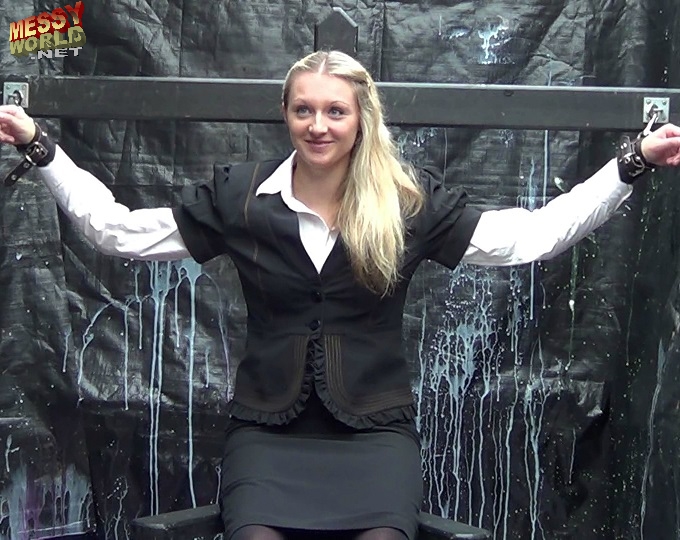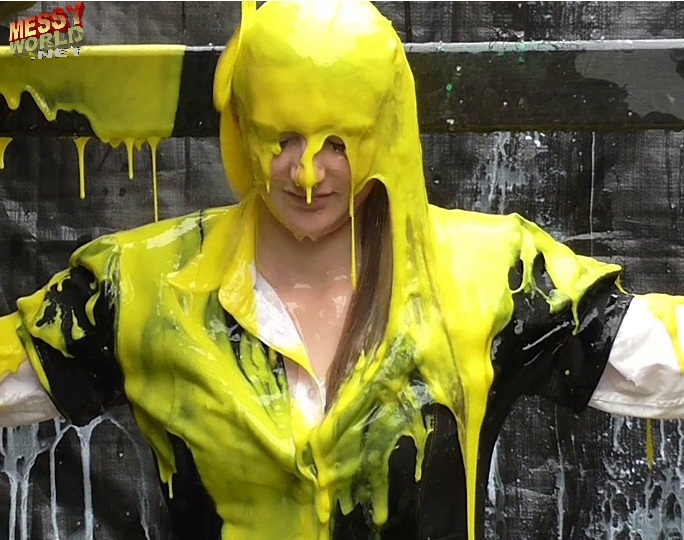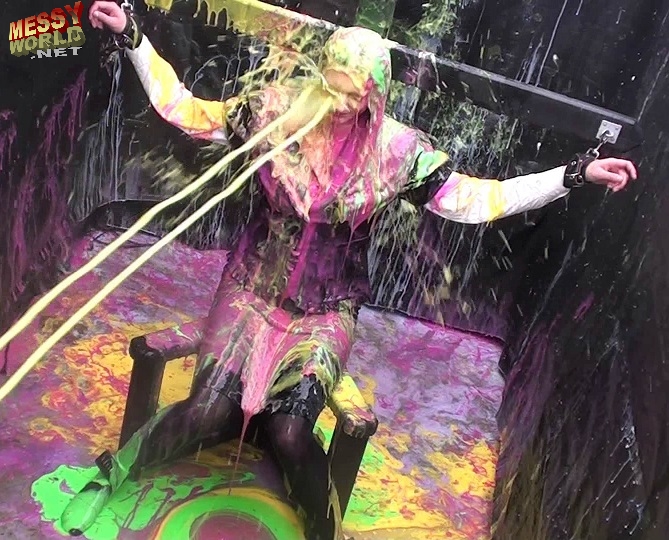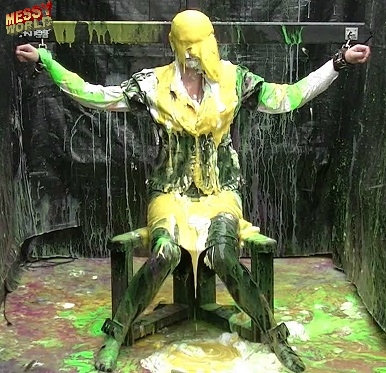 Estate Agent Rachel has noticed that her own sales figures are low. Her job is at risk and she needs to do something fast. But how does she discipline herself? A phone call to Messyworld should help. She calls Miss Michaela who agrees to give her some 'Motivational Therapy'. A bloody good Gunging whilst tied securely to her cross. This one is going to be very intense for Rachel. Another ruined business suit!
150 HD Images Download Pictures - Download Video 18 Min HD Video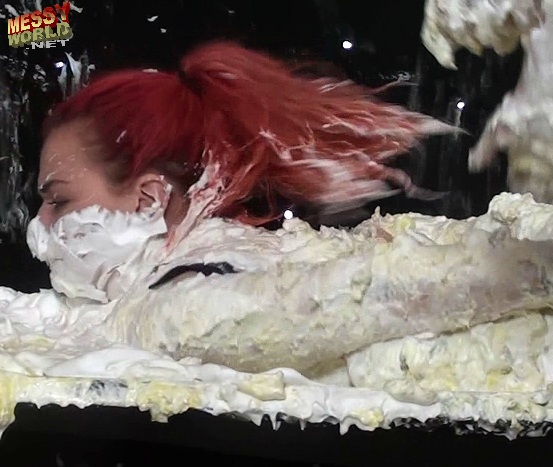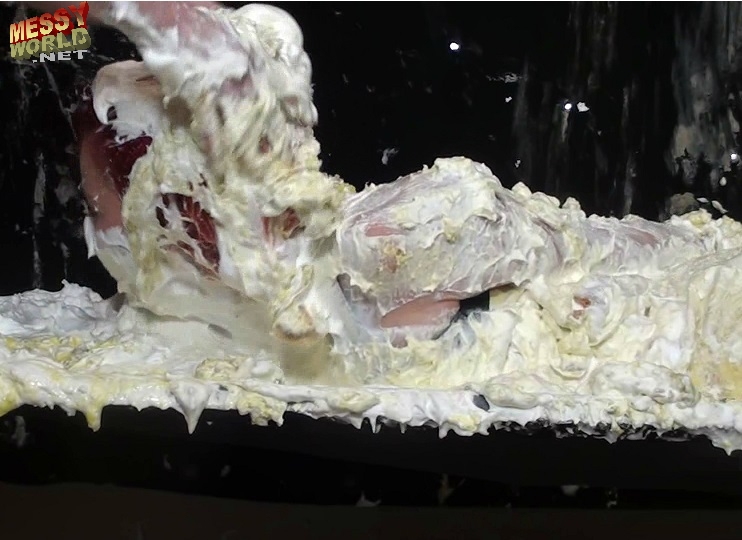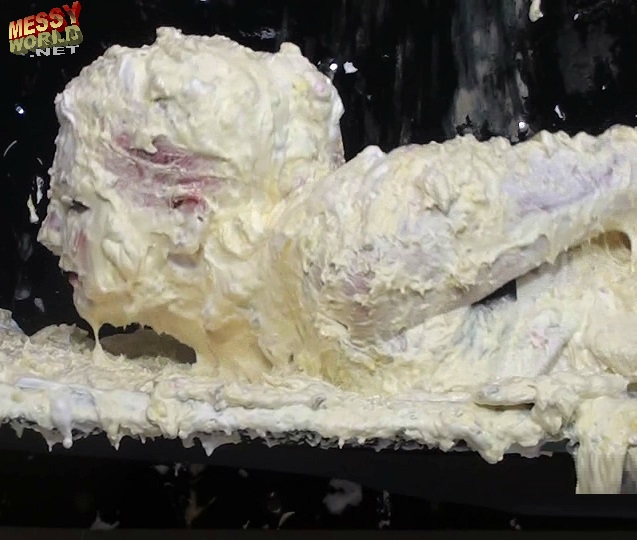 Following the previous 2 episode's of Lisa's messy torment, she has made a complaint to her manager about her sadistic co-hosts behavior. Unfortunately, her co-hosts, Sarah & Caitlyn have discovered her attempts at removing them, and now, as Episode 3 begins, they have taken her torment to a completely new level. Lisa is hogtied and lifted onto a bed of pies and smothered in all of the desserts, which is worsened further when her boss finds her at the end.
90 HD Images Download Pictures - Download Video 10 Min HD Video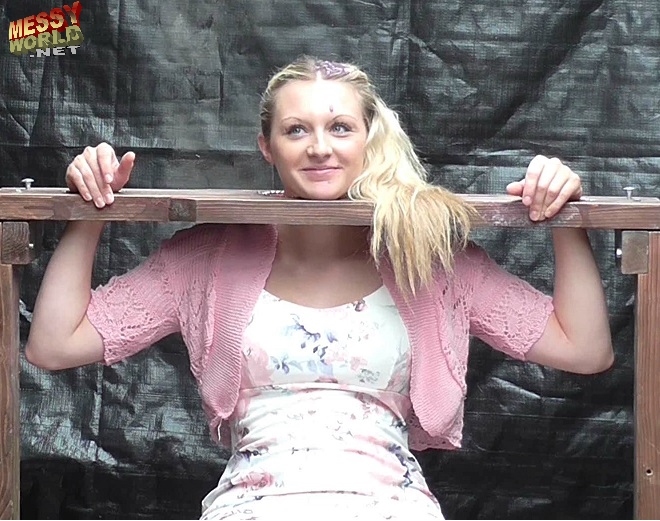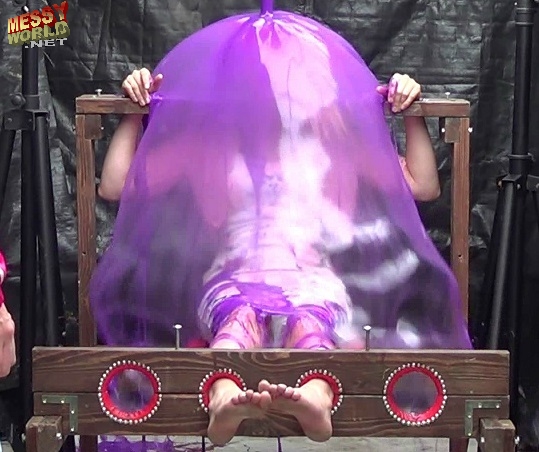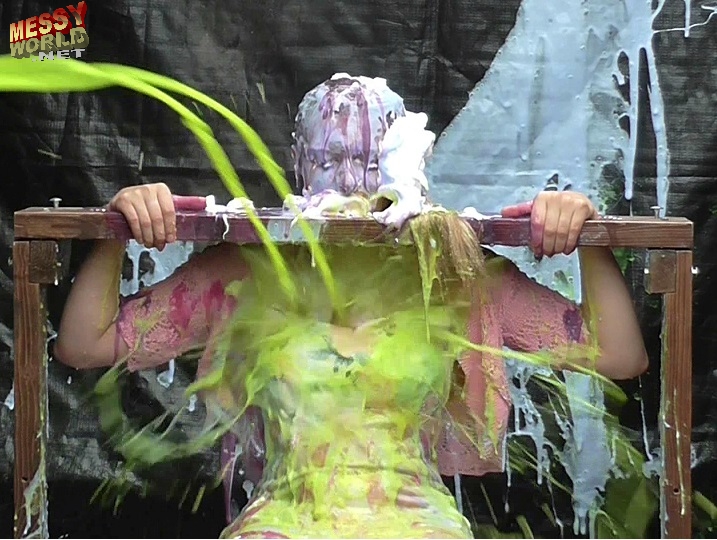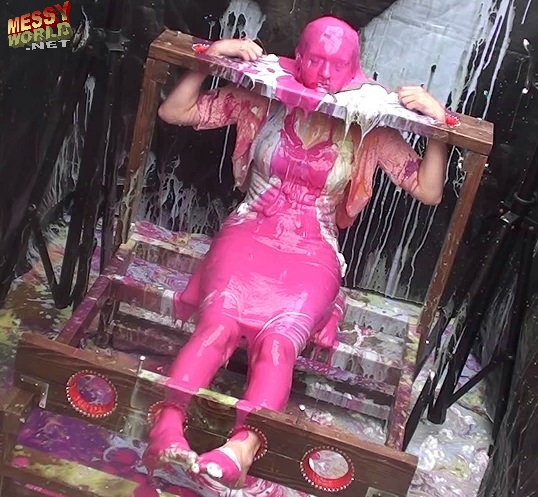 When Estate Agent, Rachel Watson called Messyworld's Miss Michaela to ask her if she would be so kind as to gunge some of her staff for her in an attempt to encourage them to reach their sales targets, Michaela insisted that Rachel do a favour for Messyworld in return. So, this is the favour, the deal... Rachel turn up in one of her most expensive outfits. When she arrives she is to be locked firmly in our unique pillory system and absolutely covered from head to toe in both Gunge & Pies.
90 HD Images Download Pictures - Download Video 14 Min HD Video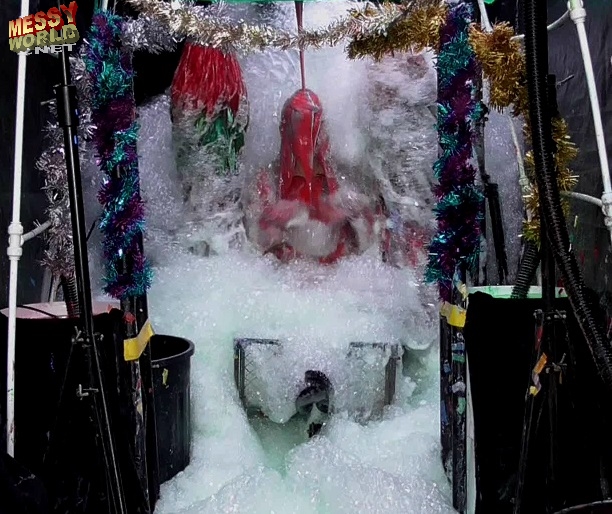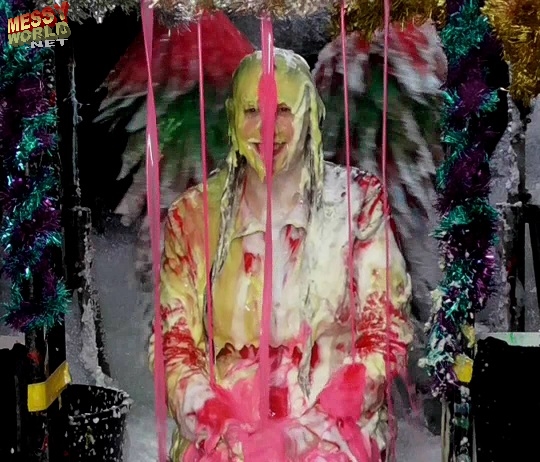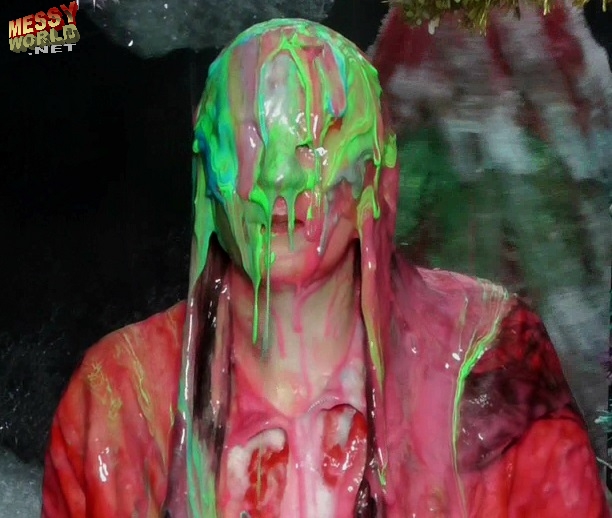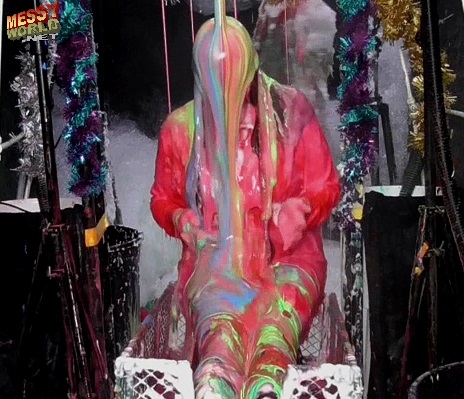 Michaela is here to provide a sneak preview of the brand new and very expensive Human Carwash extension. It's bigger, it's messier and it's even more unforgiving. The Human Carwash Mark 2.0 is here and in festive mode, Michaela is ready to test it.
150 HD Images Download Pictures - Download Video 17 Min HD Video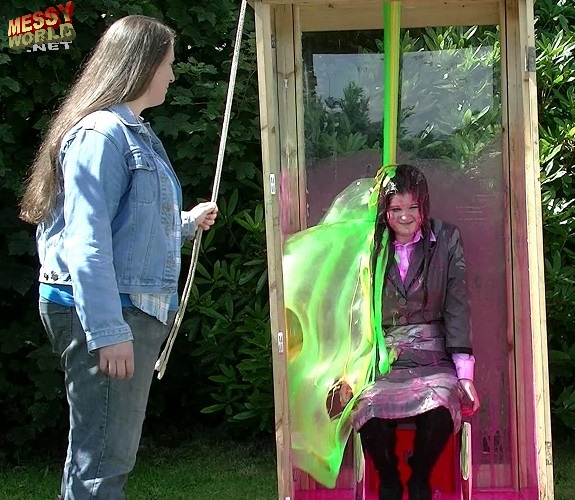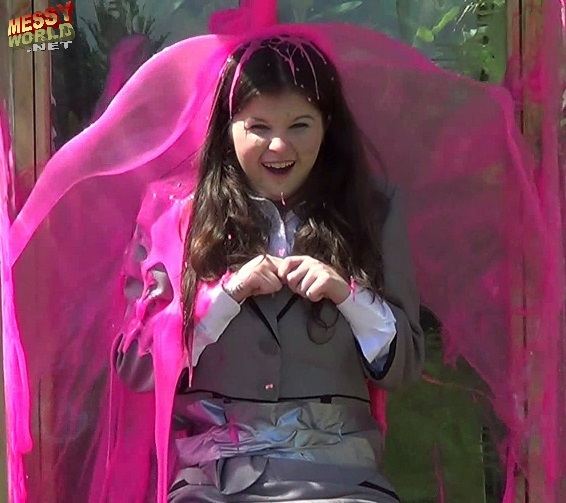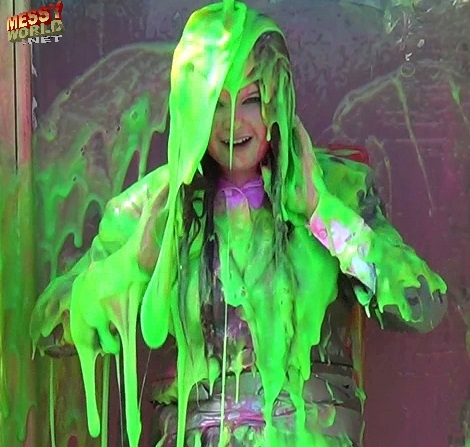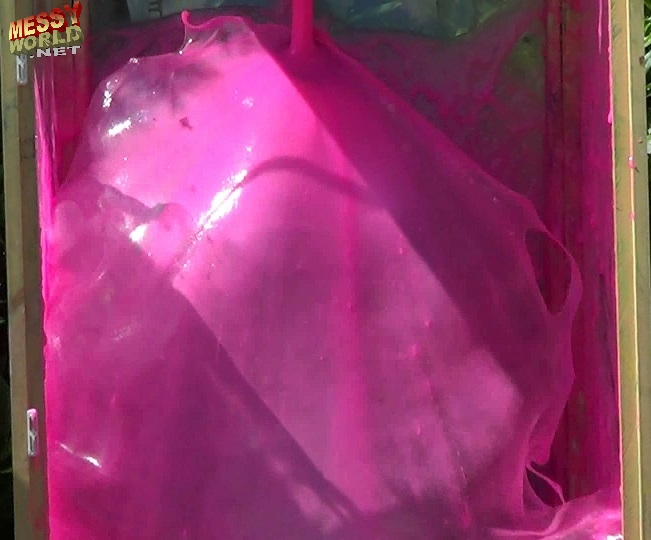 Estate Agent Hollie is sent to Messyworld's studio on an official viewing by her boss Rachel (who was previous gunged at Messyworld), in a unique way of encouraging her to reach her sales targets. During the viewing of the property, led by Messyworld's Miss Michaela, they come across the gunge tank, 'Take a seat and give this a valuation' asks Michaela... cue a totally ruined business suit.
60 HD Images Download Pictures - Download Video 12 Min HD Video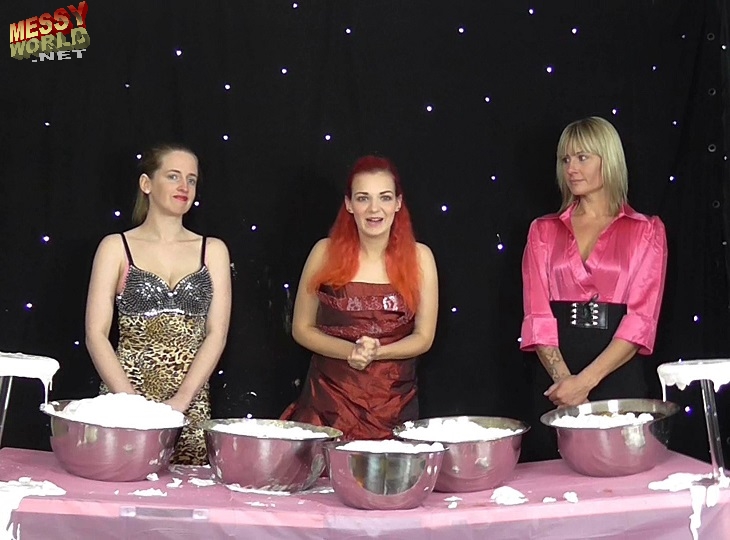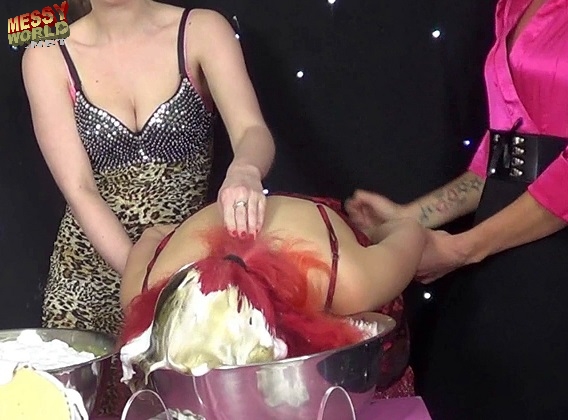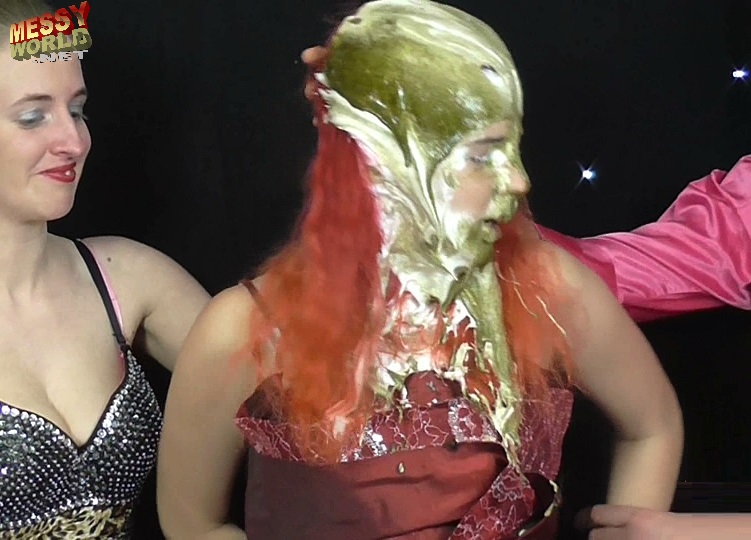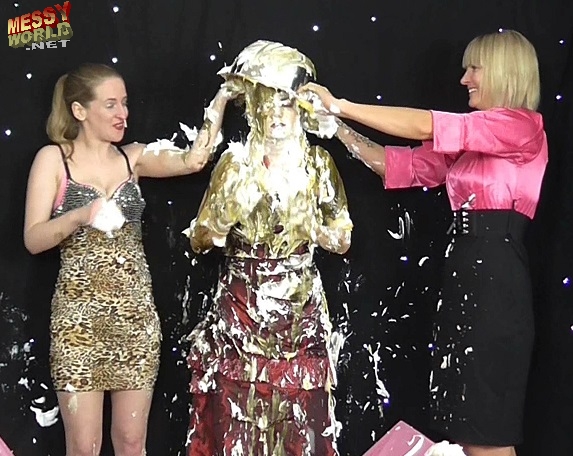 After the humiliation she experienced on the opening night of Lisa's Cookery Corner, Lisa is naturally nervous. As episode 2 gets under way it is clear that her co-hosts are still angry about her getting the lead role. This time they dunk her head in the bowls of pudding featured in the show. They dunk her so hard that they break the desk which gives them the perfect opportunity to completely trash her.
60 HD Images Download Pictures - Download Video 4 Min HD Video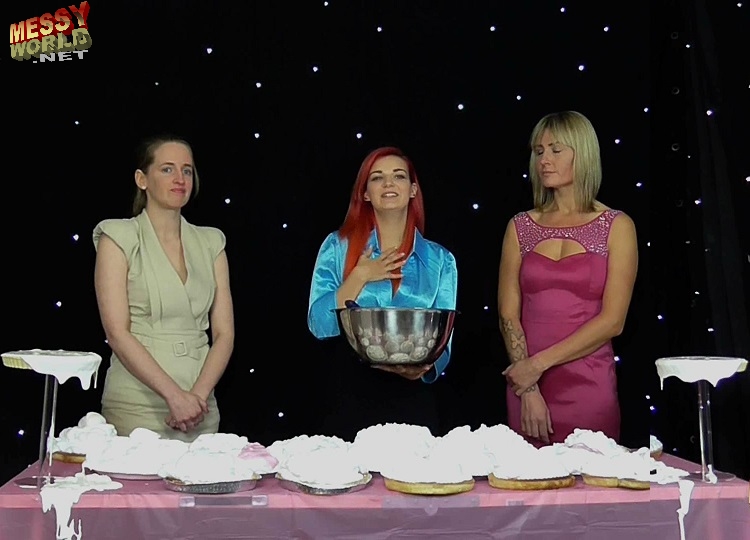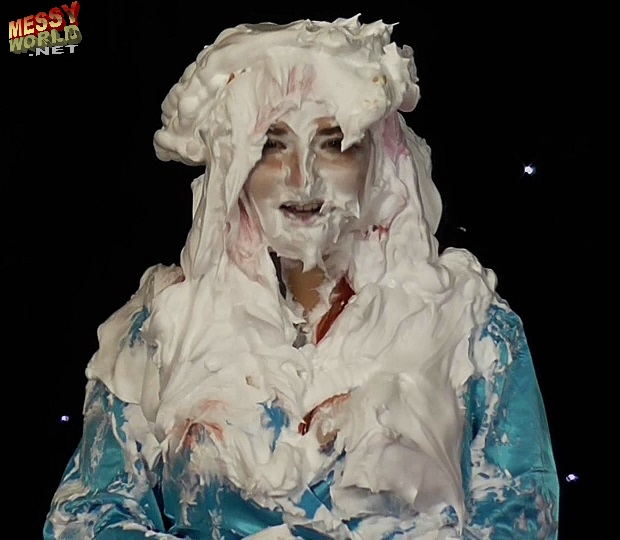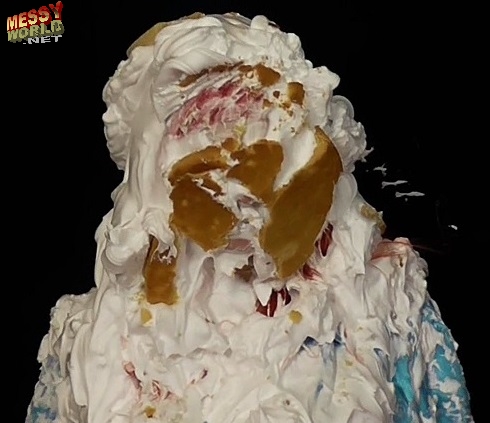 Welcome to a brand new cookery show, fronted by Lisa Cole, much to the annoyance of her co-presenters, Sarah & Caitlyn, who clearly do not like her. During the first episode they show their grievances towards Lisa by humiliating her live on camera for everyone to see. They trash her in all of the sticky pies and delicious desserts laid out in front of them. Lisa tries to remain professional throughout but struggles to maintain her composure as they continue to smother her in everything available at their disposal.
120 HD Images Download Pictures - Download Video 4 Min HD Video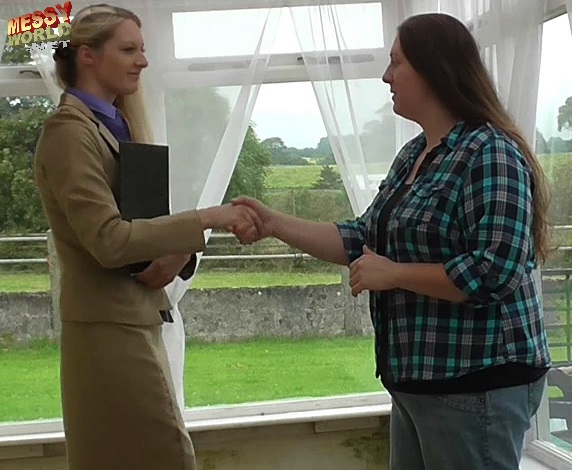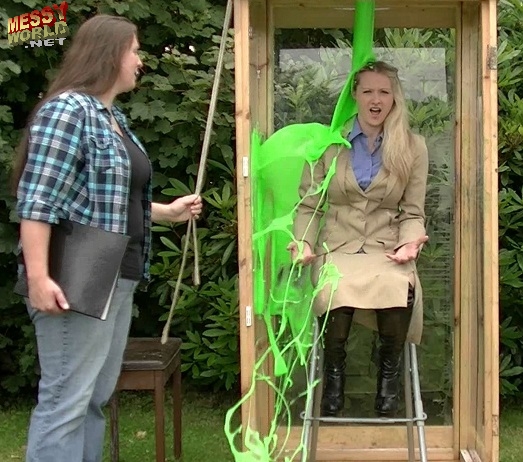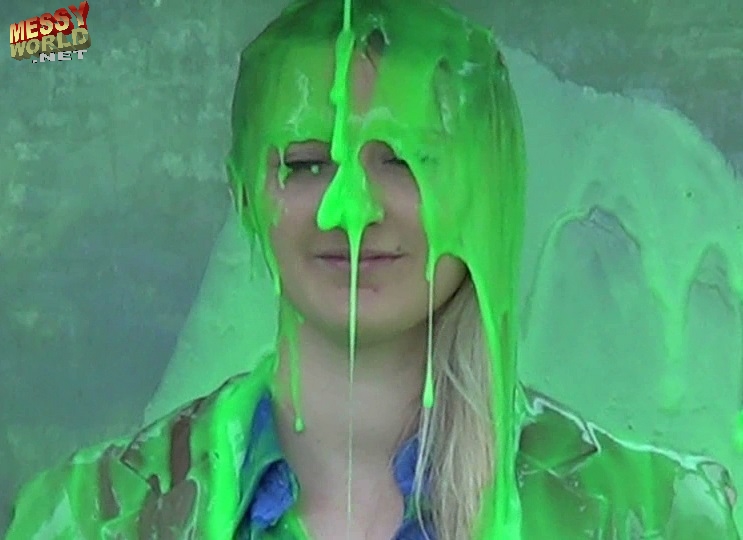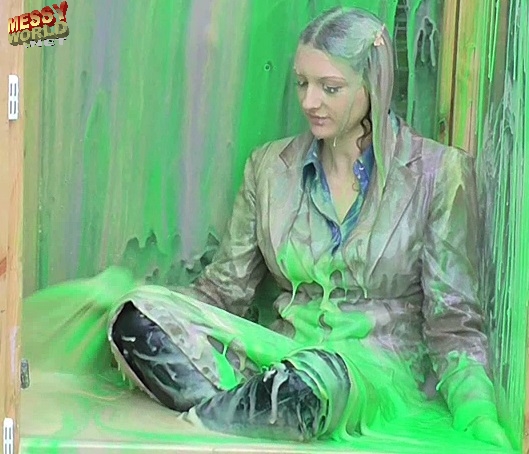 Rachel is an Estate Agent & we have had a valuation on our studios. After viewing the studio facilities, Rachel gives a lower than expected valuation, based on there being, 'a slimey substance in some of the corners of the studios'. Michaela shows Rachel exactly why there is a slimey substance around and makes Rachel revise her estimate. Estate Agent Rachel is sent off absolutely covered in gunge! I wonder what her office workers will say?
90 HD Images Download Pictures - Download Video 14 Min HD Video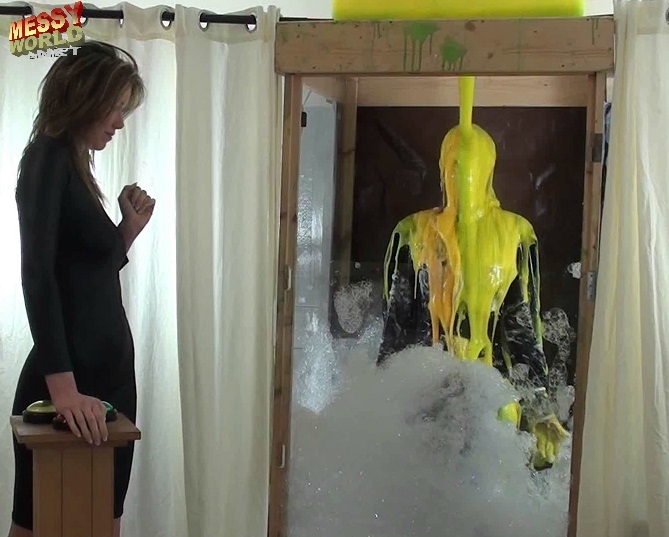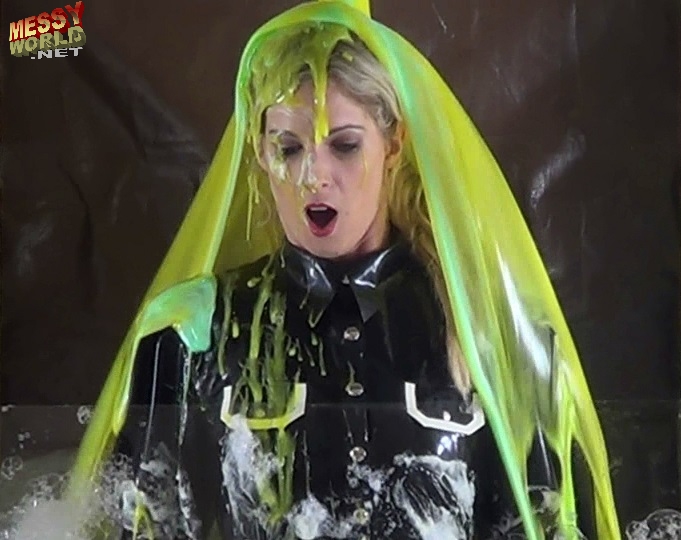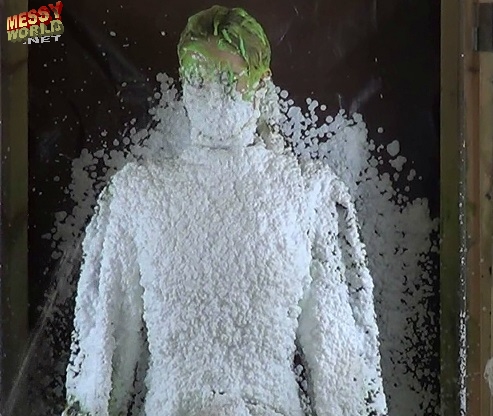 After filming a very dominant plea video, the viewers of Messyworld voted Stacy into the gunge tank allowing Tamara to finally get her revenge after being gunged twice by Stacy.
60 HD Images Download Pictures - Download Video 16 Min HD Video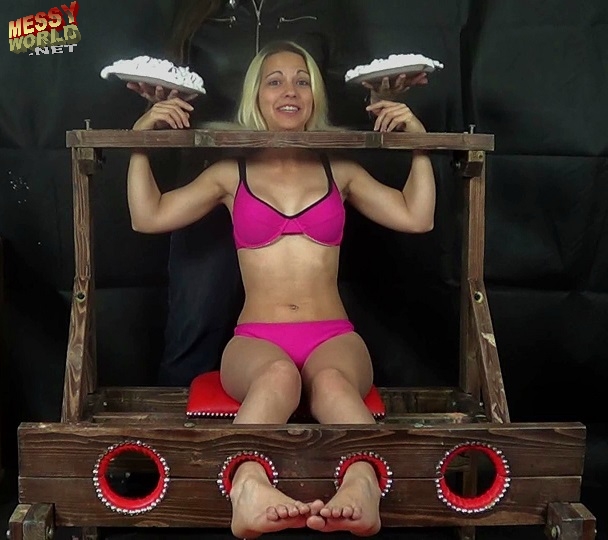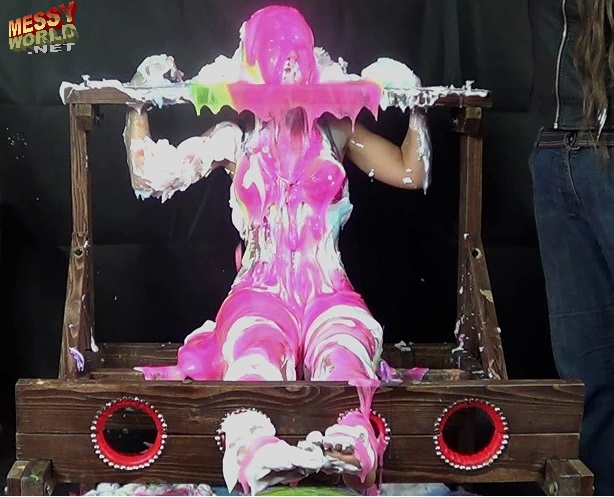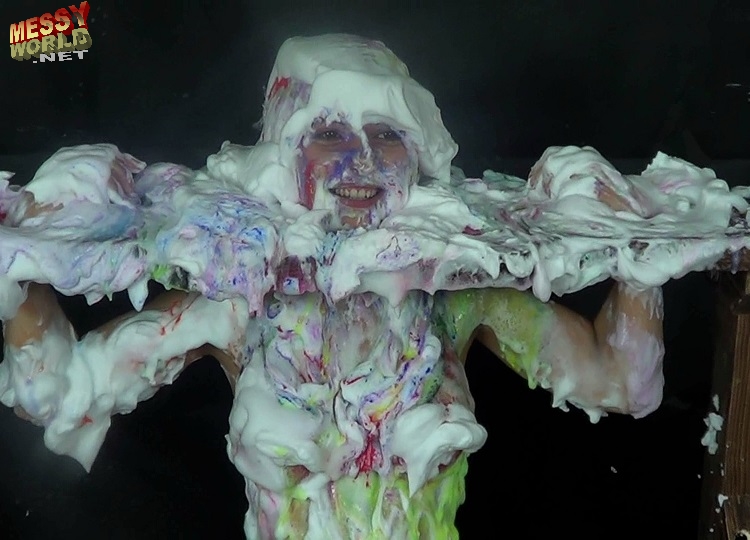 Wearing a hot pink bikini, Tamsin is locked in the Pillory System, a unique restraining device in which the head, wrists and ankles are secured in place. Once restrained, she receives a table full of custard pies, several buckets of slime and a coating of foam.
120 HD Images Download Pictures - Download Video 18 Min HD Video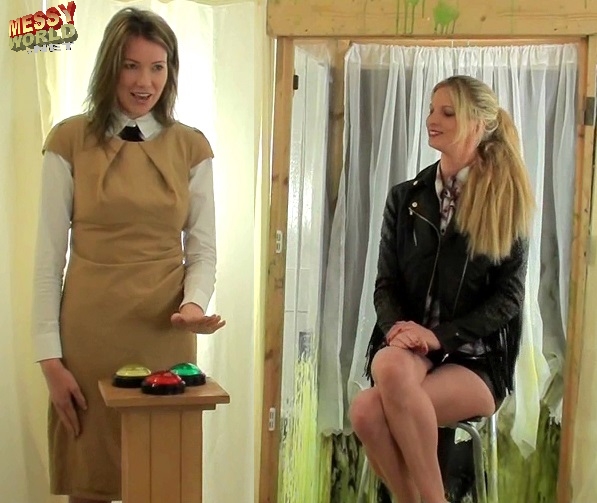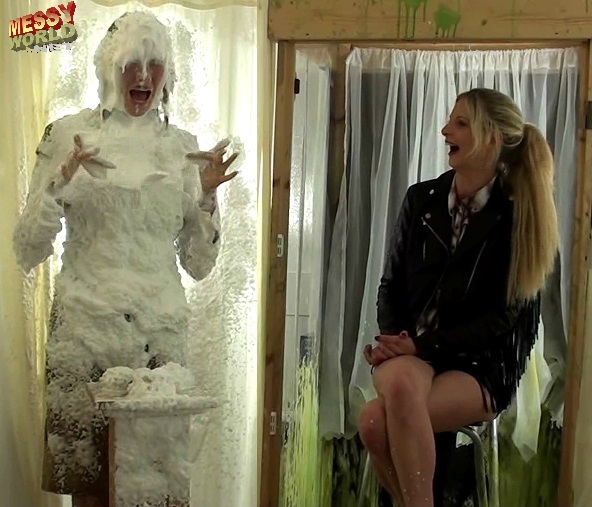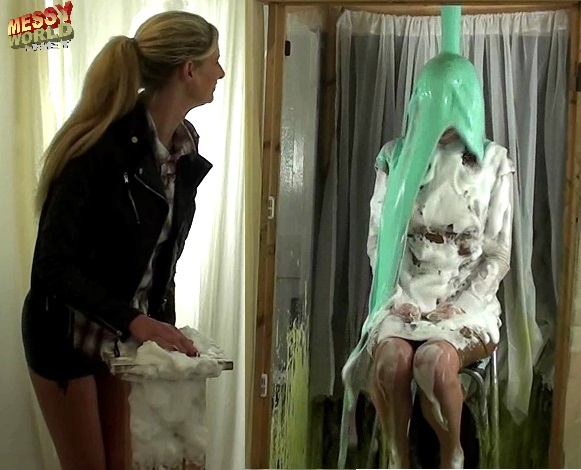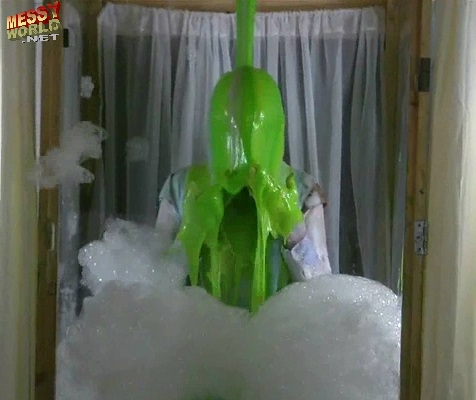 After being gunged by Stacy, Tamara now believes that it's her turn to get revenge on her Mistress Stacy. But, all is not quite what it seems. Stacy is pulling a double bluff and when Tamara goes to press the gunge button, Stacy stays clean and Tamara gets the shock of cold water followed by foam before being gunged in the SupaGunga by Stacy. It appears Stacy has won again!
60 HD Images Download Pictures - Download Video 13 Min HD Video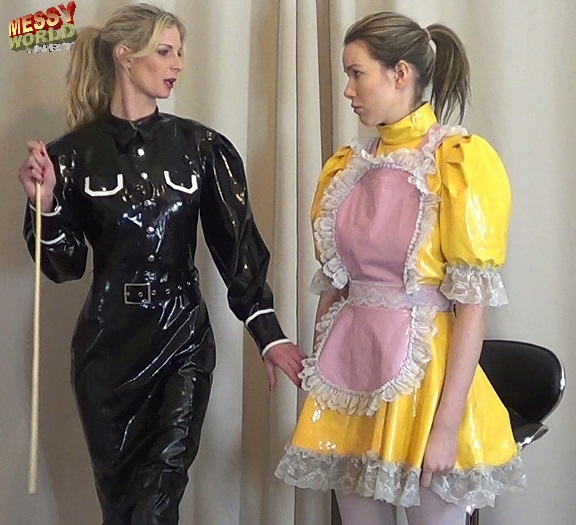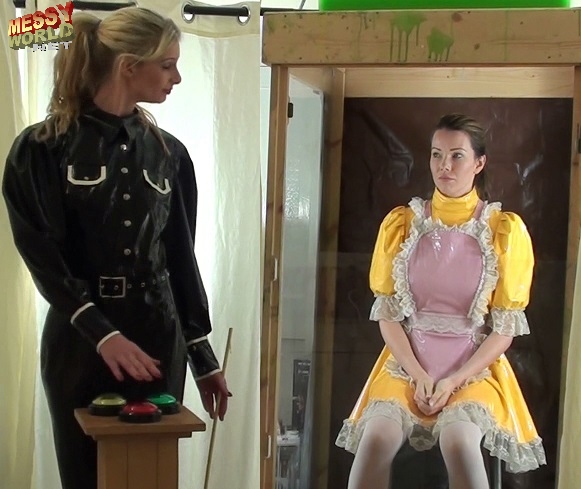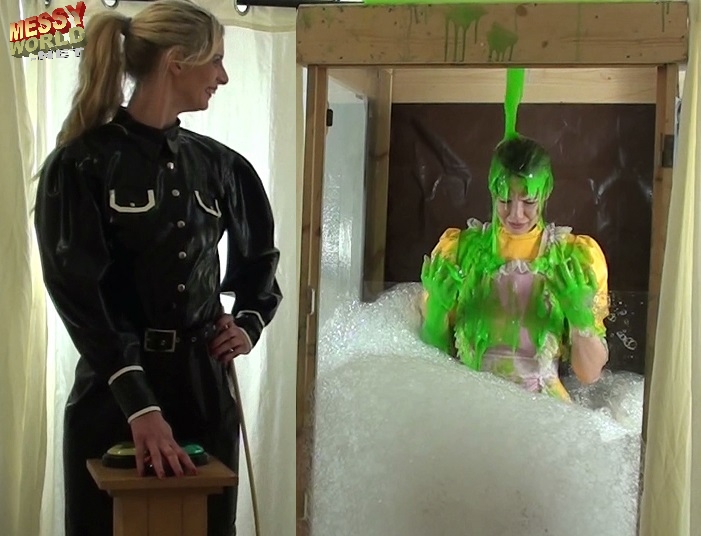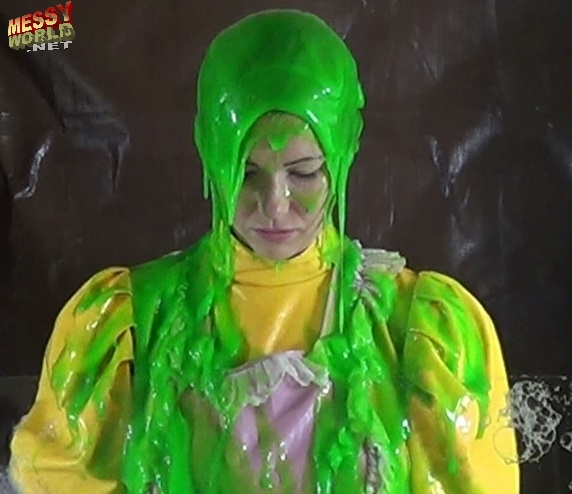 When Tamara rebels against her Mistress Stacy, a severe punishment is quickly dished out. Stacy takes her maid straight to the gunge tank and gives her a full on slimeing. Surely Tamara will never step out of line again... will she?
60 HD Images Download Pictures - Download Video 6 Min HD Video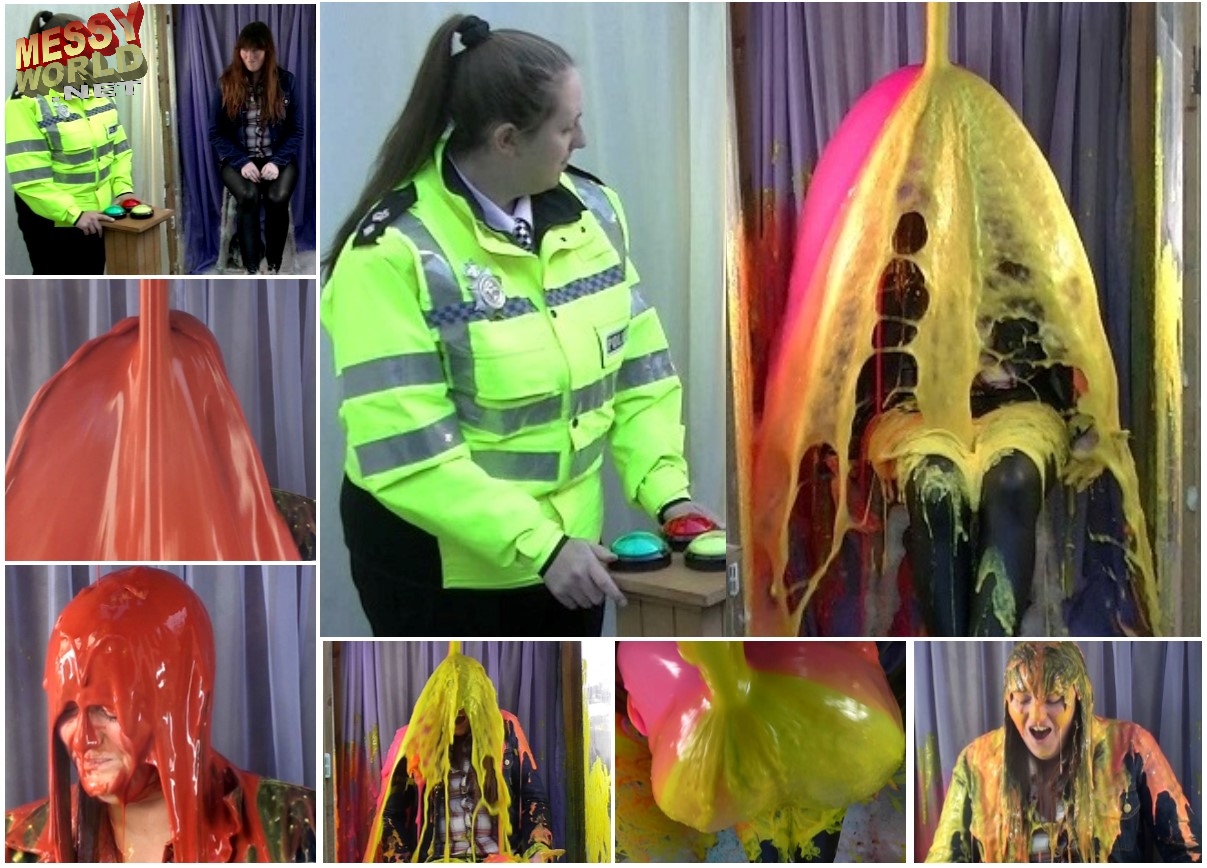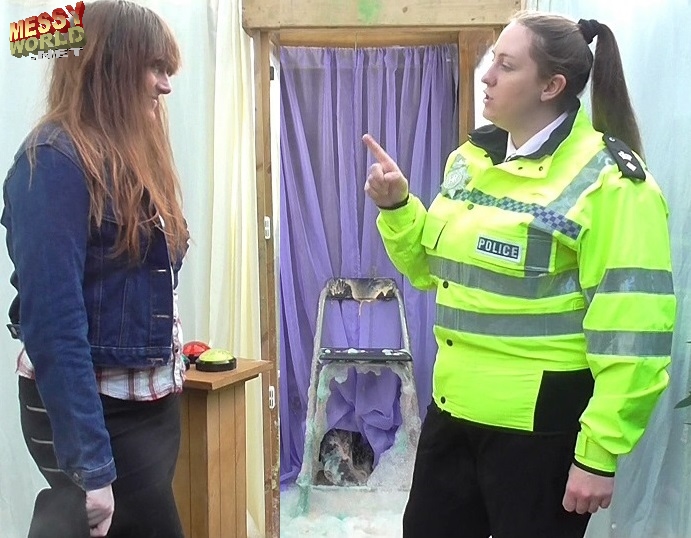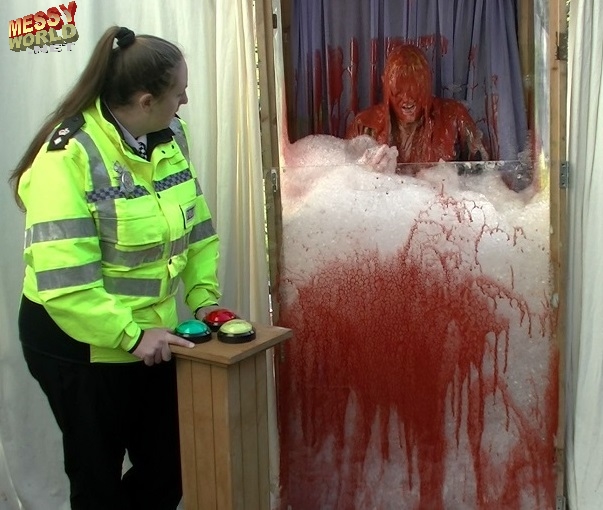 "Messyworld put my name forward & I'm not happy about it", was Lisa's response to WMPC Michaela when asked why she had vandalized the gunge tank. But after this whole series of events has played out, Michaela realized that Messyworld do not put name's forward, people instead get nominated. So, someone else is responsible for all of this. Someone is responsible for the vandalism, for Lisa's Messy prison sentence & for Michaela being gunged. If that person had not put her name forward, none of this would have happened. So now, the full circle must be completed & justice must be served.
120 HD Images Download Pictures - Download Video 16 Min HD Video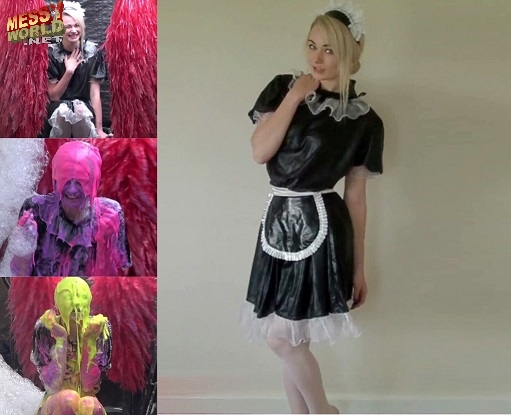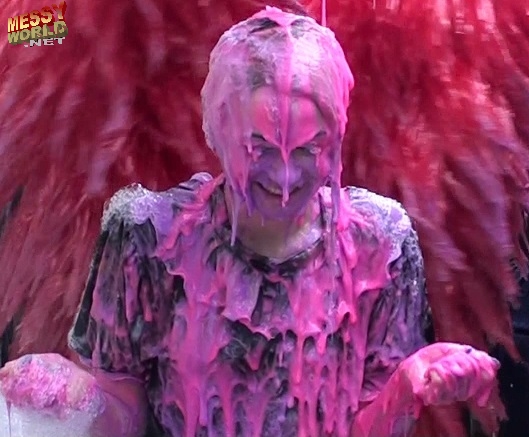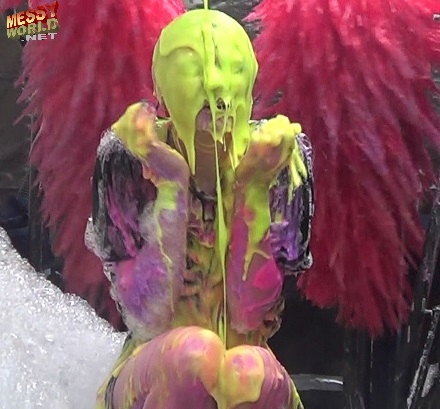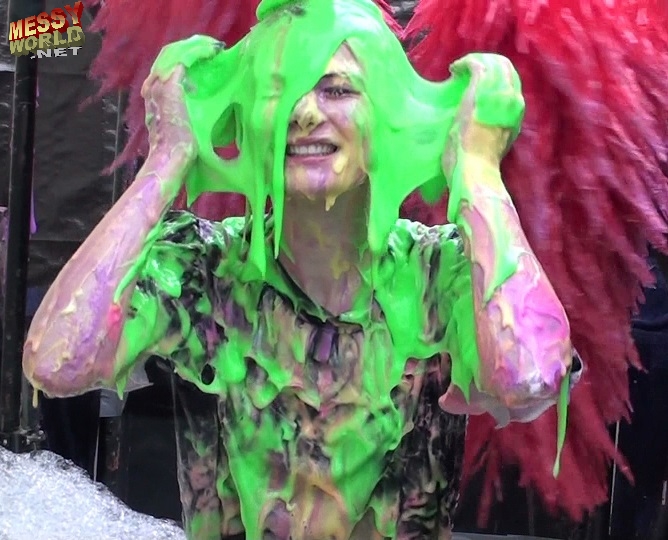 Ashleigh Jamerson rides The Messyworld Human Carwash in a black maid's outfit with white apron and head dress.
90 HD Images Download Pictures - Download Video 12 Min HD Video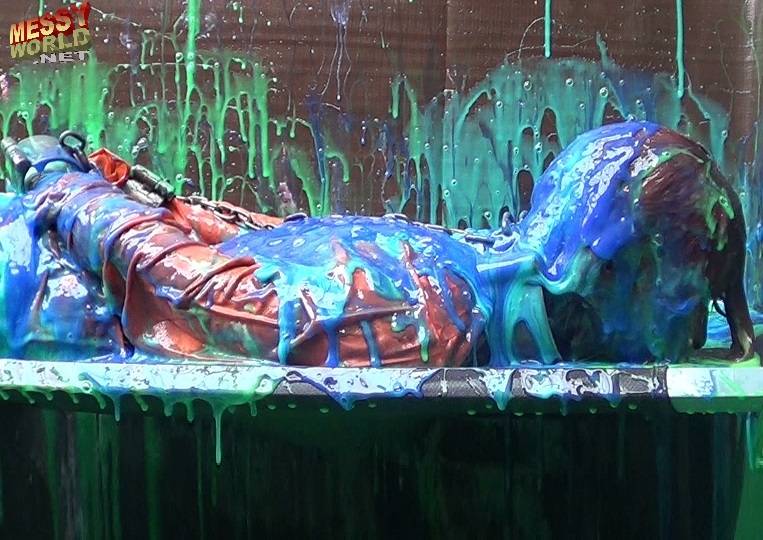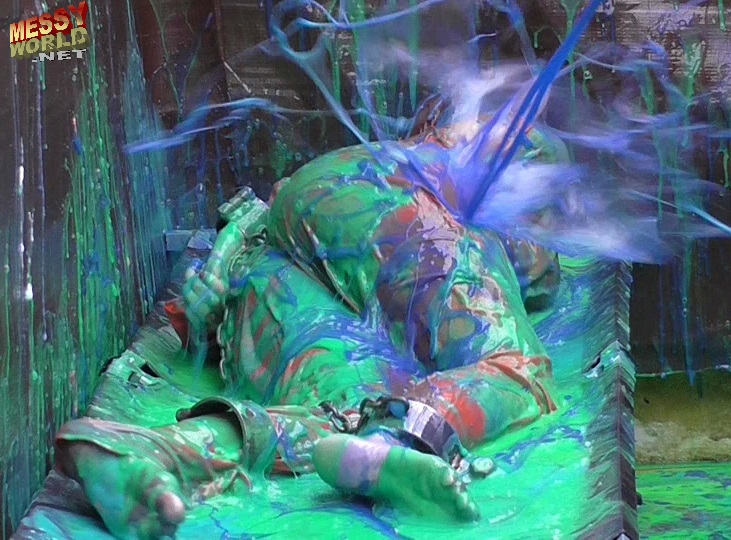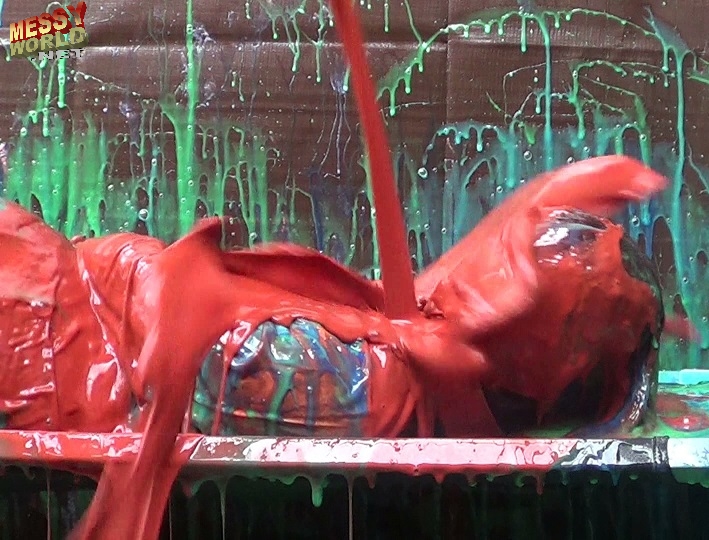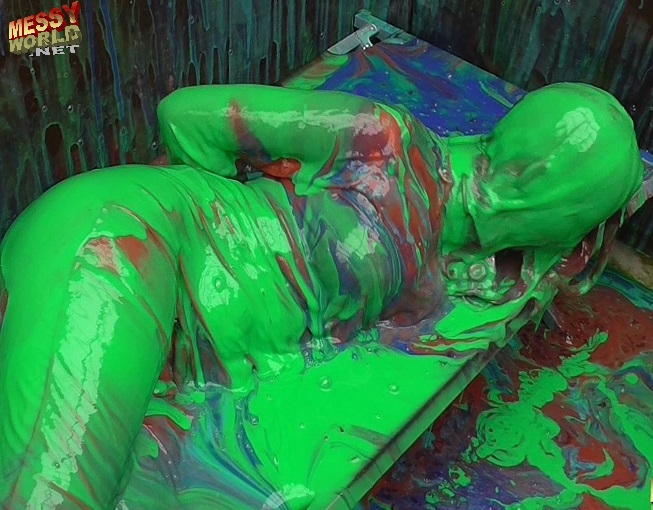 We return to see how Lisa is getting on in her 'Messy Prison'. Now getting shackled to the bed, she faces layers of gunge blasted at her and a sadistic pie pillow. Hogtied in chains, how long can she keep her neck up to avoid the pie below her face. Can she survive another second of messy torment?
150 HD Images Download Pictures - Download Video 21 Min HD Video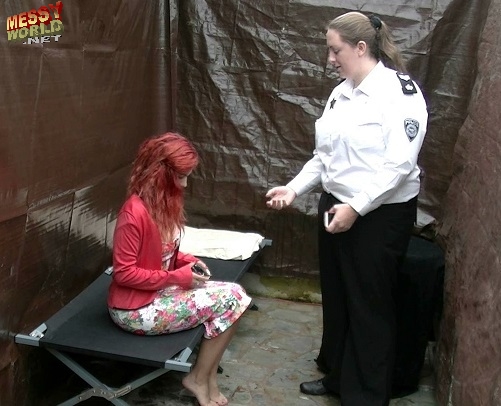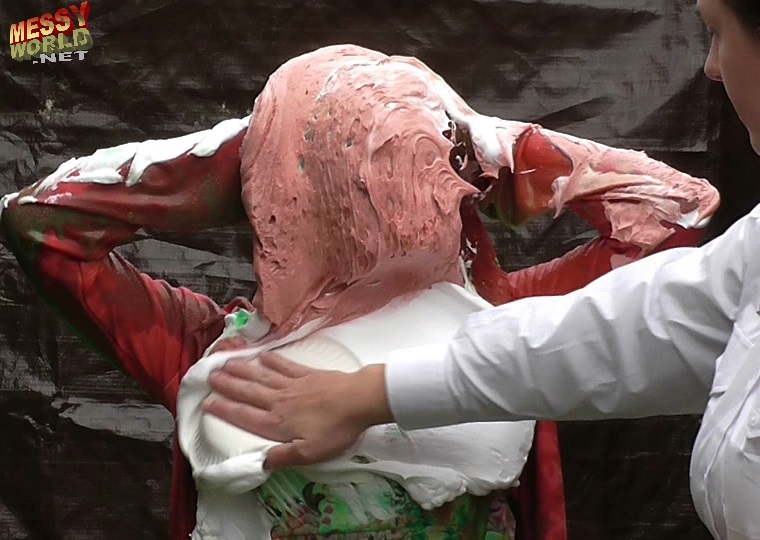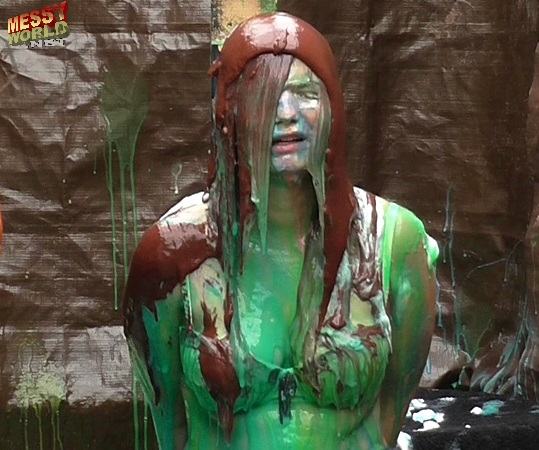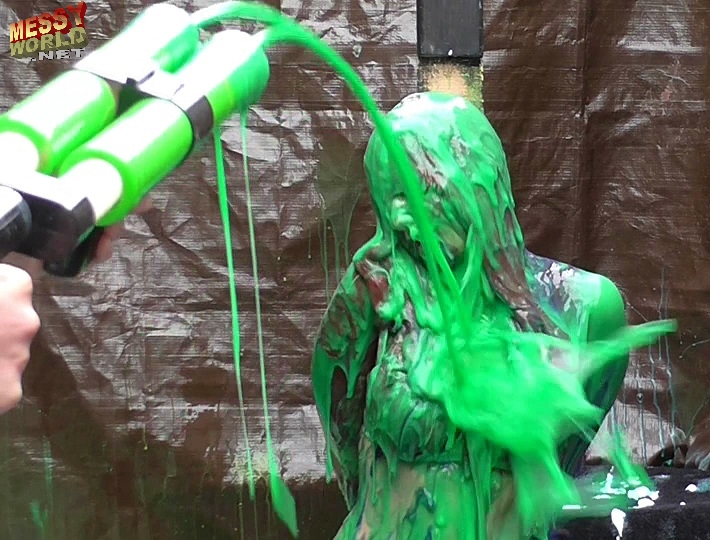 Now sentenced to 2 weeks in 'Messy Prison', Lisa is finding life in jail very difficult to adjust to. She is woken up with a bucket of slime, told to stand with her hands on her head whilst she is blasted with canons of gunge, ordered to strip down to her lingerie, tied up and tarnished in pies, slime & horrid gunge by WMPC Michaela, who incidentally shows no mercy whatsoever.
180 HD Images Download Pictures - Download Video 25 Min HD Video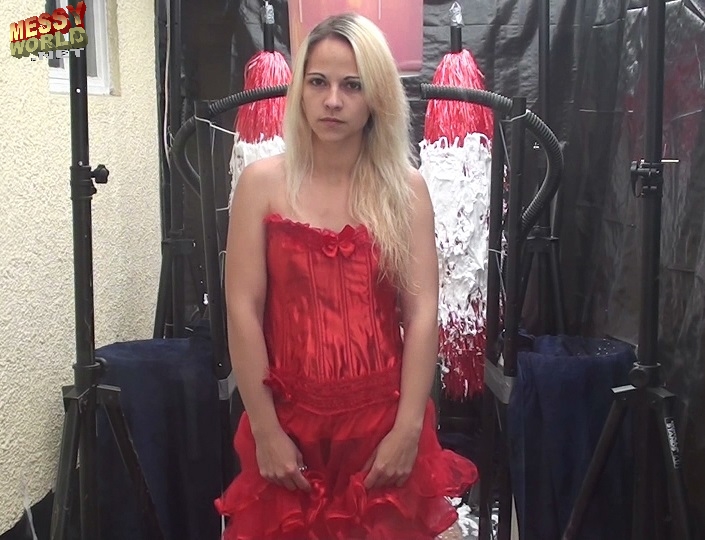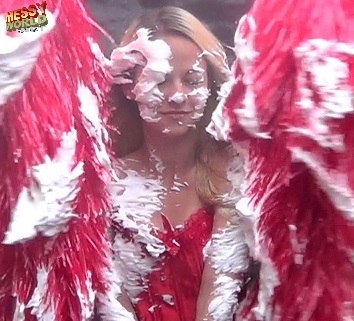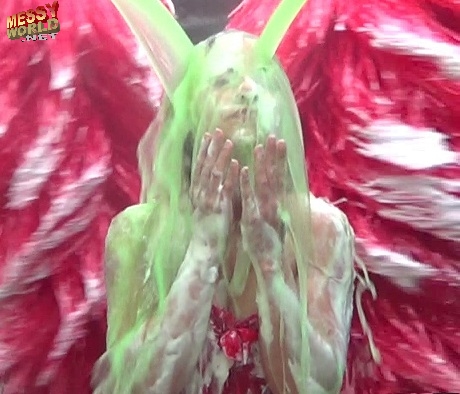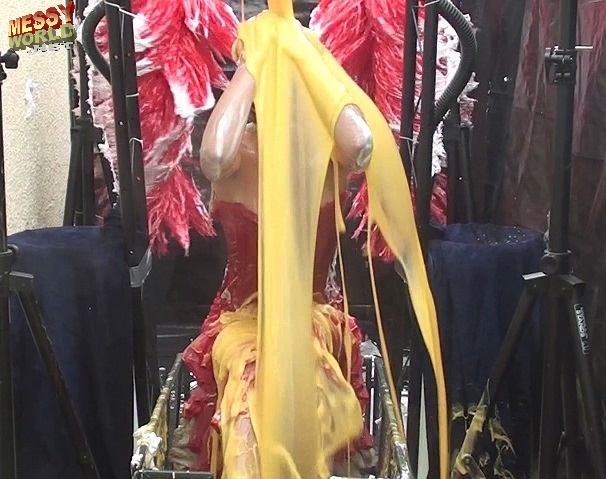 Tamsin Coren rides the wet & messy Human Carwash in satin red lingerie where she goes through brushes drenched in pie toppings, then through intensive water jets & finished with Thick Yellow Slime... and Thick Pink Slime! Plus, a couple of buckets are thrown over her along the way.
171 HD Images Download Pictures - Download Video 15 Min HD Video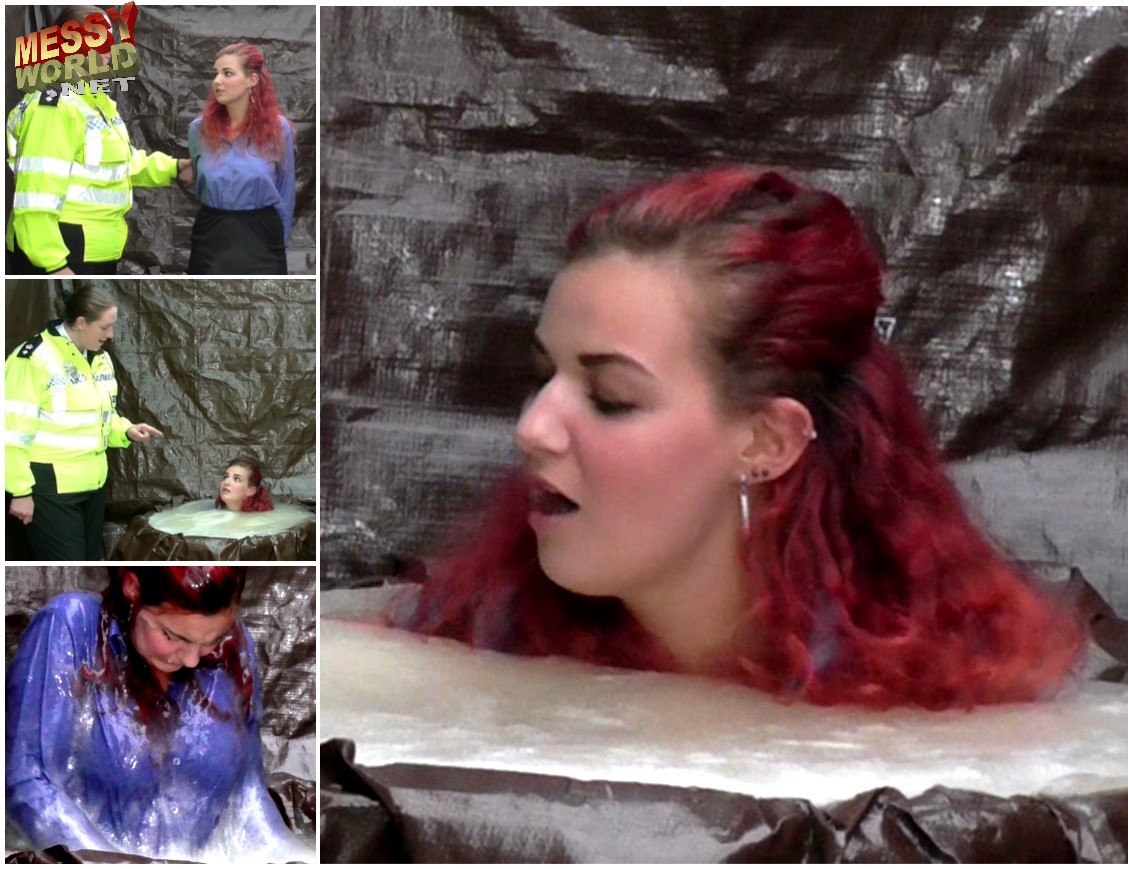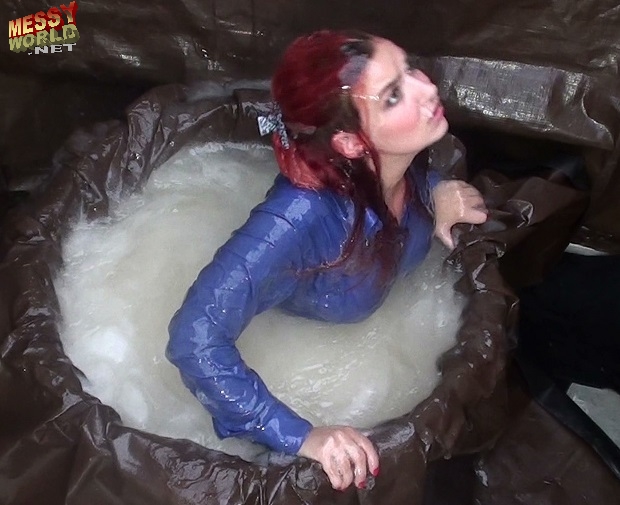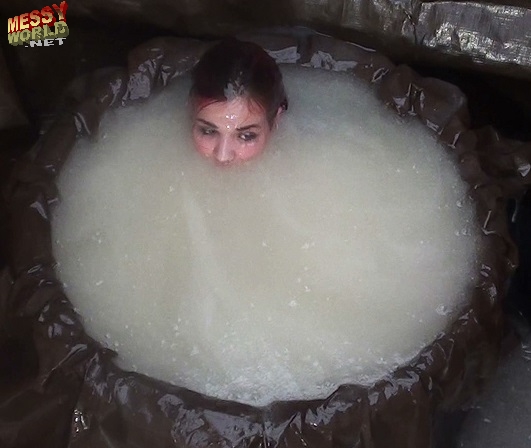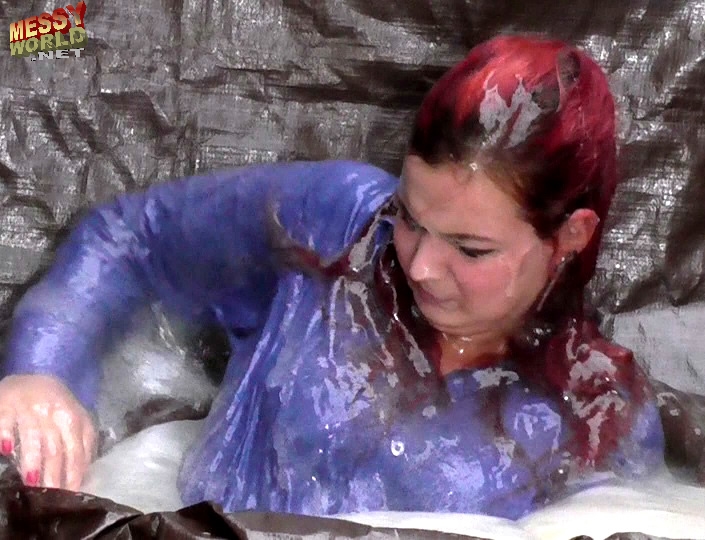 Did she really think she could get away with it? After gunging police officer Michaela, Lisa finds herself in a 'sticky situation' as she is submerged in a giant tub of thick glue, right up to her neck, and left there as it sets. It is, in WMPC Michaela's words:
'The Perfect Prison'...
120 HD Images Download Pictures - Download Video 19 Min HD Video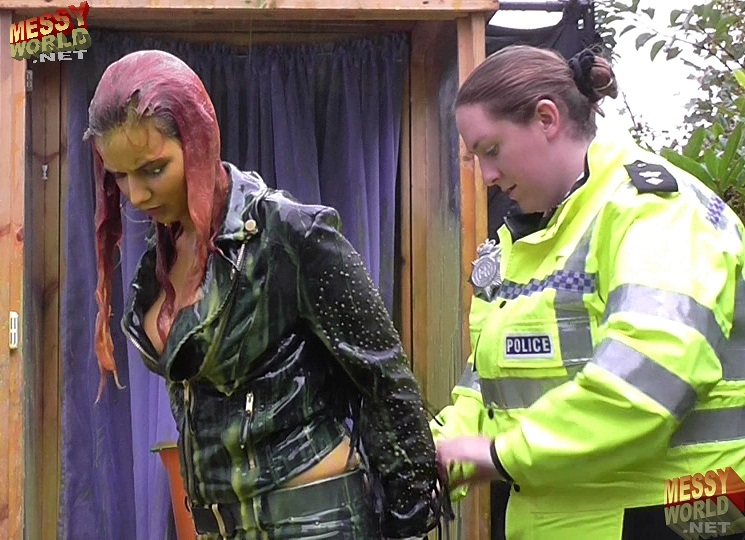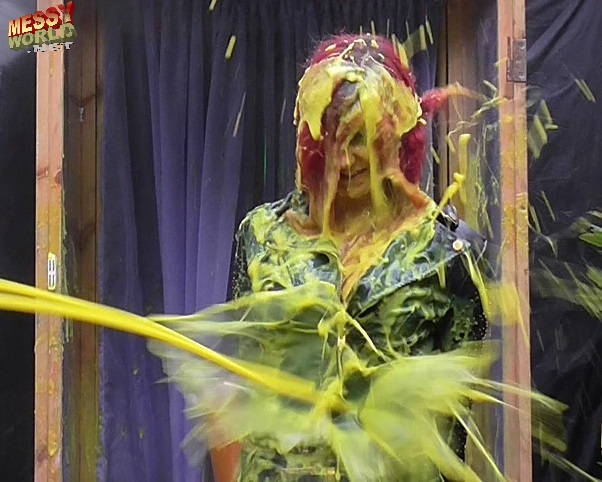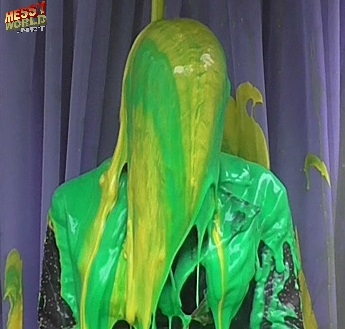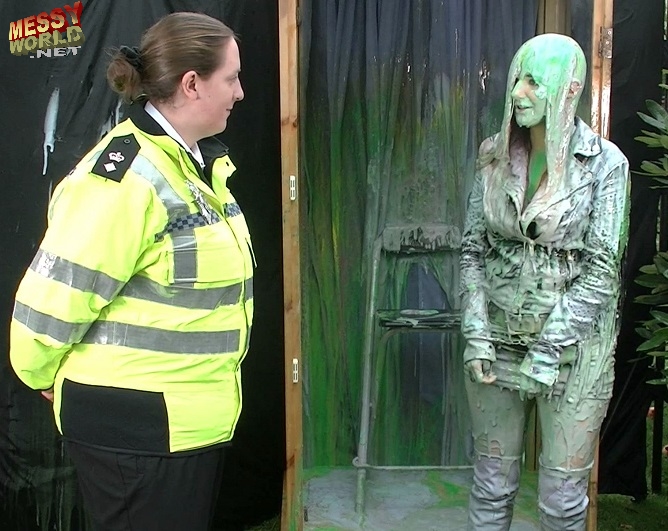 Lisa is caught vandalizing Messyworld's Gunge Tank in protest at having her name put forward to be gunged, so is arrested & gunged by WMPC Michaela. She is handcuffed, blasted with slime and gunged twice in a cruel & humiliating method of deterring her from attempting anything similar in the future.
150 HD Images Download Pictures - Download Video 15 Min HD Video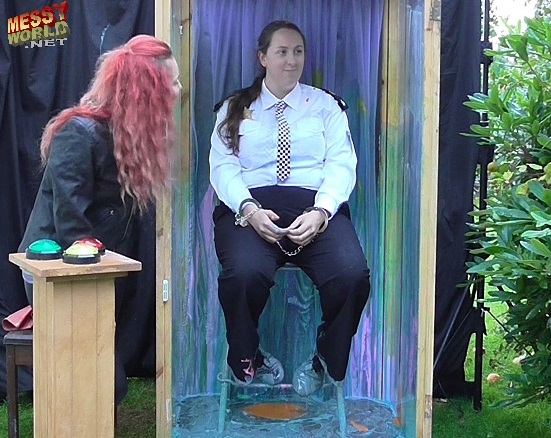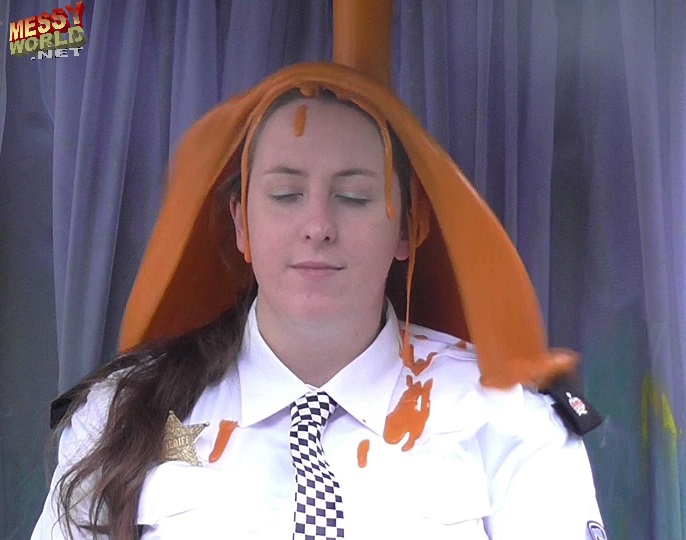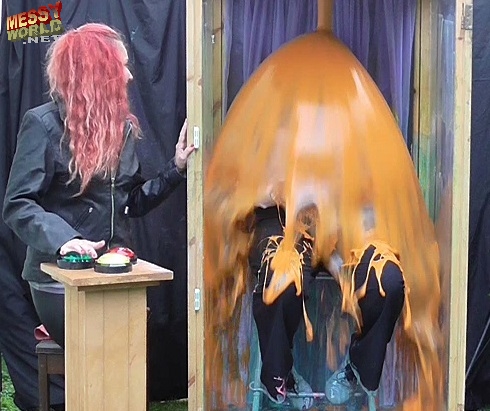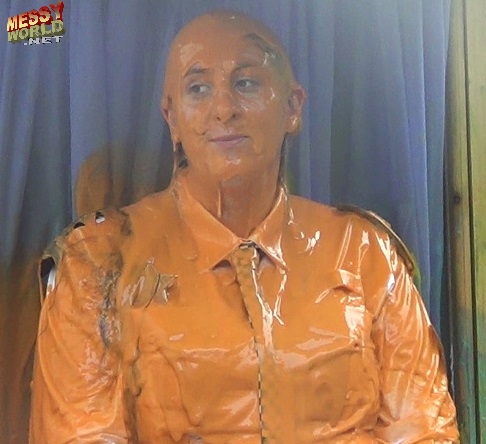 Following her messy humiliation, Lisa gets even by kidnapping WMPC Michaela and gunging her in her own gunge tank. Lisa wants her to appear in infamous orange prison uniform, so decides thick orange gunge is just as good.
60 HD Images Download Pictures - Download Video 7 Min HD Video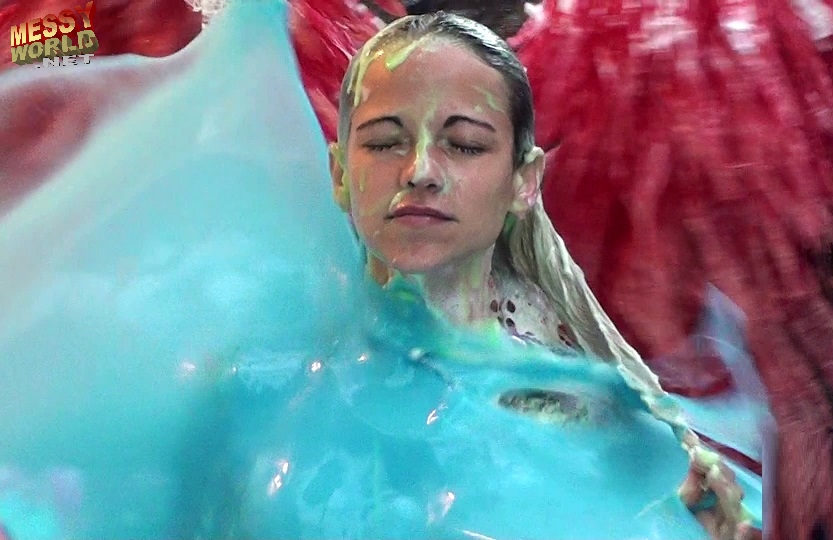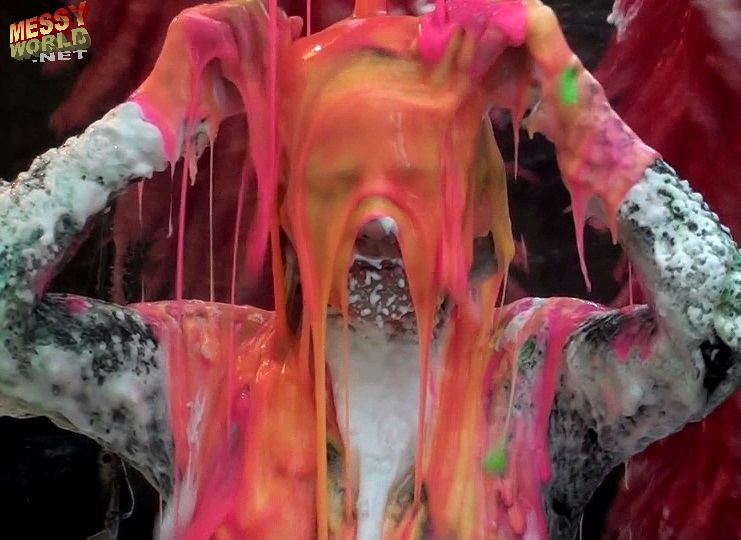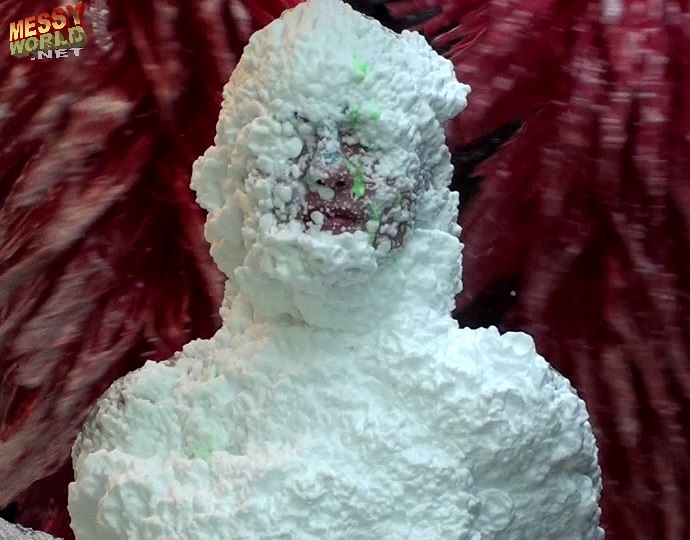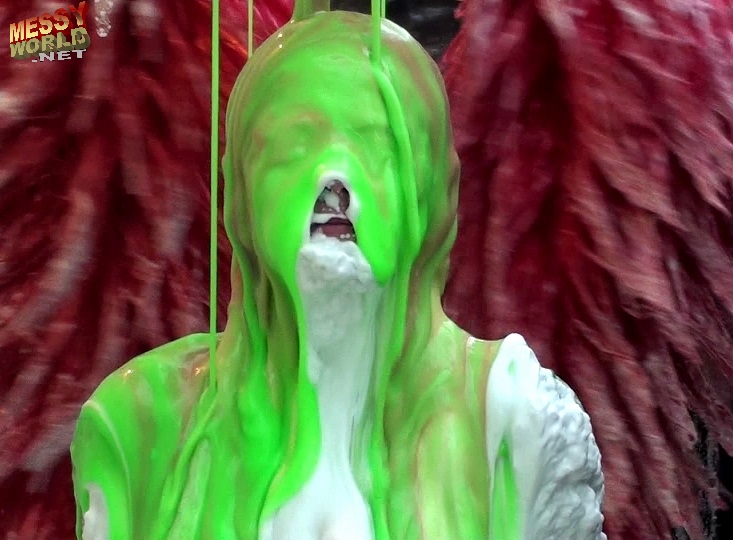 Looking very classy, Tamsin gets a double trip in the carwash in this mega gunging. After a very heavily equipped ride with gunge, water, foam and goo she is reversed and gets the whole treatment again... lucky Tamsin!
180 HD Images Download Pictures - Download Video 38 Min HD Video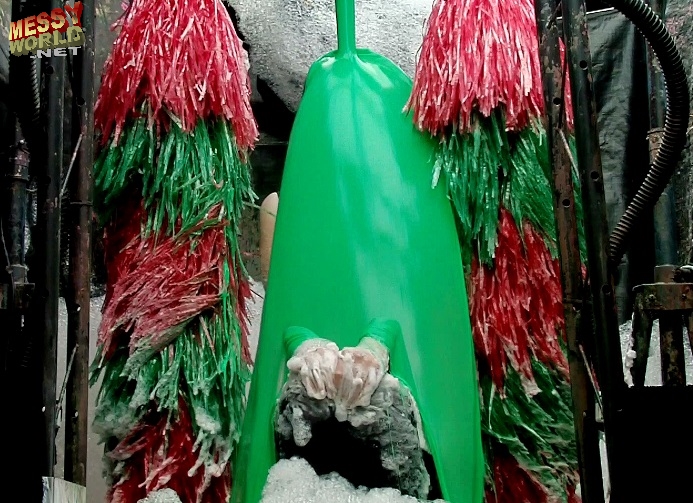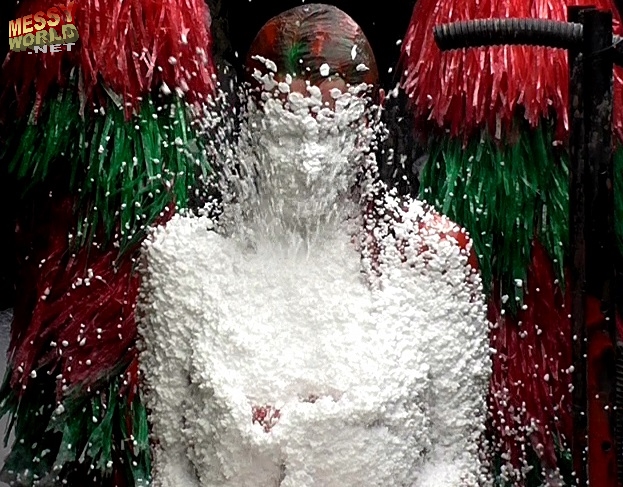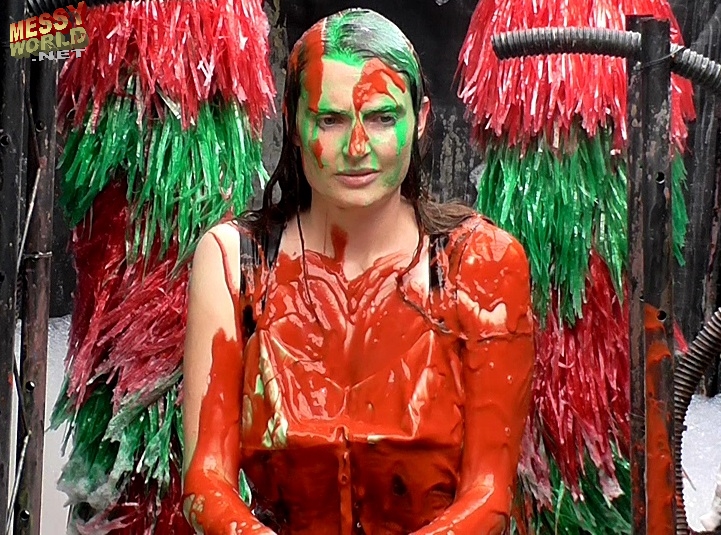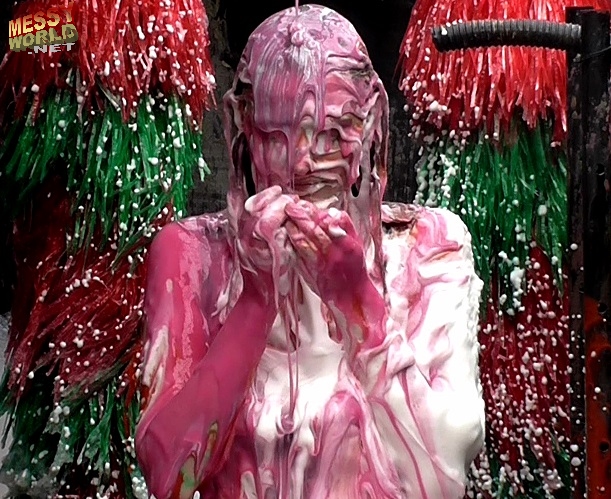 What would the fan of a popular boy band go through to win tickets to their final gig? Here, 'One Direction' fanatic Lyndsey Brooker is risking her hair, body and outfit to play for these tickets. She will have to answer 20 questions, but for every answer she gets wrong, she will go through another stage of the carwash. If she gets 5 questions wrong, she looses the tickets and will go to the final 'Destroyer' Stage! So, Let's play, The Human Carwash: The Big Quiz.....
180 HD Images Download Pictures - Download Video 21 Min HD Video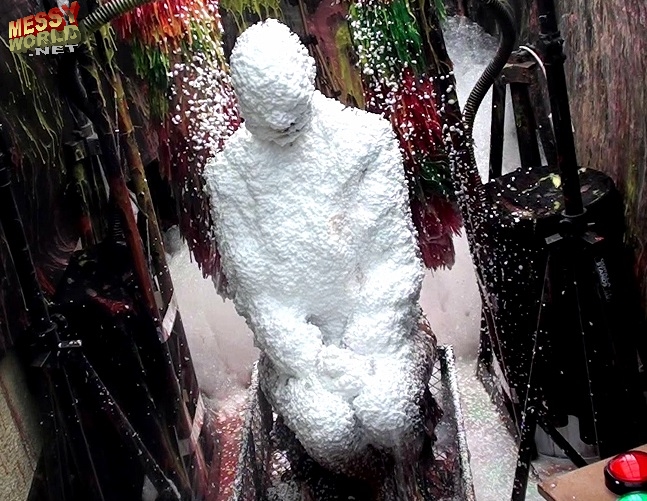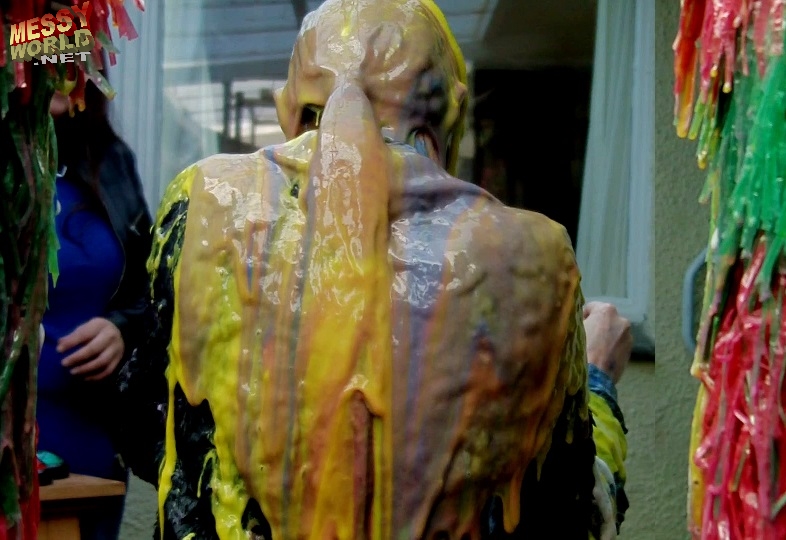 After loosing out on tickets to see one of her favorite pop bands, Lyndsey is given a second chance to try and win tickets but once again risks being covered in gunge for every answer she gets incorrect. If 5 questions are answered incorrectly then she will once again face the 'Destroyer' stage of the carwash machine. Let's see how she gets on...
120 HD Images Download Pictures - Download Video 23 Min HD Video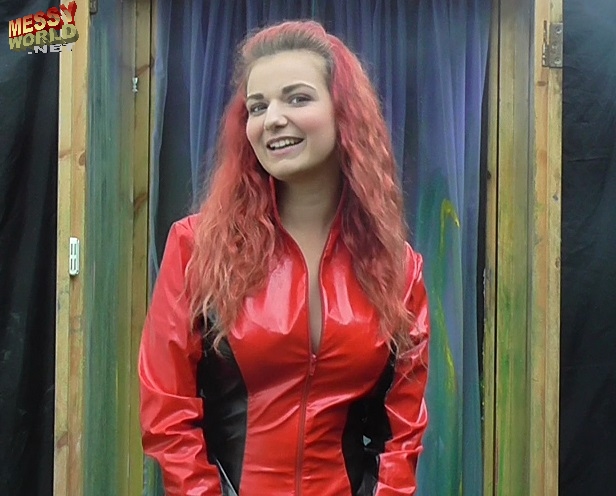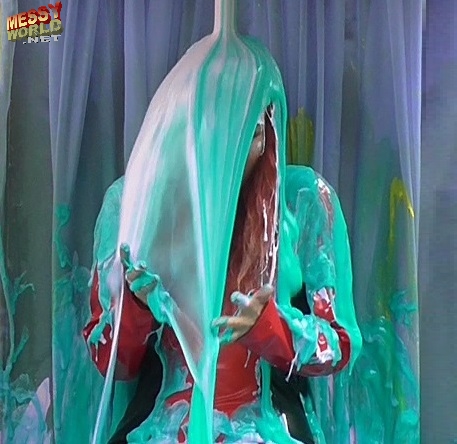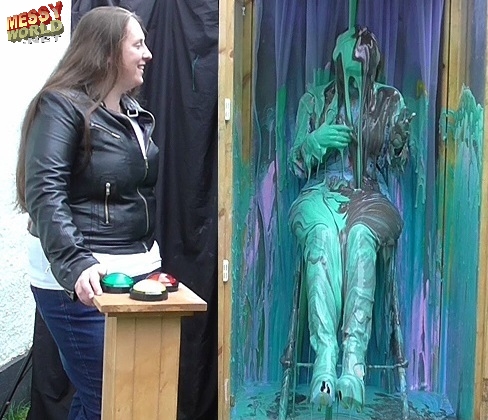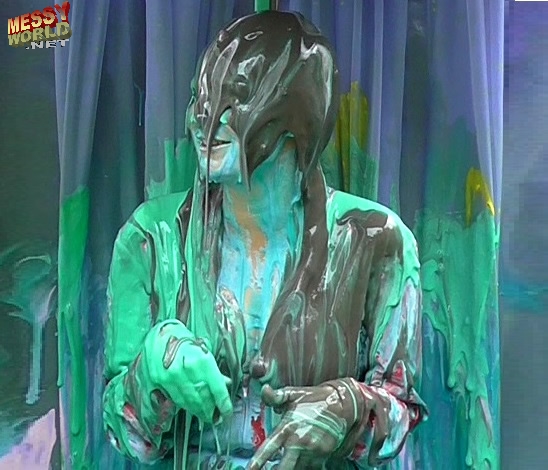 Lisa is a model for our sister site, FoxyMistress. She thinks she is here to film a Mistress themed video for them. However, it soon becomes clear that the gunge tank featured in the video is actually waiting for her. Her boyfriend, Adam, has set this up with us after he wanted to see her gunged. Miss Michaela gives Lisa a double gunging on behalf of her boyfriend & Lisa gets her first feel of slime.
120 HD Images Download Pictures - Download Video 21 Min HD Video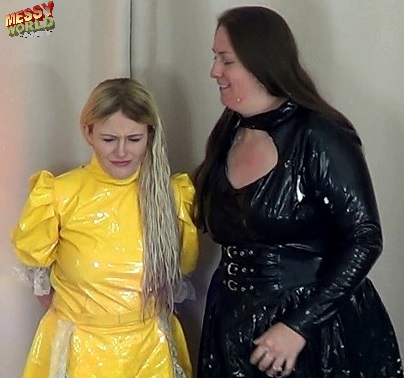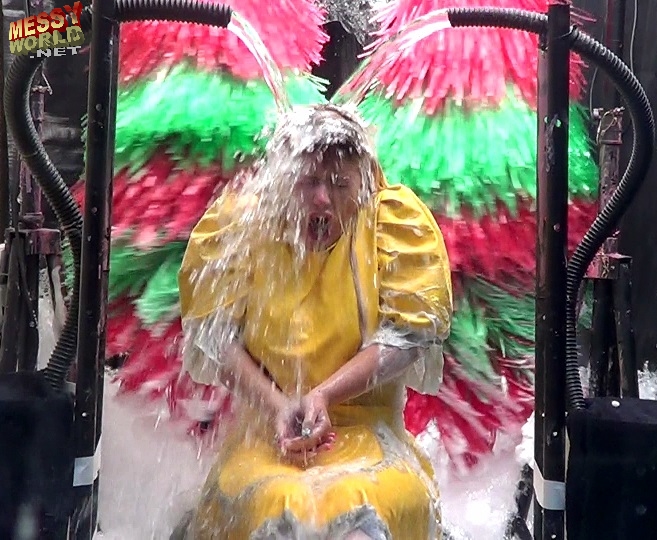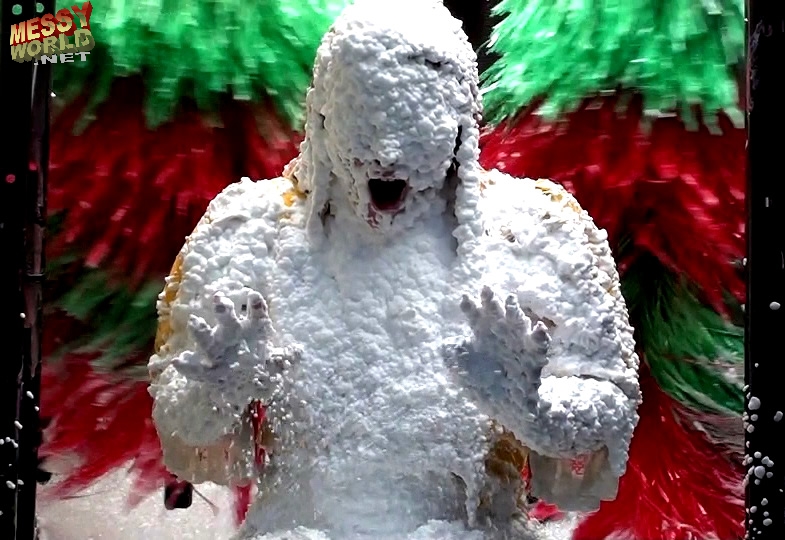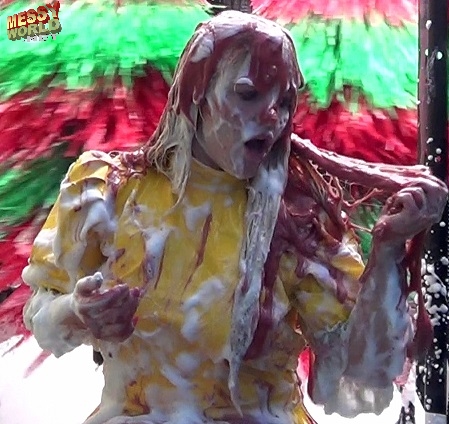 After putting a pie in Miss Michaela's face, Lucy is about to be punished and given, in Miss Michaela's words, 'A Deep Clean' to wash away her attitude. Dressed in her PVC maid's dress, Lucy goes through The Human Carwash, but ends up far from clean...
180 HD Images Download Pictures - Download Video 22 Min HD Video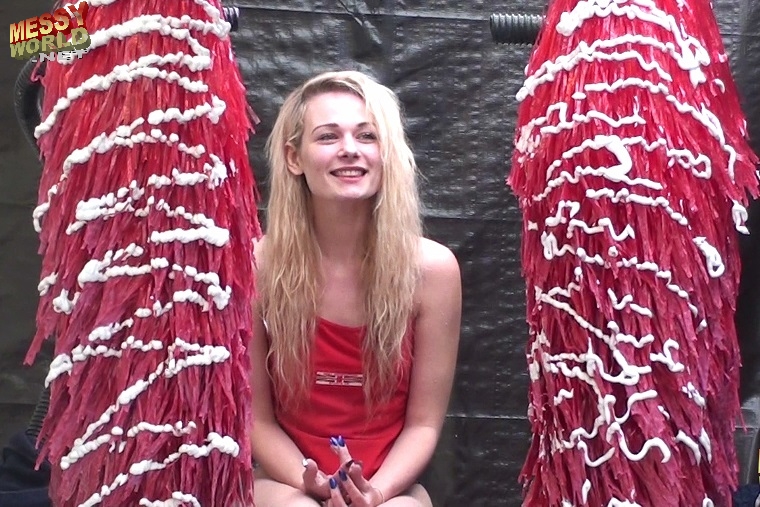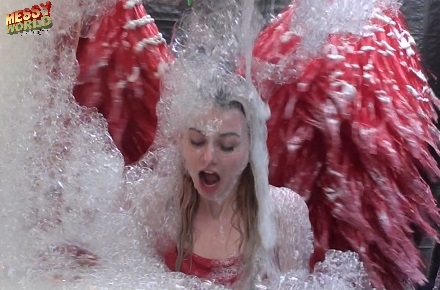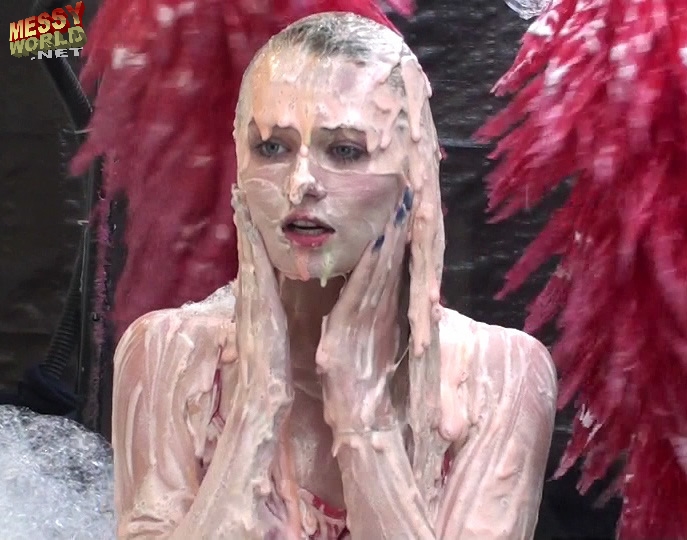 Ashleigh takes her first ever trip through The Human Carwash. The perfect way to cool off on a hot summer's afternoon. Beaches & pools are dull, The Human Carwash is much more sexy!
264 HD Images Download Pictures - Download Video 15 Min HD Video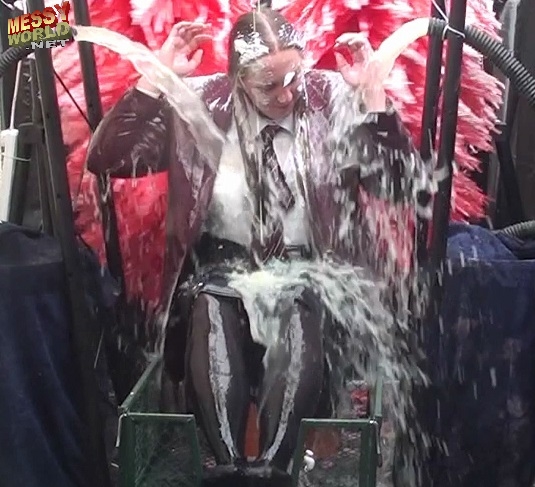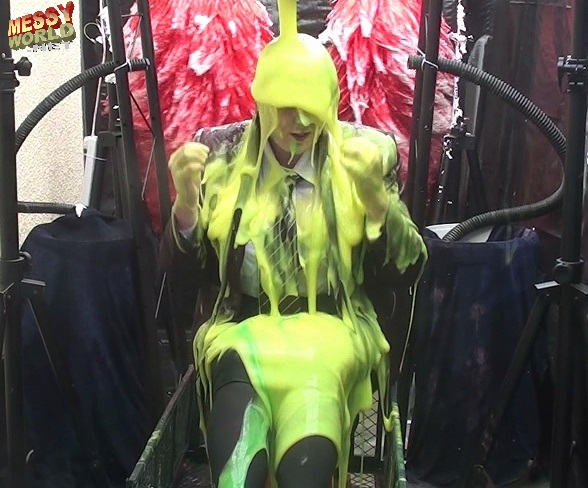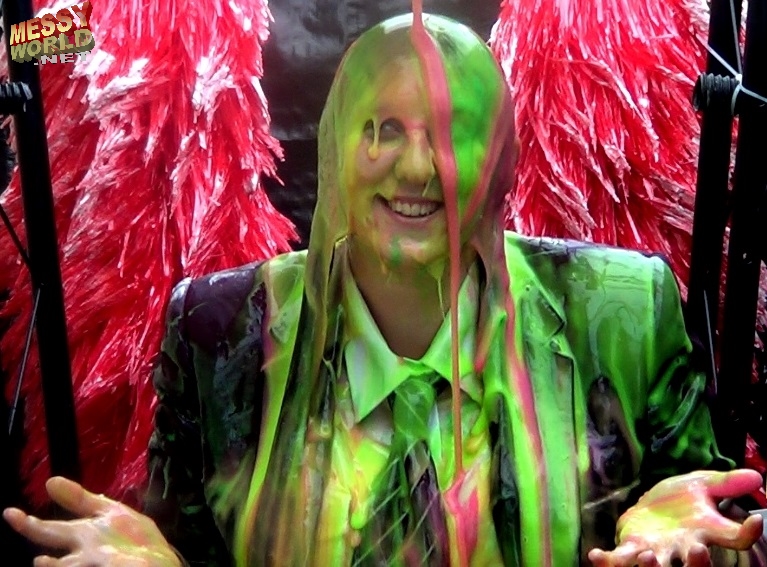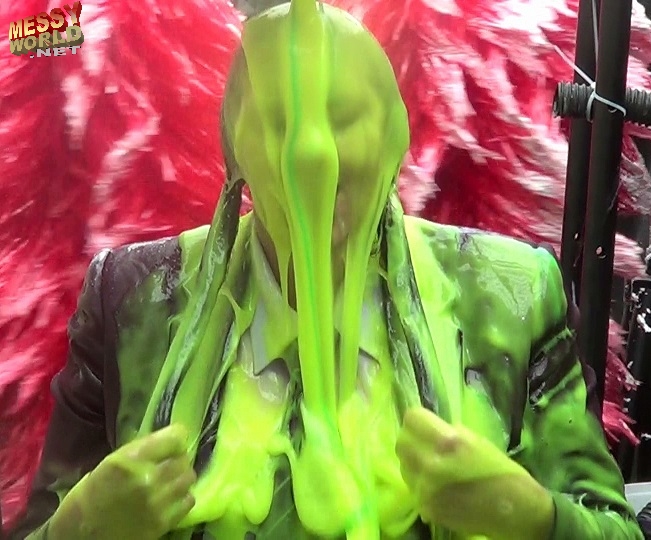 Michaela goes through The Human Carwash wearing her school uniform inclusive of black tights, skirt, blazer and tie. Starting her wet journey through the sticky brushes with cream squirted on to them, the water jets and the double helping gunge finale.
150 HD Images Download Pictures - Download Video 13 Min HD Video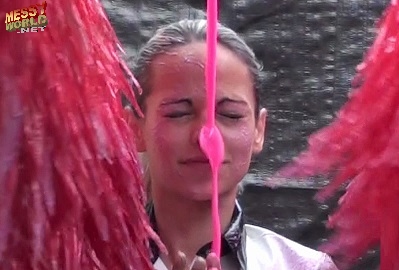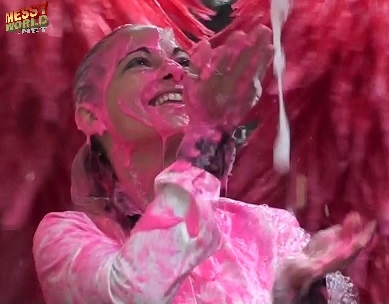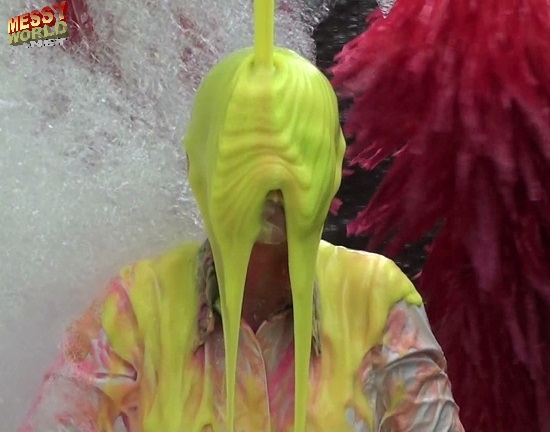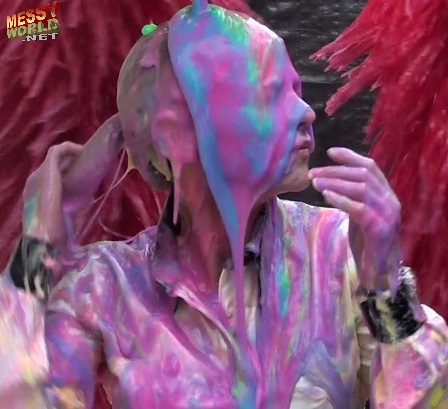 The Human Carwash: Tamsin gets into her best shiny PVC outfit, ready to get soaked and slimed in the very messy ride.
180 HD Images Download Pictures - Download Video 12 Min HD Video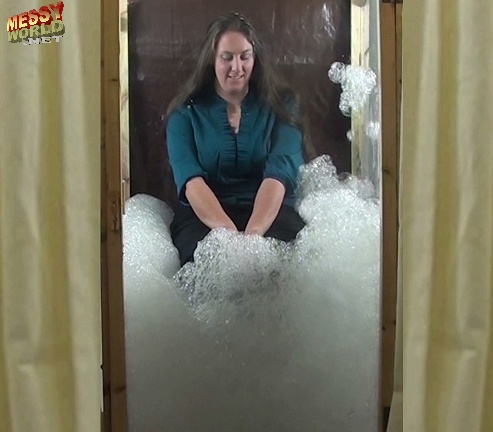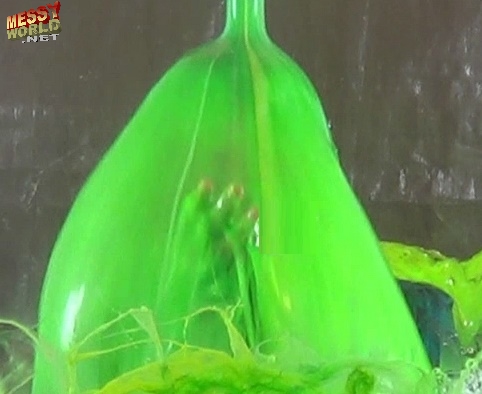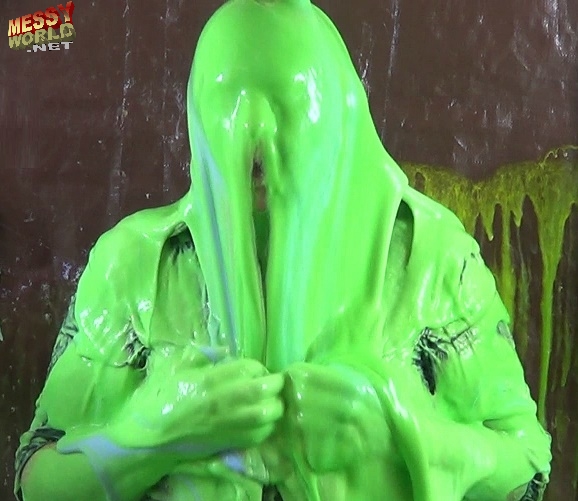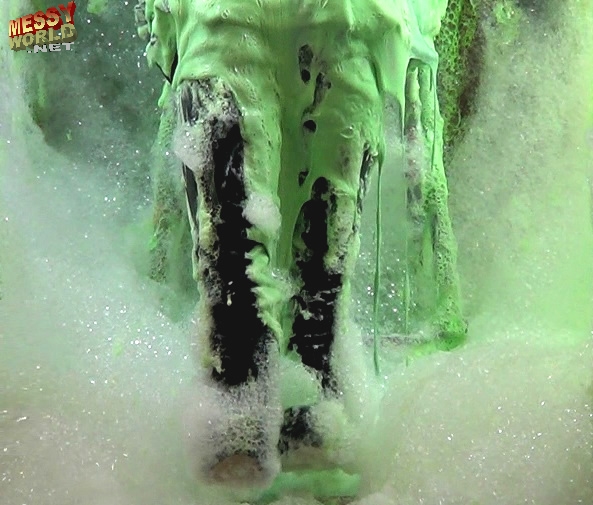 Michaela is slimed in the foam-filling gunge tank wearing a skirt and thigh high boots where she gets covered in foam and green and yellow thick slime.
180 HD Images Download Pictures - Download Video 15 Min HD Video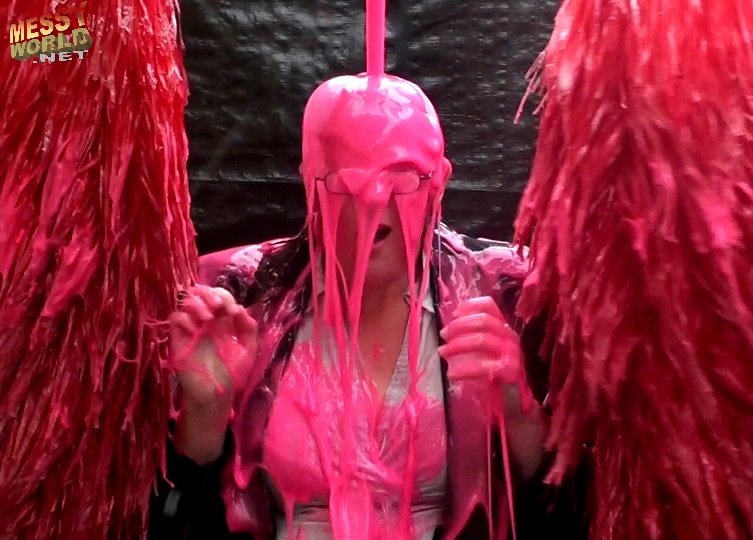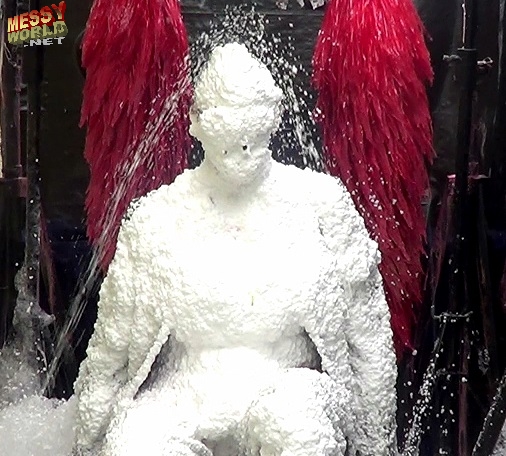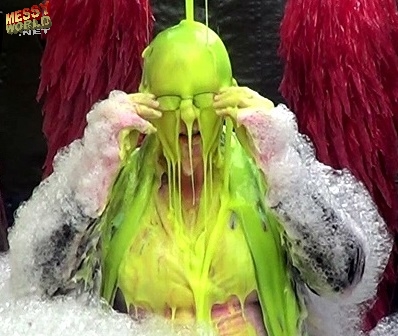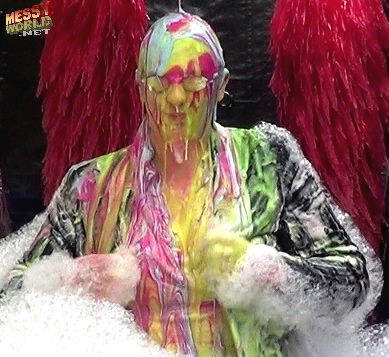 Michaela is the recruitment manager for Messyworld. So, time to gunge the boss, in her business suit! Here, she takes a ride through The Human Carwash in her own formal business attire.
238 HD Images Download Pictures - Download Video 22 Min HD Video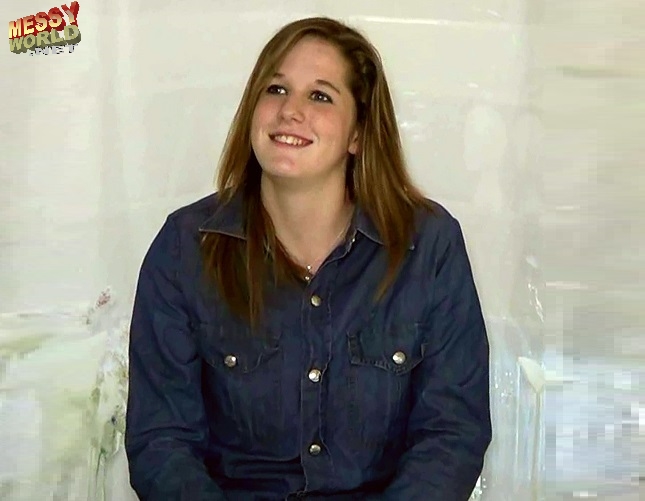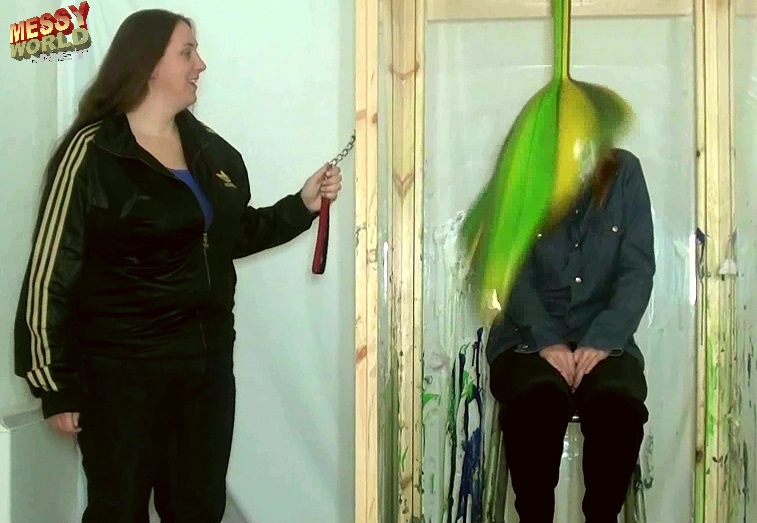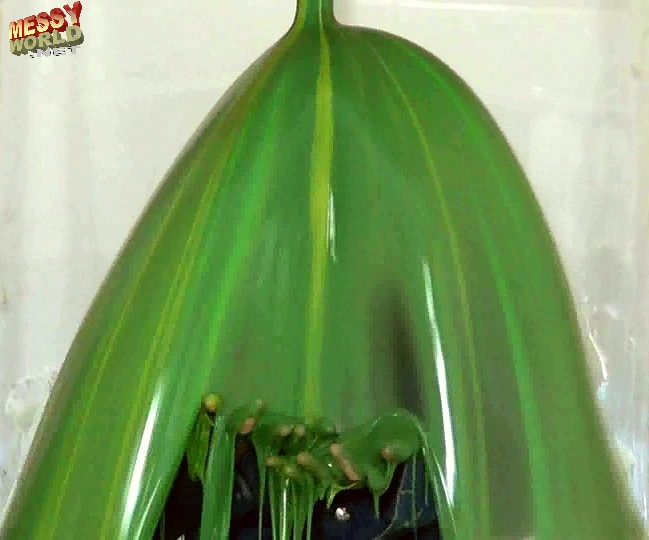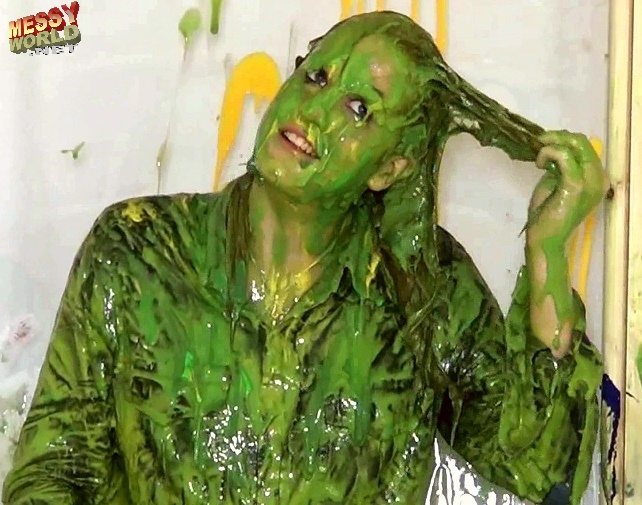 Resident Messy Mistress, Michaela, decides that Holly needs to experience Messyworld's Gunge Tank, so she takes her to it and makes sure she gets a thorough gunging!
60 HD Images Download Pictures - Download Video 10 Min HD Video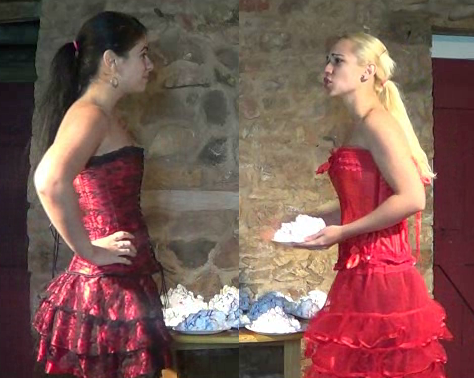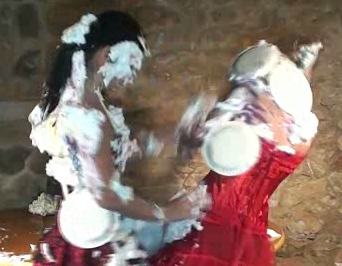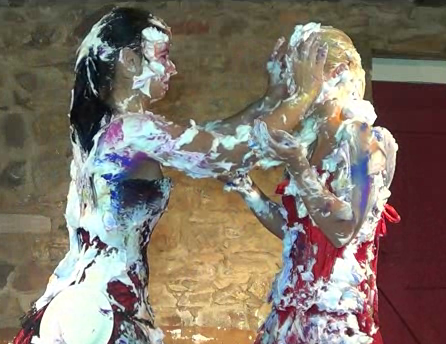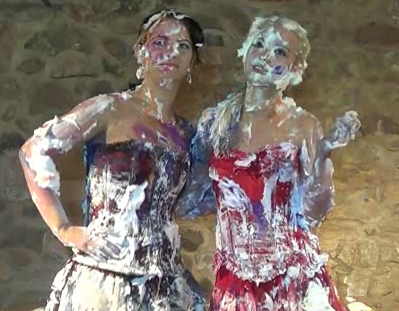 Tamsin & Jessica get into a very heavy pie fight after Tamsin accuses Jessica of sleeping with her boyfriend. Both girls will end up getting covered in pies.
60 HD Images Download Pictures - Download Video 4 Min HD Video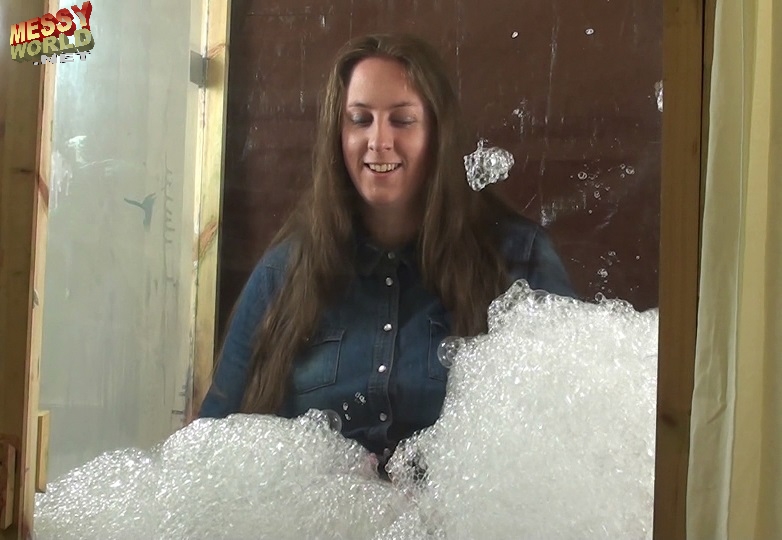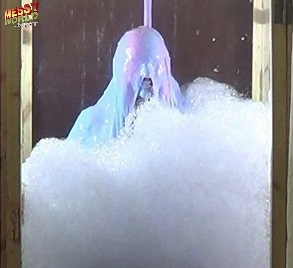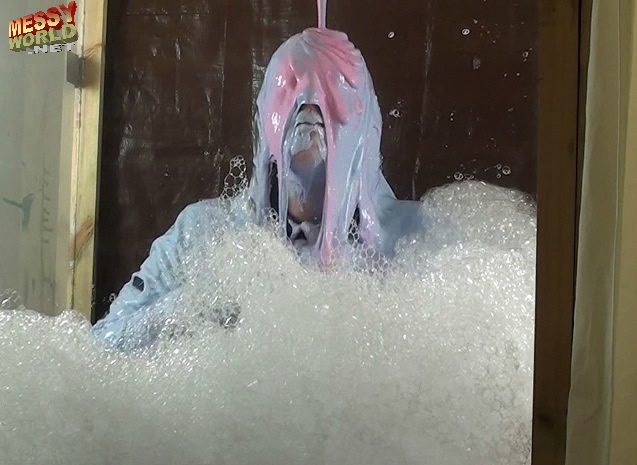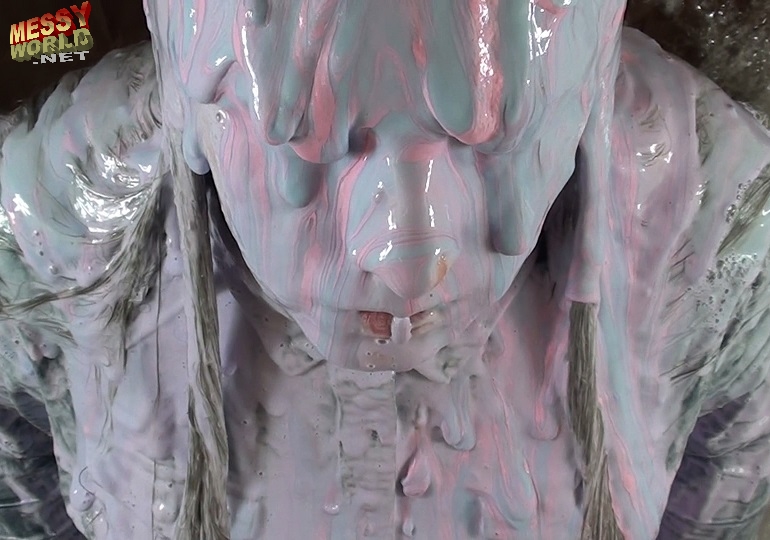 Foam-Filling Gunge Tank: Wearing a denim outfit, Michaela goes in the foam-filling gunge tank where she gets soaked in wet foam rising up & submerging her whole body right up to her neck, then gunged in thick slime.
180 HD Images Download Pictures - Download Video 18 Min HD Video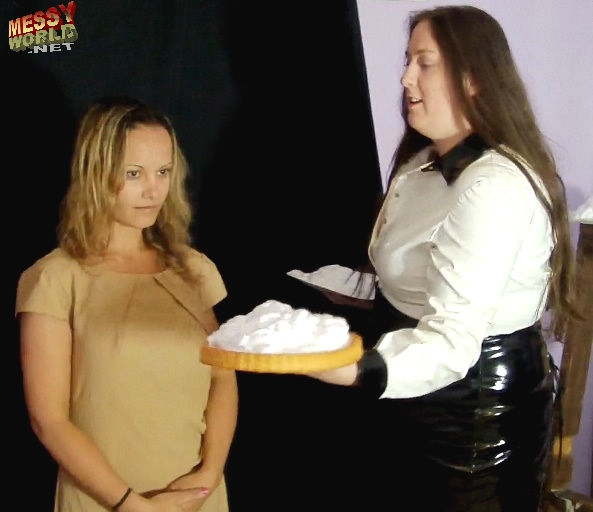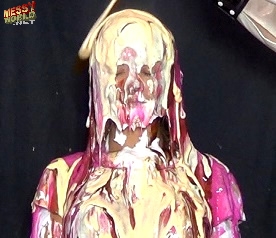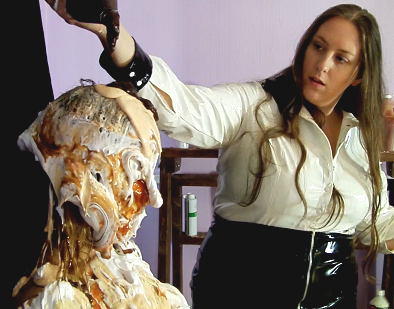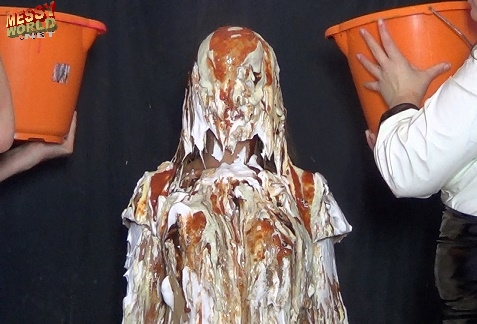 Louise Mattin is placed in a large tub so that Miss Michaela can have some fun with her. She trashes her in pies, sauce, slime & all sorts of mess, not stopping until she's used every last drop of everything she has available. Poor Louise is left dripping in slimey, sticky gunge, pies and sauces ruining her new dress.
360 HD Images Download Pictures - Download Video 14 Min HD Video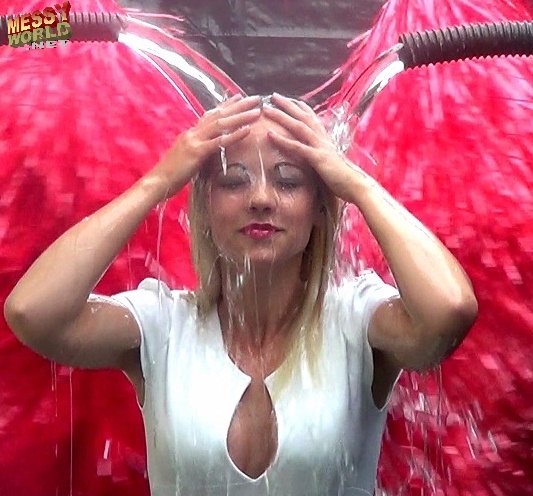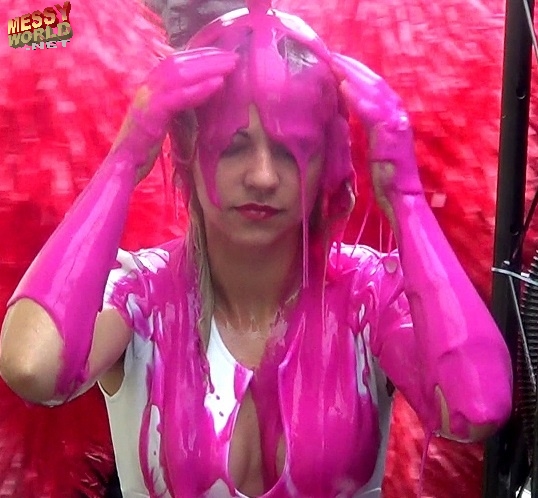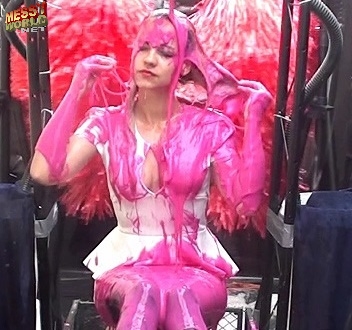 Tamsin is put through the Human Carwash wearing a white dress & black tights to be fully soaked & slimed in the brushes, water jets and a pink gunging finale.
180 HD Images Download Pictures - Download Video 9 Min HD Video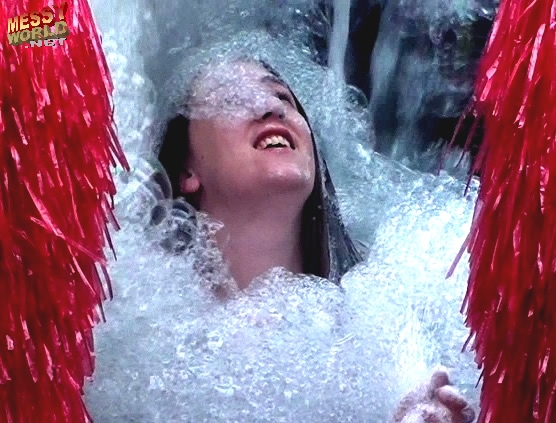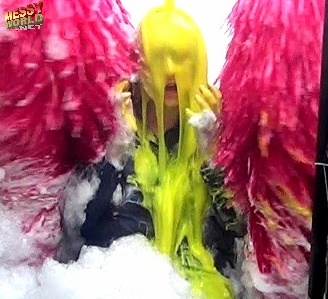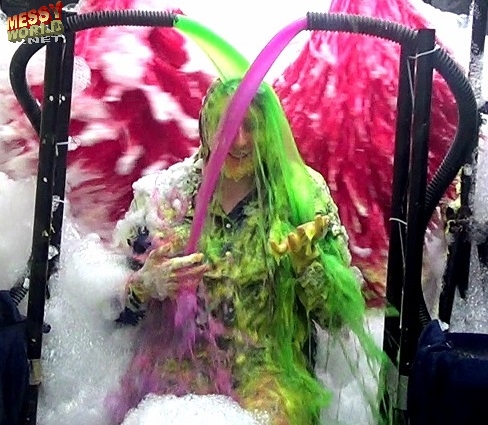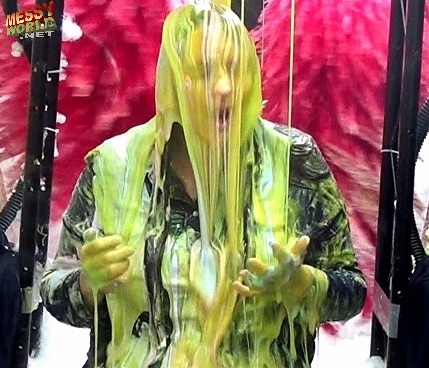 Michaela takes a trip through Messyworld's Human Carwash in a denim outfit where along her journey awaits the foam, the sticky carwash brushes, the gunge jets and the messy gunge finale. All ready to cover her!
120 HD Images Download Pictures - Download Video 7 Min HD Video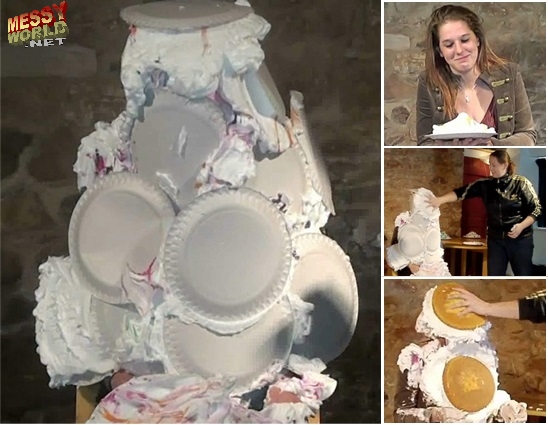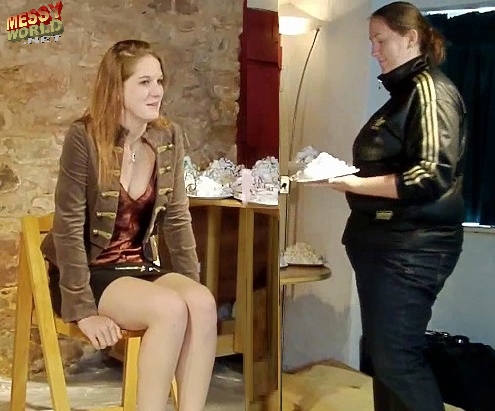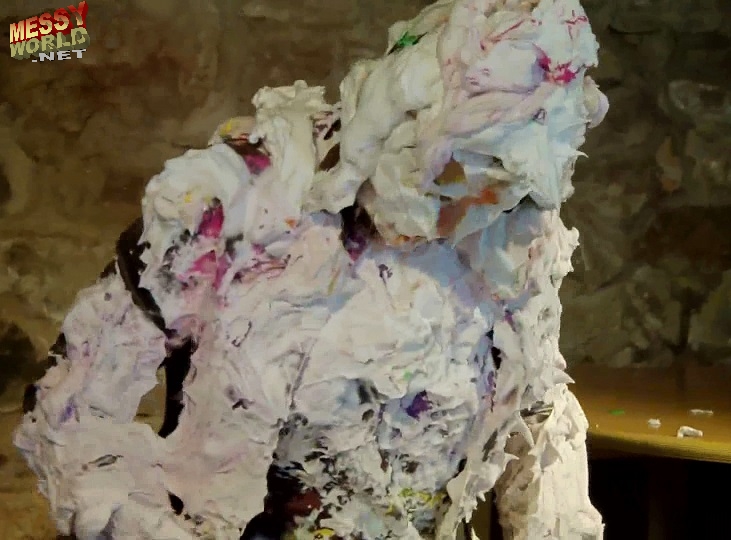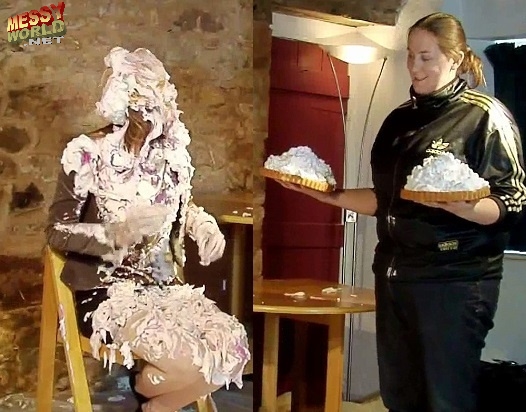 Holly is fresh out of college and has a new job trial as a pie tester. She has to test out as many custard pies as Miss Michaela can throw at her. On her first day, Miss Michaela sits her down and, with the help of her assistant, plasters her in custard pies. She can hardly come up for air as they continuously trash her in pie after pie after pie...
180 HD Images Download Pictures - Download Video 13 Min HD Video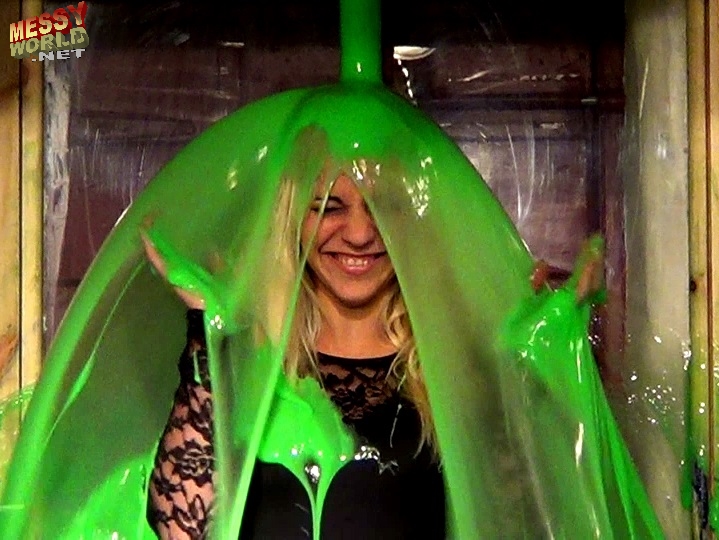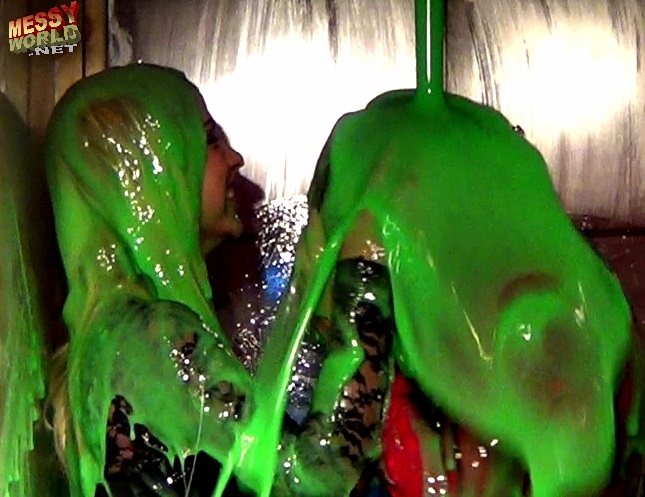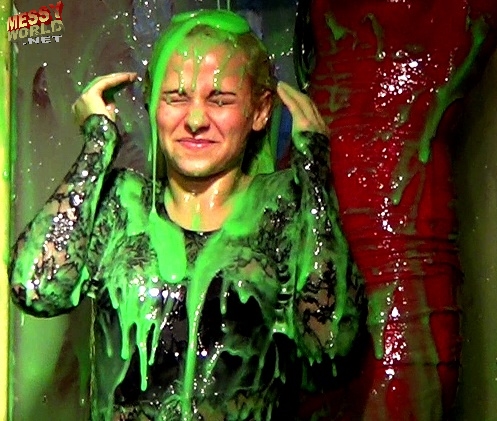 Tamsin was voted into the mess & was gunged by her pleased rival Jessica. During the gunging, Tamsin pulled Jessica into the gunge tank and restrained her, holding her under the streaming jet of gunge. So, in the end, both girls got very messy!
450 HD Images Download Pictures - Download Video 38 Min HD Video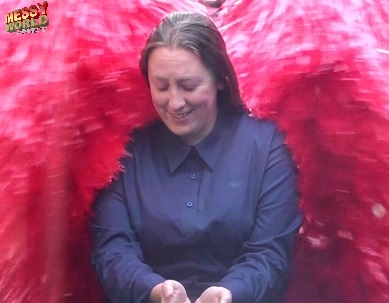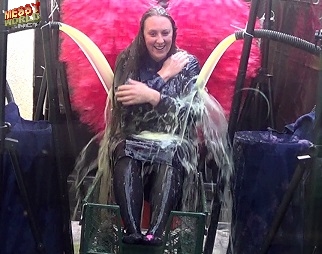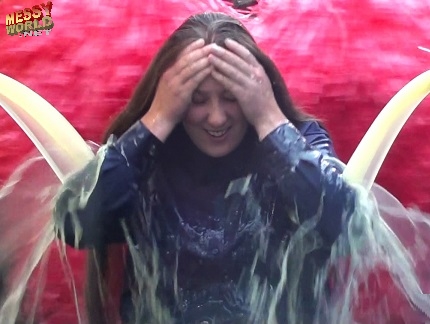 Michaela gets very wet and gooey as she goes through The Human Carwash in formal wear. The cart takes her through the wet brushes and directly into the path of the water jets and florescent pink gunge.
450 HD Images Download Pictures - Download Video 38 Min HD Video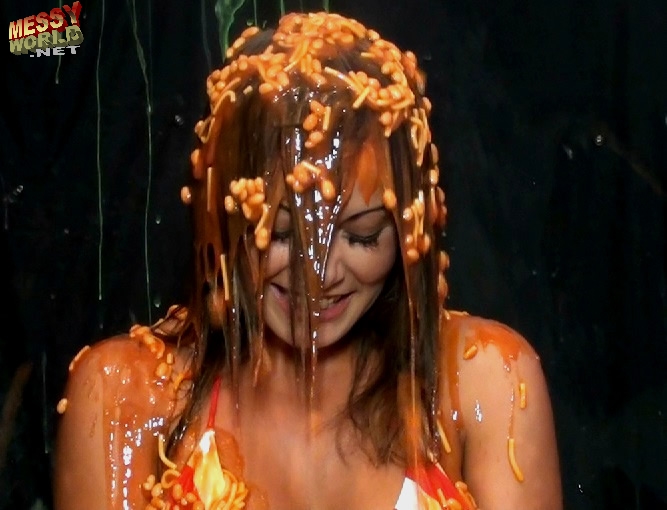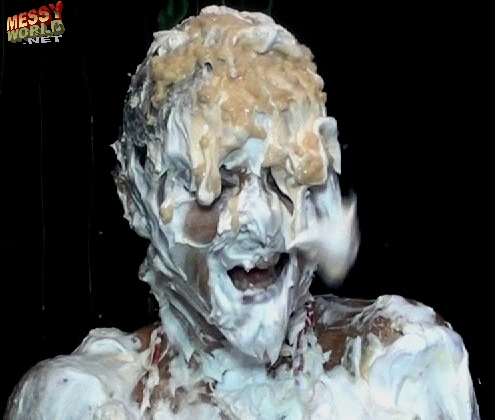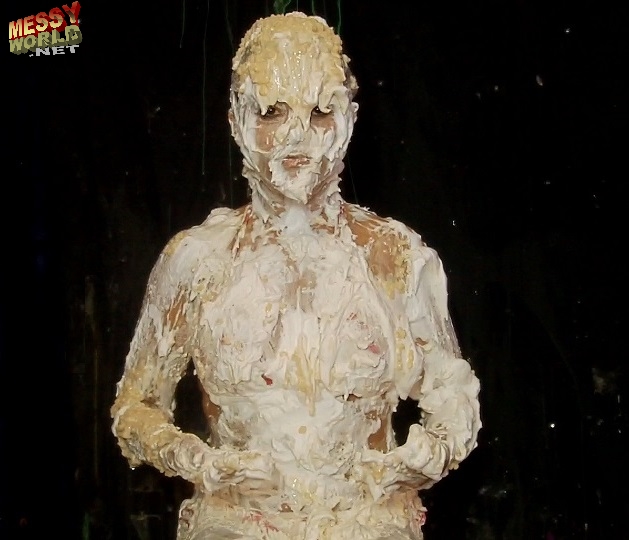 Baked Beans, Custard, Rice Pudding, Custard Pies & Gunge all cover Louise's body as she sits and gets slimed in mess & food. Wearing her summer bikini she cools of in proper messy style! At the end we see a very different looking Louise, dripping in all sorts of goo & caked in gunge, pies & food.
450 HD Images Download Pictures - Download Video 38 Min HD Video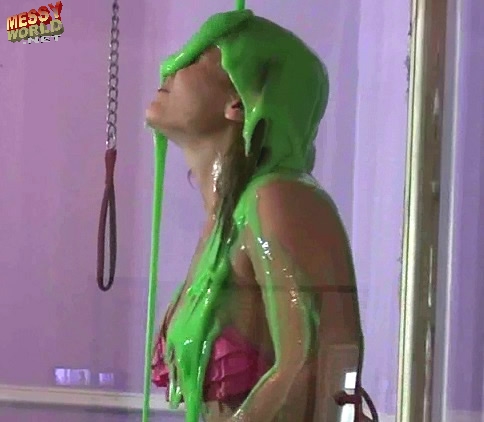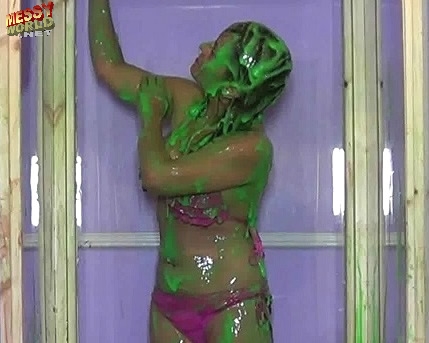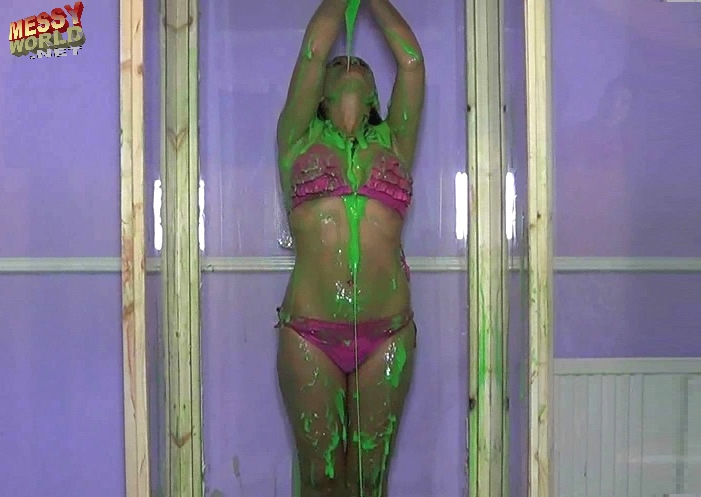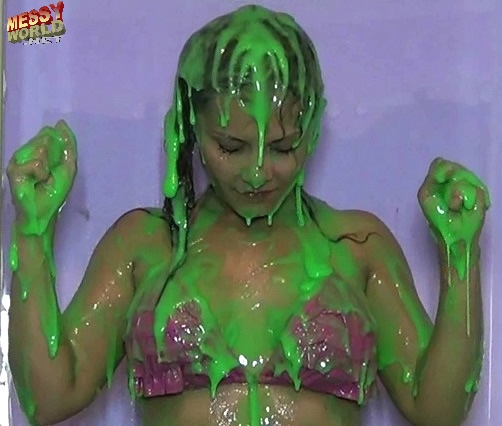 Louise steps into the tank to take a gunge shower in her bikini. She rubs herself down in the showering green slime. She scoops up the slime with her hands and fills her bikini with gunge. The bikini is soon very sloppy, as is Louise herself.
150 HD Images Download Pictures - Download Video 10 Min HD Video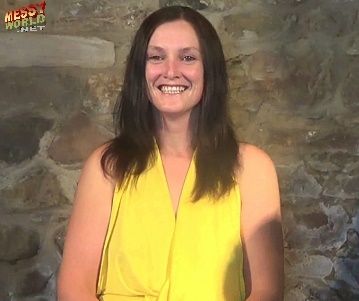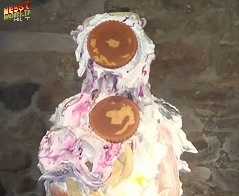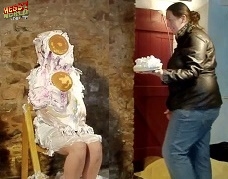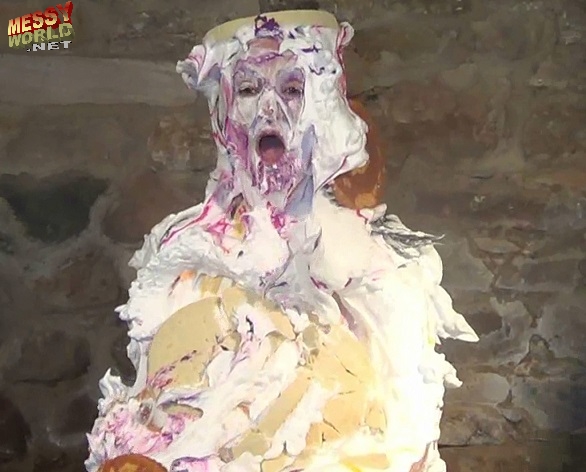 A very nervous Samantha sits in Messyworld's pie chamber. Surrounding her are 50 Custard and Cream Pies and a very cruel Messy Mistress. Samantha is smothered in the pies until she is left as one large dessert of her own complete with sticky sweet sauces. How will she handle the splattering!
240 HD Images Download Pictures - Download Video 8 Min HD Video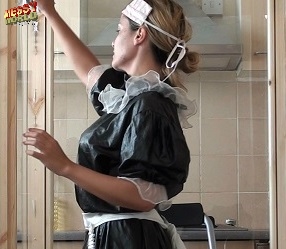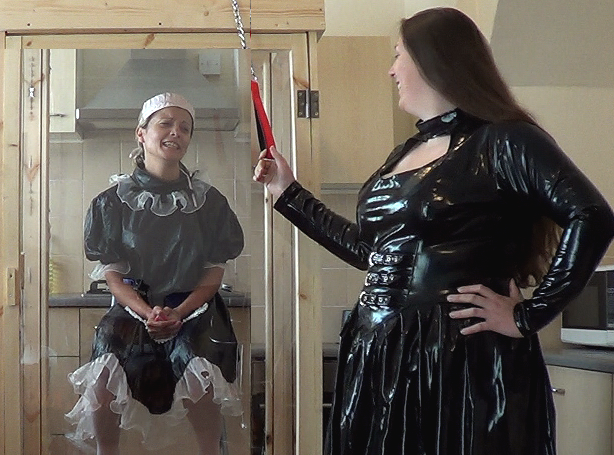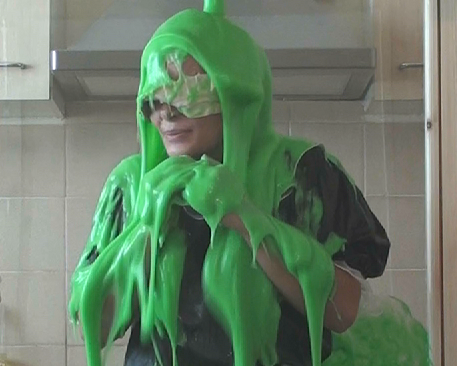 Louise's job is to clean and polish Miss Michaela's house and gunge tank. But when she gets locked inside the gunge tank by mistake whilst cleaning it, Michaela is not impressed. There is only one way to make sure Louise never gets herself locked in again, and that's to pull the lever and gunge her. Once messed up, Louise has to carry on cleaning the now messy gunge tank.
450 HD Images Download Pictures - Download Video 19 Min HD Video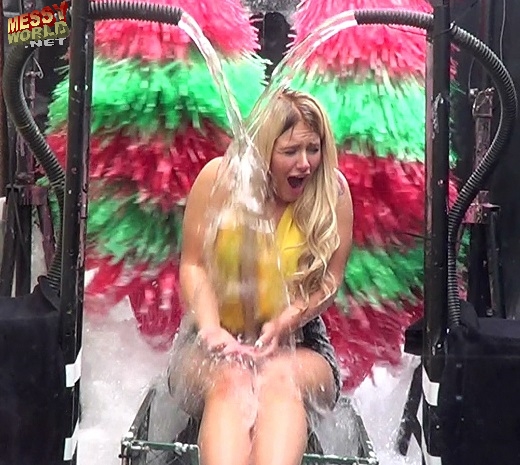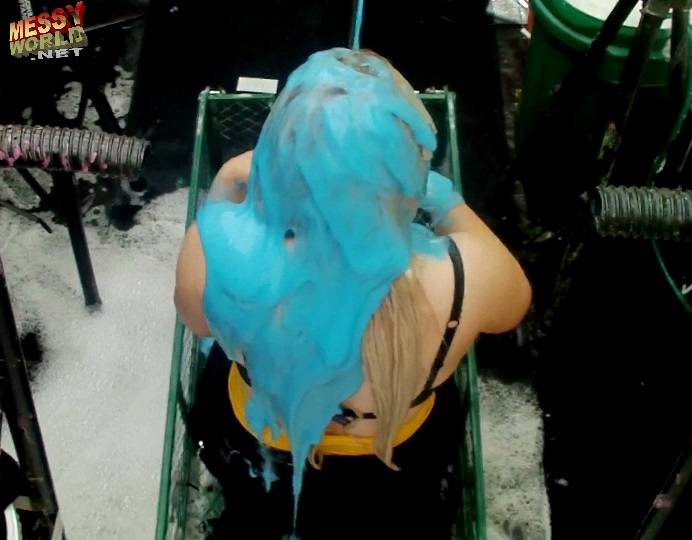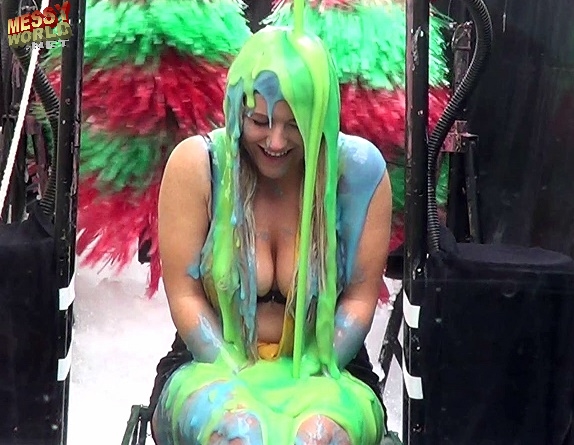 Lucy is voted into The Human Carwash following 8 weeks of voting... "I was so nervous about the propsect of being voted into the human carwash, every week, my fate was being written and I couldn't sleep the night before my inevitable fate was revealed".
264 HD Images Download Pictures - Download Video 15 Min HD Video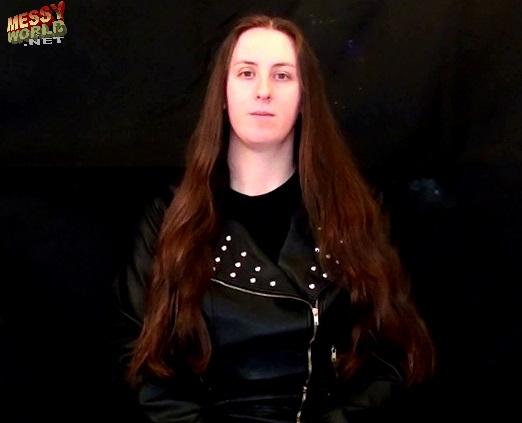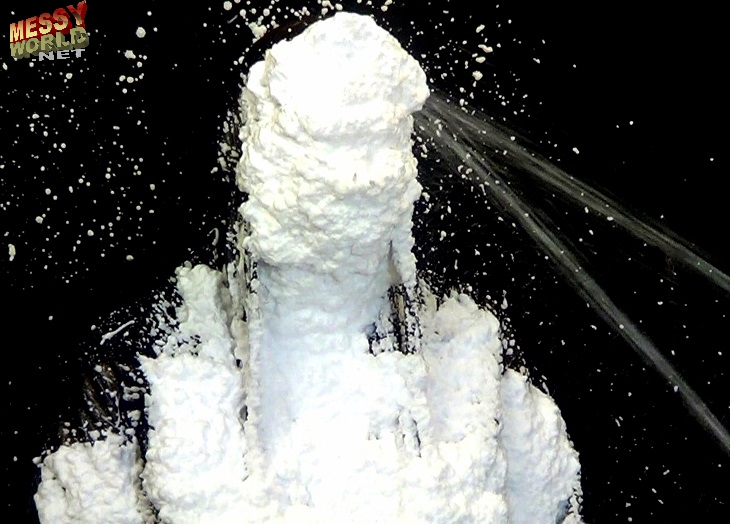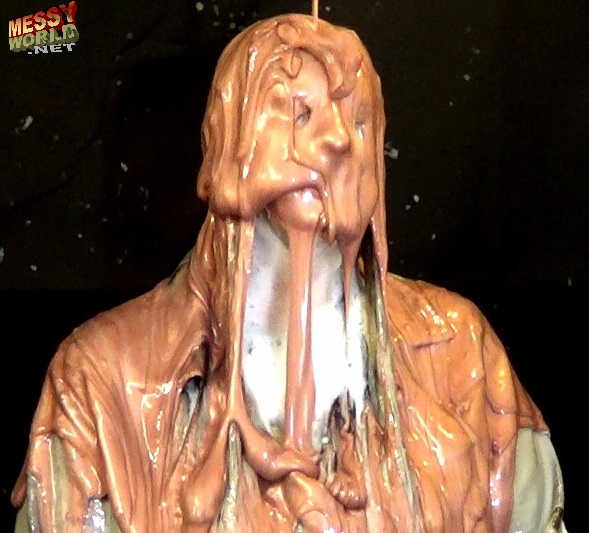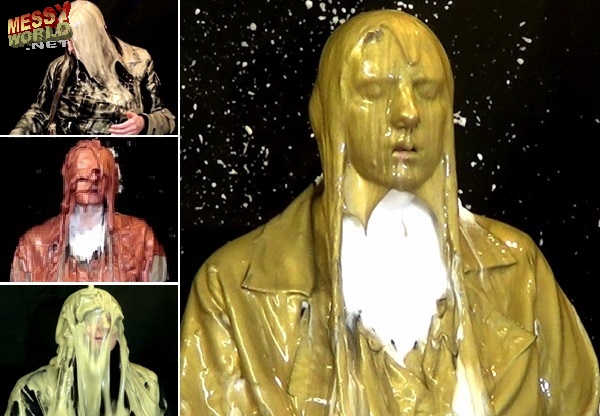 In this golden gunge special, Michaela, in biker leathers, is turned into a gunge statue in metallic Gold, Silver & Bronze Gunge then given a foam overcoat followed by extra layers of shiny metallic slime.
270 HD Images Download Pictures - Download Video 18 Min HD Video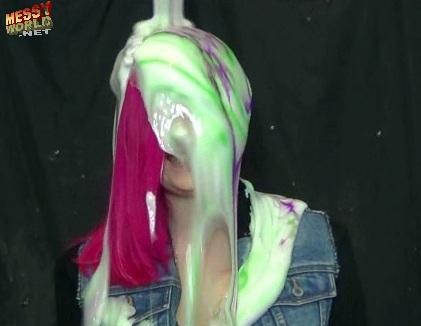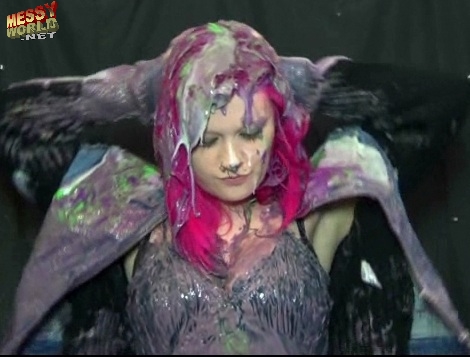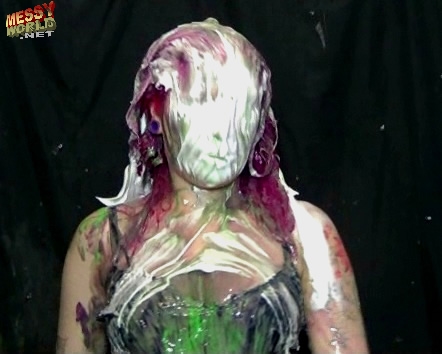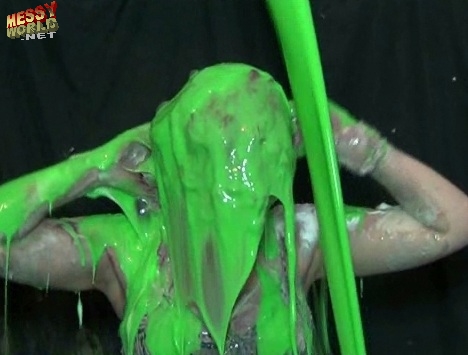 Jade gets covered in layers of gunge, enjoying a mix of foods, pies, slime and the always favorable variety of mixed sticky goo and sloppy colorful gunge.
150 HD Images Download Pictures - Download Video 9 Min HD Video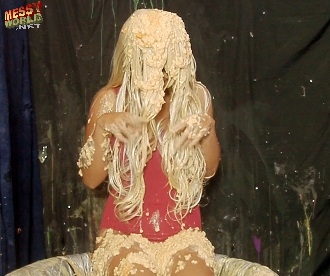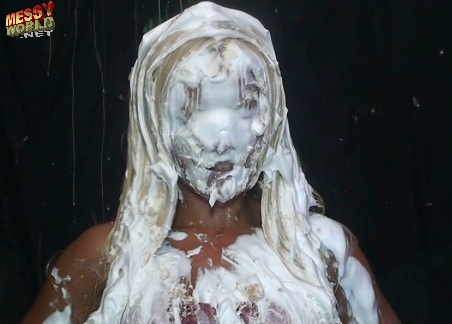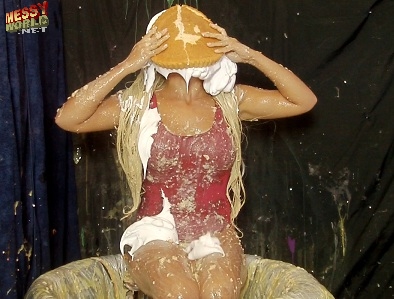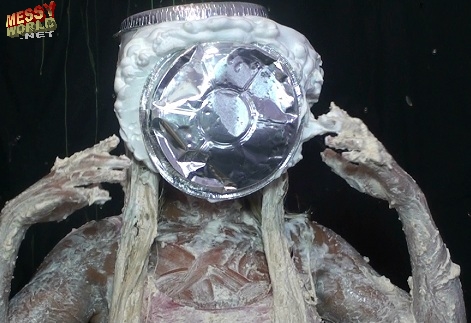 The gorgeous Louise in a baywatch special where she has a load of fun with some large custard pies, some rice pudding and a load of foam & slime. How much mess can fill her swimsuit?
450 HD Images Download Pictures - Download Video 32 Min HD Video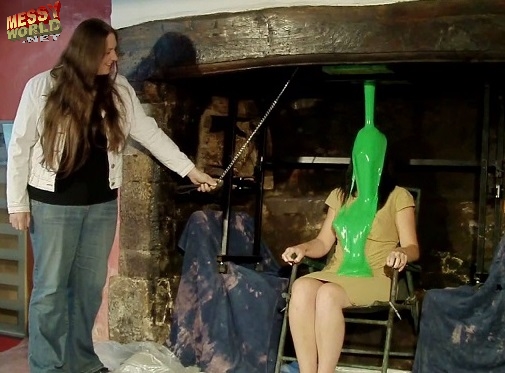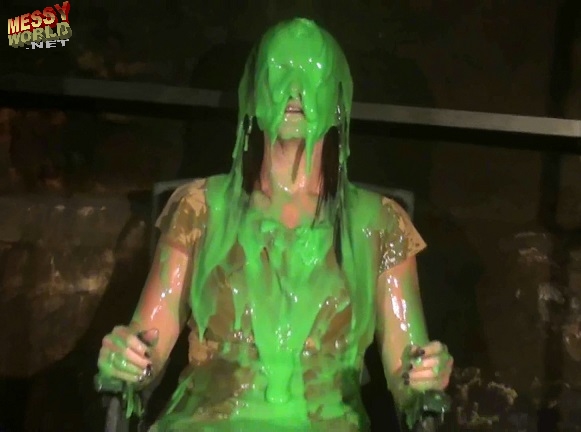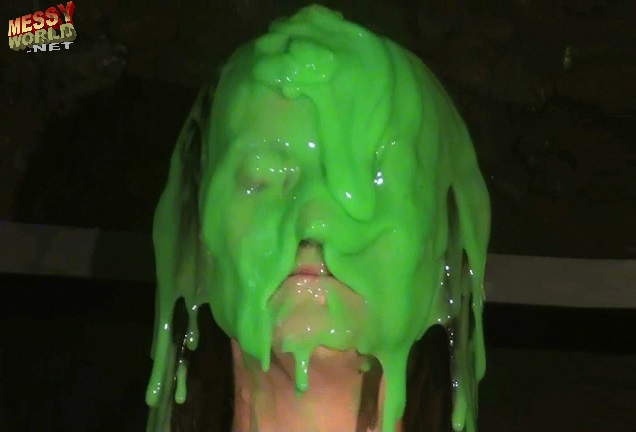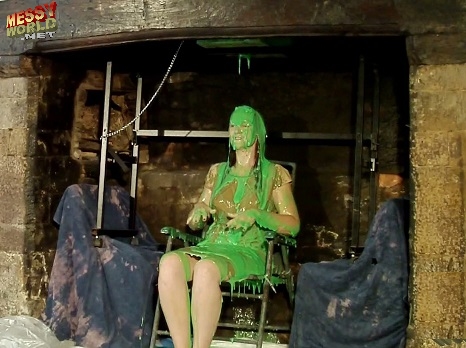 Samantha gets gunged in the grand fireplace of Messyworld's studios by the Messy Mistress of the house.
90 HD Images Download Pictures - Download Video 12 Min HD Video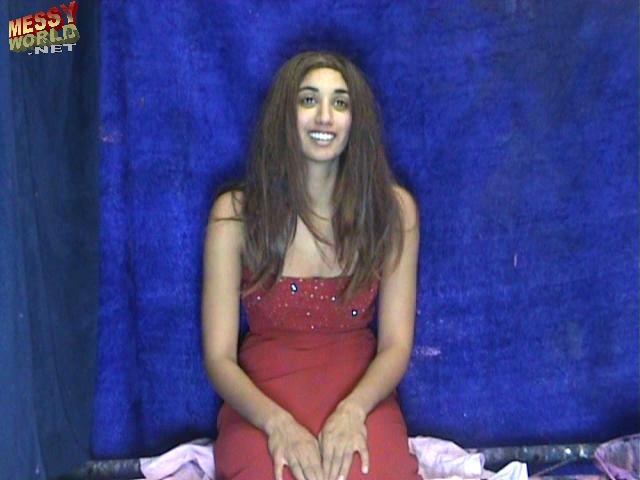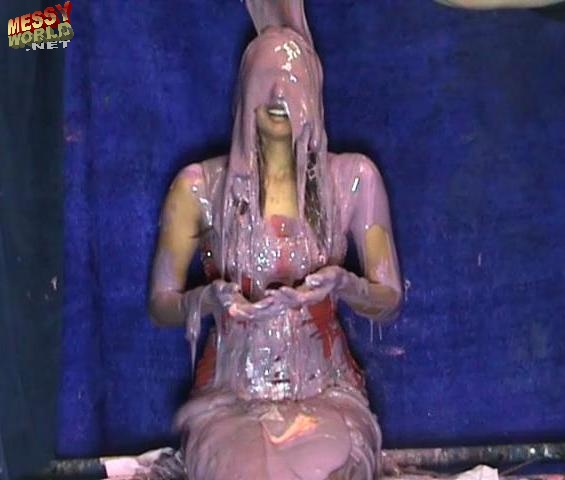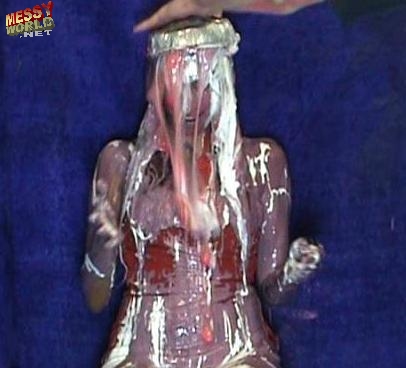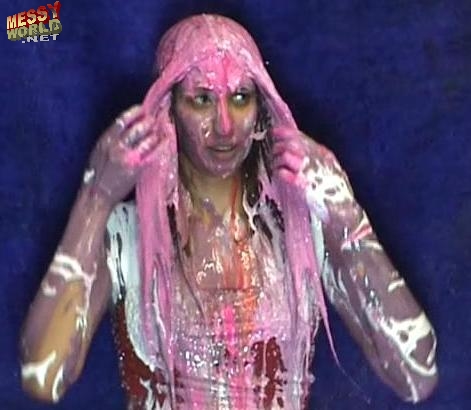 She thought she was going out to a party, however her boyfriend had other ideas. For taking so long to get ready he decides to bring her into Messyworld and we let him sit back as watch and she gets gunged. 2 hours of getting ready.... for this!!!
360 Images Download Pictures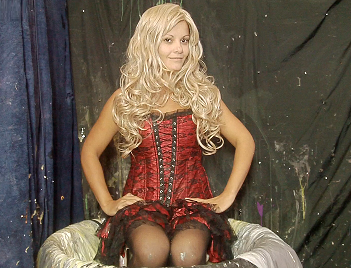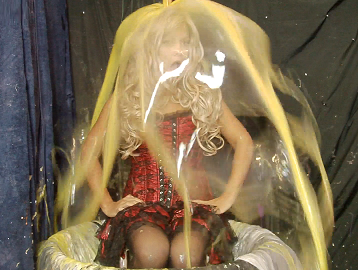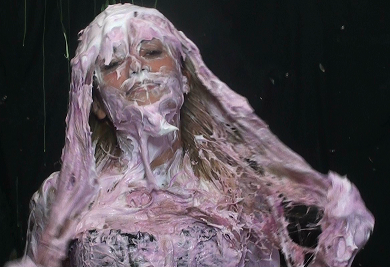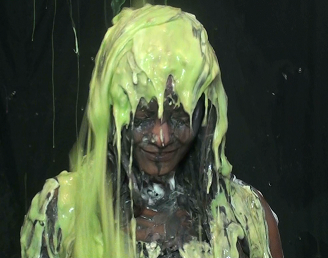 Exotic dancer Louise Mattin has a bit of private late night fun. But this time is messy... She wears silky satin tights and suspenders, a laced satin corset and petticoat and gets very hot, sexy and dirty with pies, gunge and sloppy, squelchy goo.
120 HD Images Download Pictures - Download Video 13 Min HD Video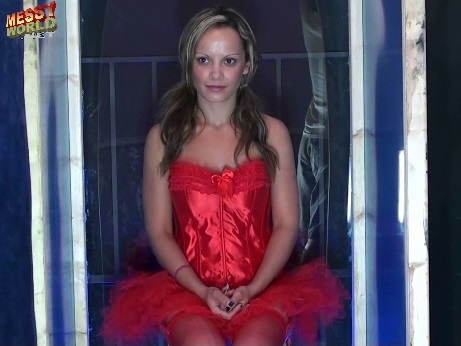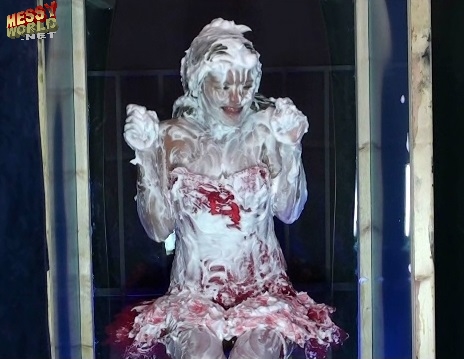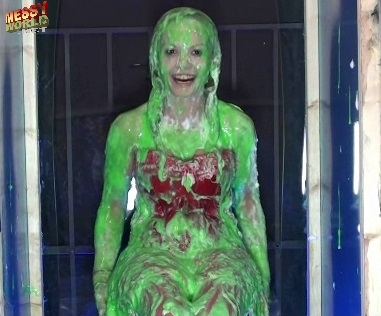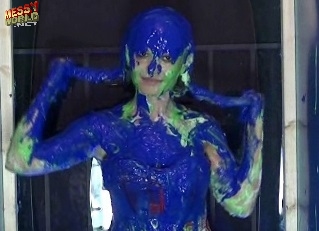 Louise gets a full pie makeover wearing a sexy, shiny red satin corset with matching petticoat and red satin stockings and suspenders. She then gets the gunge treatment under our gunge tank with a nice thick green slime followed by vivid blue gunge keeping her changing color.
120 HD Images Download Pictures - Download Video 30 Min HD Video
Meet Jade Sullivan... She likes to get dirty..... very dirty!!! She likes to rub, squash and smother food, pies and gunge into her face, body and clothes. In this set she has lots of fun covering her sexy pvc dress in mud, clay, foam and gunge.
270 Images Download Pictures - Download Video 15 Min Video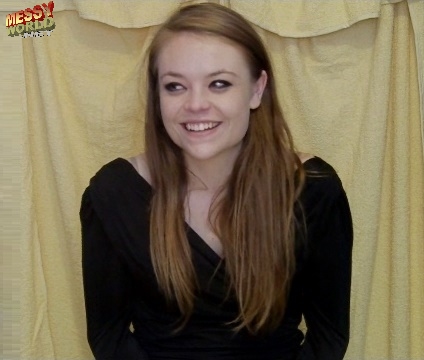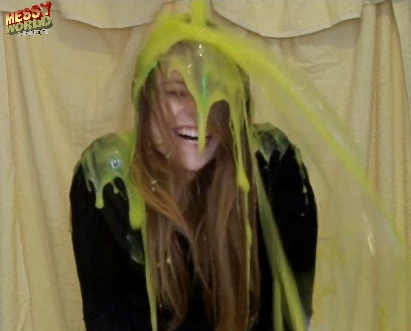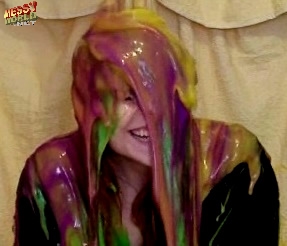 Carly is gunged by Messyworld on the last day of college thanks to her boyfriend Jack who wrote to us to request she be gunged after she dropped his phone in to a river.
269 HD Images Download Pictures - Download Video 15 HD Min Video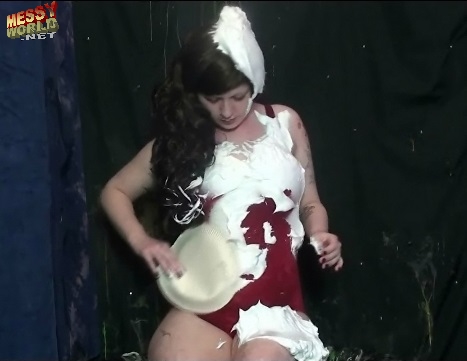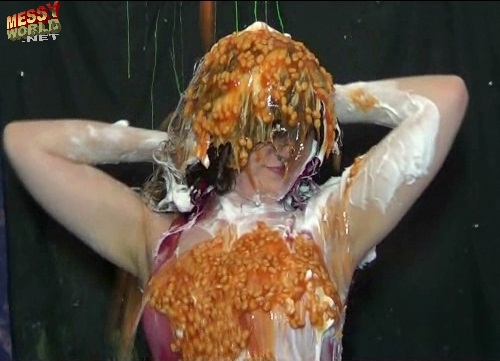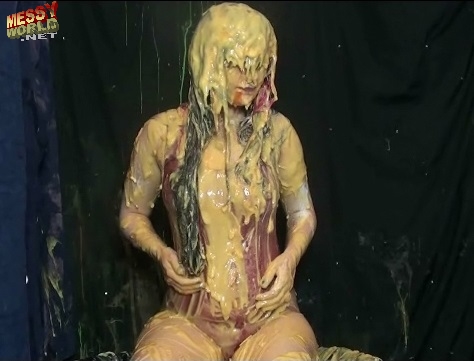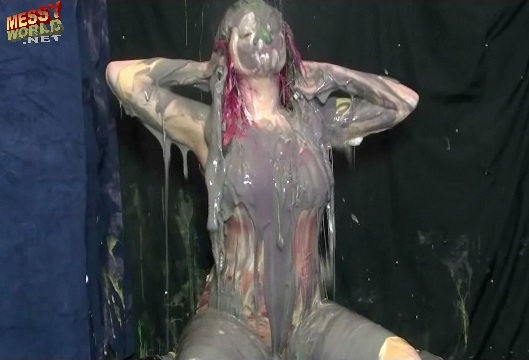 Jade gets very messy in her swimsuit. Watch as she pies herself and fills her suit with custard, food and slime. Watch the mess splatter over her as she enjoys every drop of goo.
480 HD Images Download Pictures - Download Video 15 Min HD Video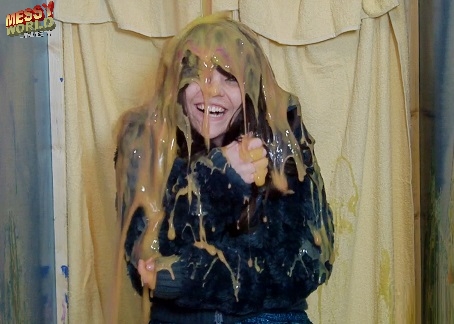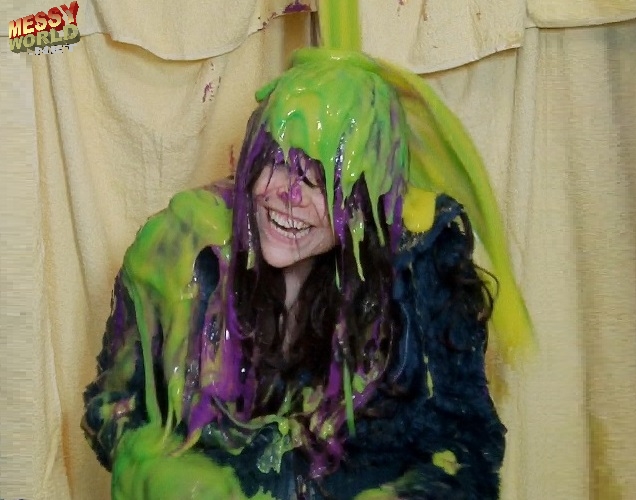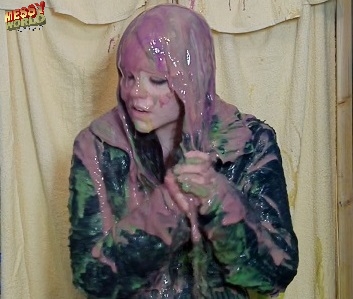 Michaela lost a bet with her boyfriend and her forfeit was to get gunged. Several buckets of slime chucked over her, her hat filled with goo and squelched on her head, mess poured down her top and finally she sits in all the goo and gets a further covering... What a mess she ends up in!
270 Images Download Pictures - Download Video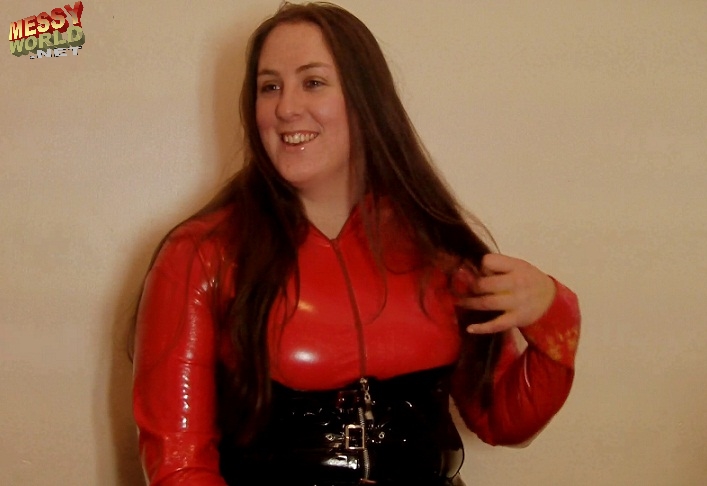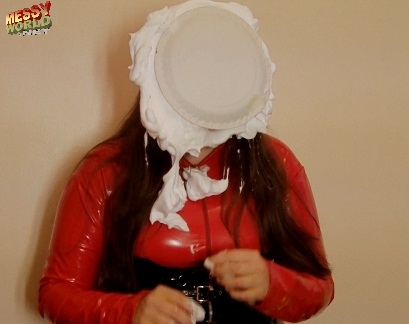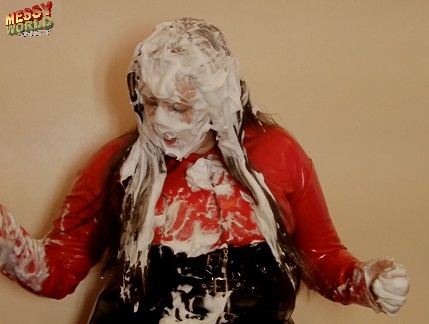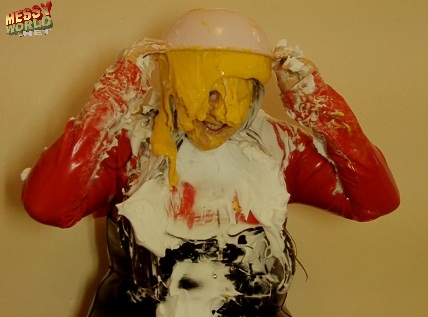 Dressed in a shiny tight red PVC catsuit & black shiny PVC corset, Michaela poses for a 'Messy Mistress' photo shoot with two big foam pies. But before long, she finds herself covered in the custard & foam pies and is doused in thick yellow slime covering her sexy PVC outfit and ruining her fresh hair & makeup.
180 Images Download Pictures - Download Video

GUNGED GIRLS, SLIMED GIRLS, WET GIRLS, MESSY GIRLS, SPLOSHED GIRLS, PIED GIRLS.
Other Sites, Friends & Cool Related Links: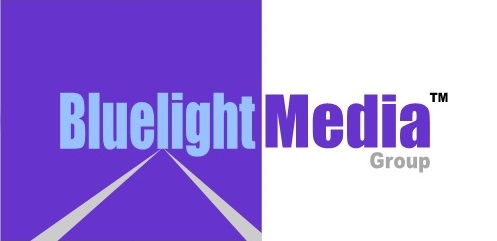 © Bluelight Media Group
© Messyworld.net is owned in content and design by Bluelight Media Group™
The Internet's Number One Wet & Messy Gunge Website. Gunged, Pied, Slimed, Wam Girls, Getting Wet & Messy in Gunge, Slime & Pies.